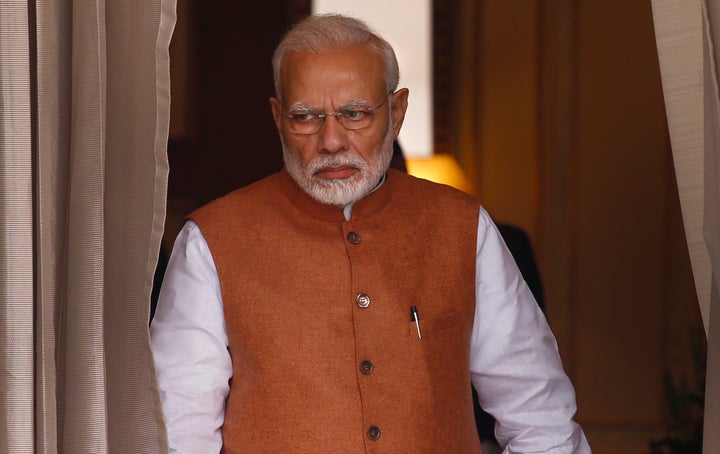 Prime Minister Narendra Modi's first 'exclusive' interview of 2019 to news agency ANI is one among just a handful that he has granted to certain media outlets since coming to power in 2014. The interview has evoked some sharp responses from the Opposition, which has called the whole exercise "fixed".
Until now, Modi has managed to keep the media at an arm's length and has avoided being asked difficult questions. This is through a careful combination of techniques—he is active on Twitter, where he posts announcements of new schemes, condolences for the recently departed and often responds to praise. He sometimes conducts interviews via email, where there is no chance of difficult follow-up questions. His government's most ambitious (and possibly destructive) gambit so far, demonetisation, was announced through a surprise speech at night. There is no chance of an annoying counter-question popping up on his regular radio show.
Party chief Rahul Gandhi, who has been trying to project himself as more transparent and approachable than his rival, also took a jibe at Modi earlier this month.
Even US president Donald Trump, who has often tweeted about his abhorrence for the media, holds press conferences, though the outcome is often unpredictable. During a recent news conference, CNN reporter Jim Acosta had a run-in with the US president and the row turned, as some have called, "awkward".
Carefully controlled communication, as Reuters had pointed out soon after Modi took over as PM, has been a defining characteristic of the BJP government.
Union ministers too seem to have taken a cue from him. The Wire points out that ministers, such as home minister Rajnath Singh, who earlier had cordial relationships with the media, have walled themselves up. Another report says that most ministers are loath to have regular dealings with the free press and instead prefer engaging through Doordarshan or All India Radio (AIR).
Swati Chaturvedi has written a comprehensive piece for The Wire, asking why the Prime Minister is terrified of holding even a single press conference. She points out that Modi also did away with the practice of carrying the media with him on his dizzying schedule of foreign trips.
PM's interactions till now
While Modi has never given a press conference as the Prime Minister, he is quite active on social media. This form of communication is however, largely one-way and there is no scope of a debate.
Apart from his flooded Twitter and Facebook accounts, Modi addresses a monthly radio show 'Mann ki Baat'. In one of its editions, the prime minister said that while the voice of the show is his, the spirit is of the people. While the PM sometimes reads out letters sent to him and plays pre-recorded messages, there is no unscripted conversation with listeners. This, however, may change in the run-up to elections, reports The Print.
On the rare occasions that Modi grants an interview, it is usually to sympathetic questioners such as Arnab Goswami and Navika Kumar and Rahul Shivshankar (who rarely extend that courtesy to other guests). His answers to these gentle questions are guaranteed to hog headlines and get Page 1 coverage on all major newspapers.
The one time an interaction derailed from the script, the prime minister was left in an embarrassing situation. During his meeting with booth workers from northern districts of Tamil Nadu and Puducherry, Modi was reportedly unable to answer a question by a party member.
When asked why his administration was busy collecting taxes from the middle class and not doing enough to take care of them, Modi dismissed the question, saying that it was only natural for a trader to be concerned with business and that his government was taking care of common people. And then we got 'Chaliye, Puducherry ko Vanakkam'.
Soon after this, reports emerged that the Prime Minister's Office (PMO) has become even more careful in selecting the candidates and the questions for interaction programmes. According to The Times of India, the party workers were asked to fill in a Google format form, shoot a video with their question and send it 48 hours before the event.
With just months to go for the general election and the BJP actually looking vulnerable for the first time, it is even more important for the Prime Minister and his party to control the narrative. Is it too much to hope for a press conference between now and the election?