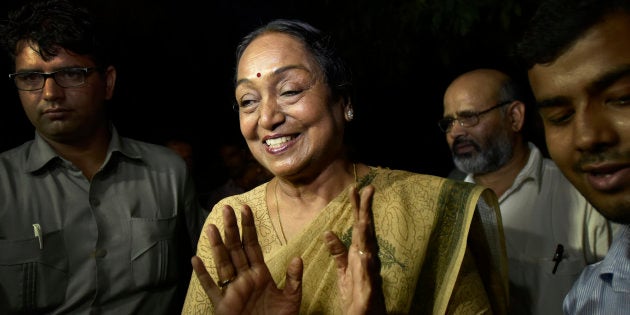 The Morning Wrap is HuffPost India's selection of interesting news and opinion from the day's newspapers. Subscribe here to receive it in your inbox each weekday morning.
The Opposition has chosen Meira Kumar as its Presidential polls. Shivam Vij writes that Kumar is ably qualified to the President of India. But by nominating her as their presidential candidate the opposition may have admitted that it was 'stumped' by the BJP in the presidential polls.
Several NGOs in Assam have been using social media as a tool for a very good cause. With WhatsApp groups and Facebook pages they have been fighting the evil of child marriage.
PARTNER BULLETIN | MUTUAL FUNDS SAHI HAI
How To Discuss Money Goals With Your Other Half
Money can often be a long-standing cause of disagreement between couples. Like with any other disagreement between a couple, it is important to sit down and talk about money. Here's how to approach that discussion with your significant other.
Even as India and Pakistan are fighting it out in court over a Pakistan court awarding death penalty to Indian national Kulbhushan Jadhav, in a new 'confession video' released by Pakistan, Jadhav has asked for mercy from the neighbouring country's powerful army chief.
Anil Kumble's resignation shocked many cricket fans, but team India was also equally shocked. The team was unaware that Kumble wouldn't join them in the West Indies. They found out when they landed at St. Lucia, on their way to Trinidad that Kumble had resigned.
A man, in east Delhi's GTB enclave, cut off his step daughter's ears and claimed that he did so on the command of ghosts. Thankfully, he was arrested before he could slash her neck.
Even as Darjeeling burns, with the protests for Gorkhaland intensifying, the district administration has blacked out regional and local television channels. The move comes after internet services were suspended. Officials have said that this was a "speedy remedy for the maintenance of public tranquility."
Madhavi Goradia Diven writes in The Indian Express that the internet has become the recruiting ground for terrorists and it was time for the democratic world to come together and fight it.
An editorial in The Times of India explains that while the importance of Aadhaar has extended in India with the TB patients requiring it to avail cash benefits from the government, its legal ecosystem needs a big upgrade.