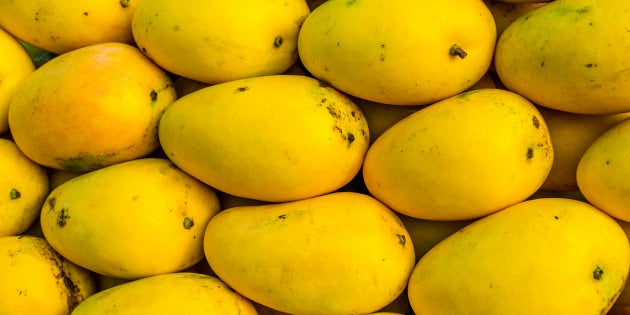 Everyone has a favourite mango. A Mumbaikar will sing praises of the alphonso, a Dilliwala will wax eloquent about the chausa and dussehri, while a Bangalore resident will tell you about the superior flavours of the Banaganapalli.
Mangoes are synonymous with languorous summer days and in all likelihood, your favourite is shaped by the region or state you spent your childhood in. Each variety of mango comes with its own distinct flavour, texture and sweetness, which is shaped by the soil and the climate of the region it is grown in, as well as years of grafting.
"For the mango to be the most flavourful it has to be closer to its place of origin, if the consignment travels far, the mangoes are plucked early for slow ripening and the flavours don't develop fully," says food blogger Sangeeta Khanna.
A true mango lover will tell you that instead of arguing over which variety is the best, it is wiser to savour their differences. Some might stand out for their fragrance, others for their succulent flesh and sweetness. The mango season presents a spectrum of varieties — start with alphonso in late April and and end with the chausa in July.
"There is a north-south divide as far as mangoes are concerned," historian Sohail Hashmi told HuffPost India. "While the soil to the north of the Vindhyas in alluvial, the soil in the Deccan is primarily volcanic, with a different mineral content, touch and feel. This contributes to the different taste in the fruit. So a dussheri tastes very different from a Banganpalli." We asked some of India's top food bloggers and writers about their favourite mangoes and their most cherished memories of eating them.
Originally grown in Varanasi, the langra is known for being fibrous and sweet, as well as for its acidic aftertaste. A similar variety in also grown in the Malda region in West Bengal, as well as in Bihar, Himachal Pradesh, Rajasthan, Haryana and Gujarat.
"My all time favourite variety is the langra aam, which I grew up on," food blogger and baker Deeba Rajpal says. "The plump juiciness, the ever-so-slight minty taste, the very thin seed (or guthli) and the almost absurd sweetness all make this my first choice. My other favourites is the chausa as it is the last of the season."
Rajpal recalls spending her summer vacations at her uncle's' house near Varanasi. "While older folk retired for afternoon siestas, we giggled and hung upside down from the boughs of mango trees in the blistering heat, the 'loo' threatening to roast us. The ripe mangoes hanging from boughs saw us sharpening our aim to see who would drop the most fruit, in virtual battle with pesky loud brilliant green parrots," Rajpal says. "Then we'd troop in, quite exhausted, to find ripe plump mangoes being chilled in these huge rustic metal tubs. Amidst great indignation from the elders, we'd dive into the tubs with our full arms and have a mango fight in there, grabbing our pick. When each of us settled down, we savoured the ripe luscious mangoes, the juices dripping down our elbows..."
The chausa comes later in the mango season, usually in July, long after the other varieties are no longer available. Its dark orange yellow flesh is simultaneously very sweet, juicy and fragrant, with no fibre and no sourness. According to one legend, it was named by Sher Shah Suri after his victory over Humayun in a battle in Chausa, Bihar in 1539. Hashmi adds that the chausa was also known as samar-e-bahisht or the fruit from heaven in Persian during medieval times. The chausa is often described as the legendary poet Ghalib's favourite mango. In The Last Mughal, William Dalrymple writes that Ghalib once said that the two essential point about mangoes were that "they should be sweet and they should be plentiful."
Grown in the same region as chausa, dussehri mangoes have thick green skin that encloses very sweet, yellow flesh and a thin seed. The fruit is named after the Dashehri village near Malihabad in Uttar Pradesh, which still houses what is supposed to be the 300-year-old mother tree.
Hashmi recalls eating copious amounts of dussheri, chausa and langra mangoes as a child in a now-extinct orchard in south Delhi in the late 1950s and early 1960s. "As kids, we would go to the mango orchards in Delhi's Andheria Bagh at least once every year. These orchards planted by [the second-last Mughal emperor] Akbar II, had small mangoes that you could suck on," Hashmi recalls. "There would be families sprawled all over. We would buy mangoes by the dozen, soak them in tubs filled with ice or chilled water. We'd eat our lunch, usually besan paranthas and a spicy keema made with green chillies. Then you ate the mangoes." The orchards were eventually replaced by farmhouses in the late 1960s and early 1970s, but Hashmi says you can still spot the odd mango tree in the area.
The fazli is a large mango grown in Uttar Pradesh, Bengal and Bihar, with sweet juicy flesh and minimal fibre. Sangeeta Khanna remembers tasting the mango in her childhood, while spending her summer holidays at her grandparents' house in Ghazipur near Varanasi. "My strongest memory of mangoes is how my nanaji used to praise and describe the mangoes in his heavy baritone," Khanna recalls. "I lost him when I was 10, but it was only from his talks that I remembered fazli, a large sweet and juicy mango weighing about 800 gm. Last year, my brother brought fazli from a road trip and I relived the taste and aroma of a mango that I remember from more than four decades ago."
The village of Rataul in Uttar Pradesh's Baghpat district is home to a large orchard where several varieties of mangoes are grown. The star of the lot is the tiny Rataul mango, which was developed just three or four generations ago. "Along with the dussehri and chausa, the Rataul mango is my favourite," Hashmi says. "This is a mango which is not easily available in Delhi." Along with the Rataul, it also cultivates varieties such as the ball-like mango called Dudhia Gola. "It is yellowish rather than orange and very sweet Its fragrance and sweetness is also very different from all the other mangoes," Hashmi says. A sapling of the Rataul mango was also taken by a village resident who moved to Pakistan, and is now known as the Anwar Rataul.
Often known as the "Alphonso of South India", Malgova or Malgoa is a large variety of mango. A favourite in Tamil kitchens, it even has a children's rhyme dedicated to it. According to a local legend, Hyder Ali, the ruler of Mysore, had an orchard where the Malgova mangoes weighed as much as 1.5 kg.
"It is a large round mango and has a light green colour even when ripe," food blogger Archana Doshi says. "Juicy, sweet and fragrant, it has a lot of pulp and is packed with taste. Did you know each fully ripe fruit of this variety could easily weigh up to two or three kilograms?" Available throughout the mango season from April to June, it can be made into a juice, cut into slices, or used for desserts.
Also known as the Mavadu, these tender small, bite-size raw mangoes herald the beginning of summer in south India, as they are commonly available at the beginning of the mango season. Vadu Manga is most often found in the wholesale markets and not in the traditional grocers.
Food blogger Archana Doshi calls it one of her favourite varieties. "The most favorite dish that is made from these mangoes is a healthy pickle that is soaked in ground mustard and has no oil," Doshi says. "Salt is the only preservative. Every summer my mother would make this pickle and we savour it at the end of the meal along with curd rice."
Himsagar and Dudhia Malda
Himsagar and dudhia Malda are two popular varieties of mangoes in Kolkata. Both are on the sweeter side, are orange-ish in colour, and possess a distinct aroma. While Himsagar is grown in West Bengal's Hooghly district, dudhia Malda comes from Patna and Digha in Bihar. Both varieties can be found in the months of May and June.
"I still remember my mother making a special falahar prepared with a ripe himsagar, banana, chura (flattened rice), mishti doi and a spoonful of sugar during the summer months," food blogger Debjani Chatterjee recalls. "For her, it was a fasting food but for me it used to be the heavenly treat after returning from school."
Kesar gets is name from its saffron coloured flesh, when retains the colour even when raw. Juicy and with very little fibre, it is a favourite in Gujarati homes. Food blogger Nandita Iyer calls Kesar her favourite variety for making aamras, but it is also a goo fit for desserts.
Mumbaikars often call the alphonso or hapoos the 'King of Mangoes' for its aroma and flavour, but those outside the city are likely to dispute this. It was named alphonso after the Portuguese nobleman and explorer Alfonso de Albuquerque (1453-1515) who supposedly brought the variety to India. Its thick skin also makes it one of the most easy varieties to export. The best alphonso mangoes are grown in Ratnagiri, Maharashtra.
"I know that as a Bengali, and a former Kolkatan, I should be fond of himsagar and langra mangoes. However twenty years of living in Mumbai has made me a fan of the city's favourite alphonso or hapoos mangoes," says food blogger Kalyan Karmakar. "My wife's late maternal grandmother was a big alphonso fan and in season she would have mangoes all day. Often, she would feed me mangoes after the lunch of dhan dar (dal and rice) and potato bhaaji. I guess I have inherited her love for mangoes." Karmakar says that it is the alphonso's sweet and fresh taste that stands out for him. "There's a lot of life and vibrancy that comes in with each bite," he says. "Chances are that himsagar fans would say the same about himsagar too."
"Growing up in Bombay, I was a diehard Hapoos fan, not considering any other mango even worth a taste. but moving to the South India eight years ago made me fall in love with Banganapalli," says Nandita Iyer of Saffrontrail. "Deep sweet taste and generous flesh makes this my favourite for eating as it is and for everything else."
The Banganapalli mango is supposed to have been introduced by the royal family of Banganapalli, a town in Andhra Pradesh's Kurnool district. It recently received a Geographical Indication tag, which indicates that the produce from a specific region has qualities that are unique and specific to that region alone. Though Banganpalli is often mistaken as being the same as safeda, Hashmi points out that the Andhra variety is completely different, starting with its considerably bigger size.
Iyer's favourite recipe for Banganapalli is the Mango Mor Kuzhambu, a Tamil- style of kadhi. In this recipe, taken from her father's aunt in Chennai, cheeks of ripe mangoes are simmered in curd. "I'm sure you can do this with any ripe mango, but Banganapalli being a variety with generous flesh suits this dish well. Also, it holds its shape well and does not turn into mush on simmering in the curry," Iyer adds.
Food blogger Uma Raghuraman grew up eating Banganpalli and explains that its "sweet, fibre-less and juicy flesh" makes it especially delicious. "The best part about this variety is that even the skin is tasty and not bitter," she says. Raghuraman uses it to make milk shakes, desserts, dips and cakes.
Little known outside the state, Goa's local mango varieties include the mankurad, furtaad, alphonso, musraad, neelam and ball ambo. Food blogger Raksha Kamat counts the musraad and makurad as her favourites. "Both of these start coming in April. The mankurad is the sweetest of the lot, and even alphonso cannot beat the mankurad," Kamat says. "My favourite memory is of my mom cooking the jam-like mango halwa, mango chutney and dishes such as amlechi uddameth." Another variety of soft, small and pulpy mangoes called ghotam that are used to cook a seasonal curry known as the ghotachem sansav.
Food critic and writer Marryam H Reshii recalls spending her summer holidays in Goa, where she developed a taste for local mangoes, which were believed to have been grafted by Portuguese administrators using alphonso and indigenous varieties. "However, for sheer richness of flavour, flaming colour and sweet-sour appeal, nothing beats Xavier," Reshii says. "Perhaps it is because our neighbour had a Xavier tree in her garden and occasionally a ripe mango would fall into my grandmother's garden, when all of us children would shriek with glee and rush to devour it before the neighbour came looking for it!"
Primarily grown in northern and central India, safeda gets its name from the pale colour of its flesh. "Having grown up in Mumbai, I did not really know mangoes beyond the alphonso," Mumbai-based food blogger and founder of APB Studio Rushina Munshaw-Ghildiyal says. "It was only after I got married, and moved up north that I discovered other mangoes, such as the dussehri and safeda. I love safeda for its tangy sweetness and large meaty pulpiness. It is an in-your-face mango."
The totapuri mango gets its name from its hooked tip, which resembles a mango's beak. Primarily grown in Andhra Pradesh, Karnataka and Tamil Nadu, the totapuri isn't a very sweet mango. "Yet, it is great for making salads, panna and especially certain pickles," Ghildiyal says. "My mom makes a fabulous hot and sweet dish called kairi nu shaak with semi-ripe totapuri mangoes that I love."