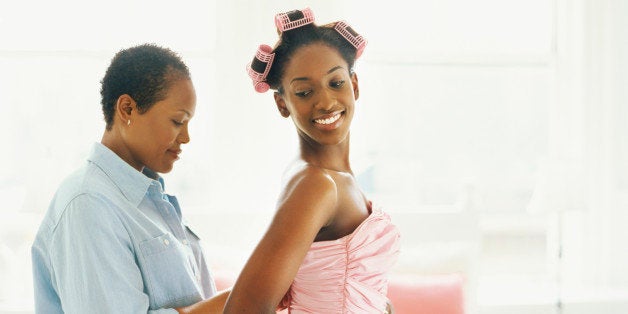 Prom is an incredibly special night, and I know that I looked forward to my own for weeks in excitement. After all, what's not to like about dressing up, getting done up and dancing the night away with your friends? But we all know that there are so many things to think about ahead of time -- How should I do my makeup? What do I need to take with me? How else should I primp and prep?
I've been helping my younger sister Christine get ready for prom this year and I'm excited to have you all looking amazing on this special night. Let's get started with the basics. We all feel stressed getting ready for any big occasion, so take care of a few things early and prep a week ahead of time.
Tame your acne with eye drops to reduce redness. Eye drops contain anti-inflammatory agents that help constrict the blood vessels. Say goodbye to redness! Follow up with a nice lemon scrub to brighten your skin. It's best to do this at night, or try to avoid direct sunlight after. To top it off, use your moisturizer to hydrate the skin and neck.
You don't want to do any last minute things to whiten your teeth -- your teeth are delicate (and important!) -- so do this slowly over the course of the week. Crest white strips can do the trick.
Plucking or waxing your brows the night before or day of your event can leave your skin red from irritation. Give your skin some time to heal by doing this mid-week.
Who doesn't want shiny and healthy hair? Use a leave-in conditioner to protect and hydrate your hair. You'll love whipping your locks around on the dance floor.
5. Use a good deodorant or antiperspirant product

If you're planning on dancing the night away try to find a product that's long-lasting and fresh-smelling.
6. Add a pop of color to the eyes
I know color is big this spring, but you don't want to look back at your prom picture10 years from now and be like me, asking why did I wear blue eye shadow on my eyes. Instead, a pop of color on your waterline is a great way to celebrate color without overdoing it. I love my em Waterliner (Turquoise) for this. If you're not big on going crazy with your makeup, adding a sparkling top coat on your eyes can give you a glamorous look without making you look like a different person. Try something like my em Color Facets Sparkling Shadow Top Coat (Moonlight Shimmer).
One of my favorite prom-dos is luscious curls. You can easily achieve romantic waves with a medium-sized curling iron. If you want to add more volume to your curls take a brush and gently brush out your curls.
8. Treat yourself like a celebrity with a lip color change
What girl doesn't like having options? Not everyone can do a wardrobe change like Rihanna, a lip color change is much easier to play with. You'll feel fresh and ready for the camera in a matter of seconds.
9. Prioritize what's in your purse
Prepping your body before prom is important, but don't forget to plan what's in your purse. Chances are, you'll be using a tiny clutch or bag much smaller than your everyday purse, so it's important to prioritize what to keep and what to leave -- trust me, no one wants to carry around a bag at prom that's stuffed within an inch of its life! To help you prioritize, I've come up with five must-bring items that make the cut: blotting paper, lip gloss, bobby pins, safety pins and mints/gum.
10. Don't forget your ticket!
This may sound silly, but the last thing you want to do is get to prom and get stuck at the door. Remember to bring cash, your ID and ticket too.
Related