You don't have to spend a mint to make your home a happier, more enjoyable place.
Homeowners often put off making home improvements thinking it will either cost a small fortune, or wait until it's time to sell. Fortunately, neither need be the case!
Here are 10 home improvements that will increase your property value -- and your quality of life! -- that can be done without renovating or breaking the bank: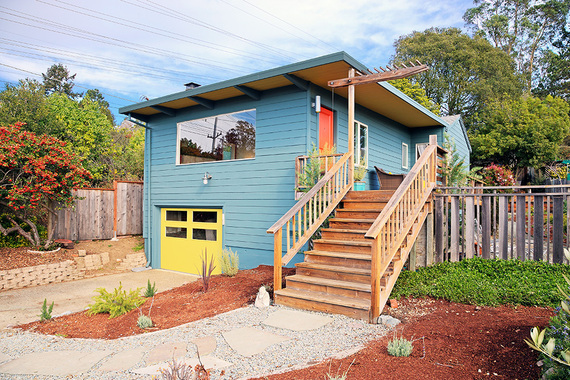 1. Crank up the curb appeal.
Depending on which projects you choose and whether you do the work yourself, you can crank up your curb appeal for a few hundred dollars or a few thousand. Here are some curb appeal-boosting projects to consider:
Exterior paint or power wash
Paint or install a new garage door
Paint or install a new front door
Paint or install new trim (shutters, eaves, etc.)
New exterior hardware (door kickplate, mailbox, house numbers, etc.)
Exterior or landscape lighting
Front yard landscaping spruce-up or makeover
Removing walls, even structural walls, is highly feasible and much less expensive than many homeowners assume. (If a load-bearing wall is removed, the structural component can often be preserved and finished by simply leaving a beam at the ceiling.) What can jack up the price is the relocation of plumbing or wiring contained in the wall being removed.
3. Swap out old windows for new, dual-paned.
Switching out your old single-paned windows for new dual-paned ones might make your home look better, and it will definitely make your home operate more efficiently.
As with everything, costs vary by location and by the quality of window you choose, but you can use $200 to $300 per window, installed, as a rough rule of thumb.
4. Extend your living areas outdoors.
The National Outdoor Kitchen and Fireplace Association pegs the average cost of an outdoor kitchen at $12,000 to $15,000 on average -- but if you can cut costs, find appliances on sale, or do some of the work yourself, you might just be able to get one in your own backyard for the $10,000 price point.
5. New kitchen appliances.
In terms of sheer functionality, new kitchen appliances can upgrade to your family's everyday life. A new fridge will run you anywhere from $350 to $2,000, a new stove/oven range can run anywhere from $300 to $6,000, and a dishwasher will cost you somewhere around $250 to $1,600.
If you have $10K to spend and you can't stand your carpet, you can estimate that it'll run you about $300 to $500 per room to replace it with new carpet, or $1,500 to $2,000 per room to replace it with hardwood, depending on where you live, how large your rooms are, and what specific materials you choose.
7. Bring a bathroom into this millennium.
You can do dozens of things to your bathrooms to bring them into the 21st century - all for well under the $10,000 mark:
Replace the vanity with a new wood model that has a stone counter
Add a new mirror and faucet
Improve lighting and ventilation with a new combination light and exhaust fan
Add a set of sconces on each side of the mirror or medicine cabinet
Update towel bars, hooks, toothbrush and toilet paper holders, and cabinet hardware
Add matching shelves for your towels and toiletries
Switch your standard showerhead to one with multiple settings
Keep your towels toasty with a heated towel bar
8. Built-in organizing systems.
One of the most significant advantages to owning your home is that you can customize it to manage your stuff and your activities, rather than being forced to fit your things into someone else's system. Consider having customized organizational systems built into your closet, office, pantry, or garage, all tailored to your family's needs.
Painting can be very affordable, depending on your home's size and details, and is a great starter do-it-yourself project to boot. (My personal cost-cutting tip: pick your colors from the designer paint swatches, but have the paint department staff use more affordable paint when they custom-mix the colors to match.)
The costs of connecting your home have come down -- a lot. For anywhere from $200 to $2,000, you could potentially have your home's systems wired so that you can:
Control lighting, heating, and AC remotely
Have your HVAC systems and window coverings work in sync
Monitor your home via video and sensors for security and other home crises (e.g., flooding), no matter where you are