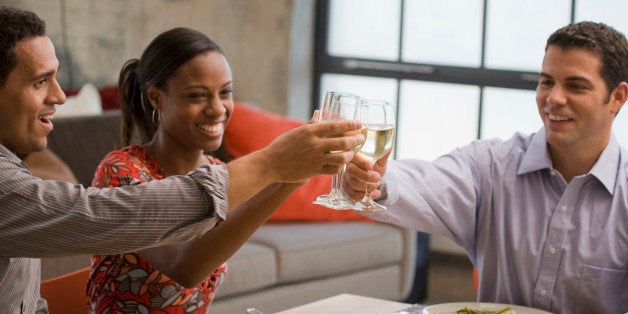 Welcome to another installment of Tipsy Tuesday, The Salonniere's Tuesday feature that provides tips from top salonnieres on all things party-related. Today, we're getting tipsy with the no-fail questions these 10 expert hosts ask to kick-start a conversation at a cocktail or dinner party.
Alexa Hampton, interior designer and author -- I will first ask them to explain to me their work. People usually have a way they explain their job, or how they spend their day, so they can feel comfortable answering this. I also like to ask people what they are reading. Strangely, I think of this as a more personal question.
Teri Agins, fashion writer and Wall Street Journal columnist -- My favorite icebreaker is to find something to compliment them on - their outfit, hairstyle, handbag, shoes... something. I ask them to tell me about it, so the person can't just respond with a simple thank you. Then I jump in with follow-up questions and that usually gets them going.
Carla McDonald, founder, The Salonniere -- If the person is attending with his or her significant other, I like to ask, "How did you two meet?" This always puts the person at ease since it's a happy story and they've told it many times before. Also, it usually reveals enough common ground to keep the conversation rolling along for a while.
Ashley McDermott, writer and philanthropist -- I like to ask, "When and where were you happiest in your life?"
Frederick Anderson, president of lifestyle brand, Hanley Mellon -- I ask, "If you had the opportunity to meet one person you haven't met who would it be, why and what would you talk about?"
Angella Nazaria, best-selling author and philanthropist -- My favorites are, "If you could have an alternate career, what would it be?" and "What was your most embarrassing moment?" The answers always spark a lively conversation.
Kathy Freston, the New York Times best-selling author of books about healthy living -- I can't stand small talk, so I'll turn to the table and say, "Let's talk about something that we can all learn about from one another. What do you think is the driving force in your life?"
Kimberly Schlegel Whitman, lifestyle and entertaining expert -- I always lean on books or travel. They are my go-to topics. So I'll say, "I'm looking for a good summer read. Have you read anything good lately?"