We all need a boost now and then. With the wage gap, one of the most contentious presidential elections in history, and the general girls-aren't-as-good-as-boys mentality of previous generations, sometimes a badass gal just needs a reminder of how powerful she is. That's where inspiring quotes from these fearless women come in so handy; how could anything be more motivational than a quote from someone who's been there, done that, fought where you stand now, and has a bit of wisdom to share?
Just as we'd reach for the phone to call our mother on a bad day, or seek out the shoulder of a friend when the world turns against us, a quote for motivation from a personal hero can sometimes, if we're open to it, offer that lightening strike of bravery we need to make it through the day. These ten quotes from strong women of wisdom pass down the courage and beliefs of a gender that's always had to fight for our rights and opportunities, and we don't plan to stop any time soon...

"I love to see a young girl go out and grab the world by the lapels. Life's a bitch. You've got to go out and kick ass." - Maya Angelou
"If your actions create a legacy that inspires others to dream more, learn more, do more and become more, then, you are an excellent leader." -Dolly Parton
"I believe we're all put on this planet for a purpose, and we all have a different purpose... When you connect with that love and that compassion, that's when everything unfolds." - Ellen DeGeneres
"It takes a great deal of courage to stand up to your enemies, but even more to stand up to your friends." - J.K. Rowling
"Take criticism seriously, but not personally. If there is truth or merit in the criticism, try to learn from it. Otherwise, let it roll right off you."
- Hillary Clinton
"Don't compromise yourself. You are all you've got." - Janis Joplin
"A lot of people are afraid to say what they want. That's why they don't get what they want." - Madonna
"A strong woman is a woman determined to do something others are determined not be done." - Marge Piercy
"A really strong woman accepts the war she went through and is ennobled by her scars." - Carly Simon
"Think like a queen. A queen is not afraid to fail. Failure is another steppingstone to greatness." - Oprah Winfrey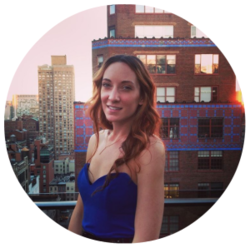 Rachael Yahne is an award winning blogger, writer and cancer survivor. After years in the fashion industry, she now writes lifestyle articles about purpose, passion, well-being and asking life's biggest questions.
You can read more of her work at HerAfter.com
Calling all HuffPost superfans!
Sign up for membership to become a founding member and help shape HuffPost's next chapter