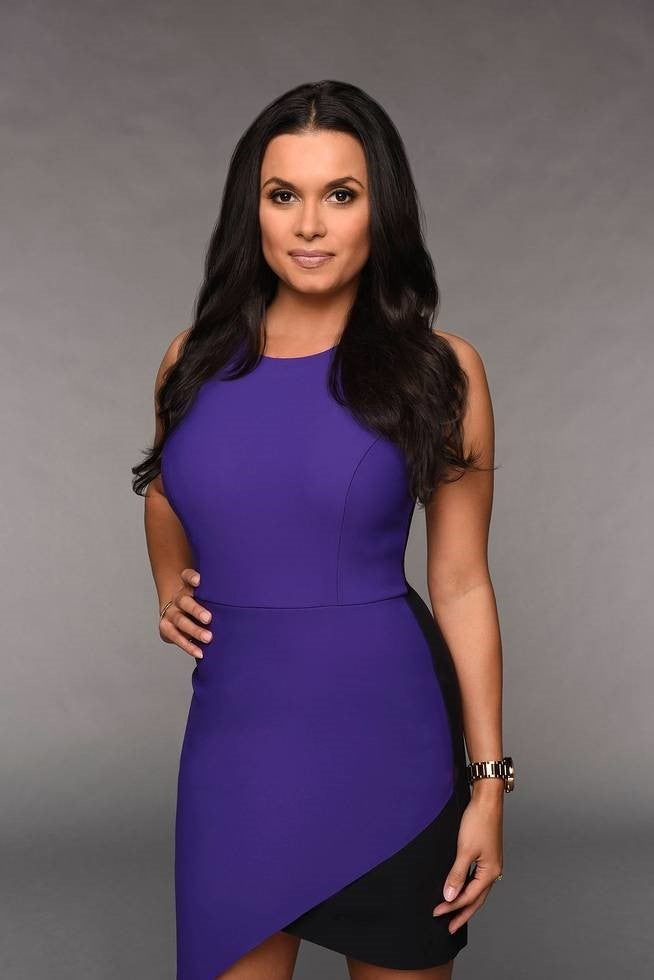 Though she's a fan favorite in the city of Miami where she worked as a sports talk radio host for 790 the Ticket, much of the country is just now being introduced to the loveable Joy Taylor. The moderator of FS1's newest hit show Skip and Shannon: Undisputed is no stranger to sports though. She has a famous brother Jason Taylor that played in the NFL, but Joy herself was also a recruited collegiate athlete. She's also one of the most genuine media members you'll ever meet.
Joy Taylor is smart, loves and lives sports, but more importantly isn't afraid to speak her mind and stand up for what she believes in. Even if her opinion is unpopular. The perfect choice to corral Bayless and Sharpe as they duke it out every morning on FS1! Want to learn more?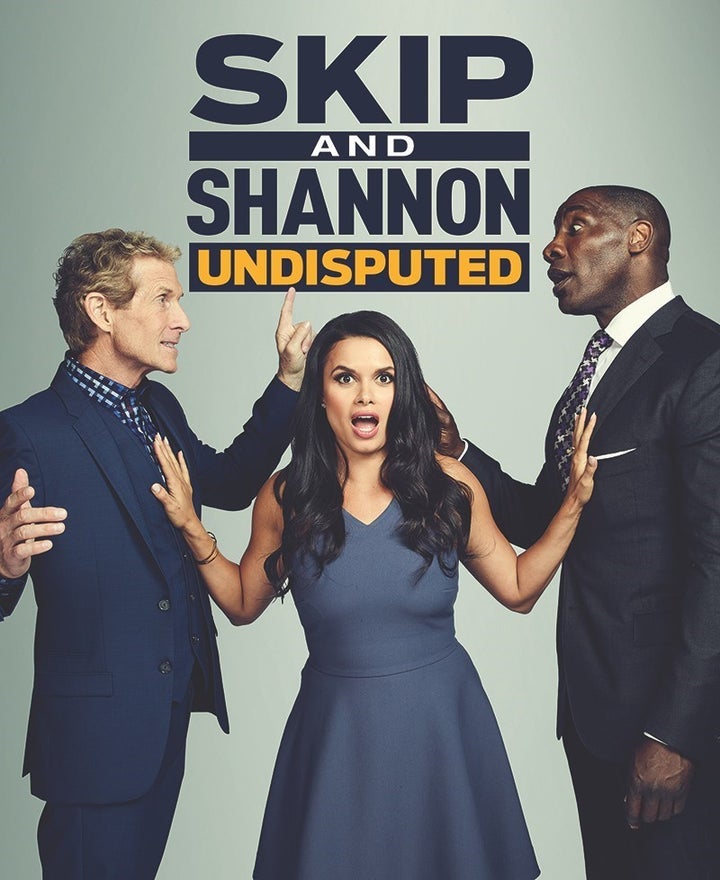 10 Things You Might Not Know About Joy Taylor of 'Undisputed'
1. Are you a dog person or a cat person?
JT: We recently got a puppy which we unfortunately couldn't bring her here to Los Angeles because if you don't know a lot about LA the cost of living is very expensive for very small places. And she was a Boxer so she would have eaten a hole in the floor here. So she's in Florida with my in-laws living a great life. But she is tough and having a puppy is so hard, so I think now I'm a cat person.
2. Where do you get your distinctive laugh from?
JT: I would always get teased by my younger sister about my laugh because it's very cackle-y and I don't know…witch-like. I've just kind of embraced it now, it's sort of a signature thing. Some people find it annoying, some people find it contagious and funny, it's really hard to fake a good laugh. I just go with my natural laugh and then people know I think something is funny!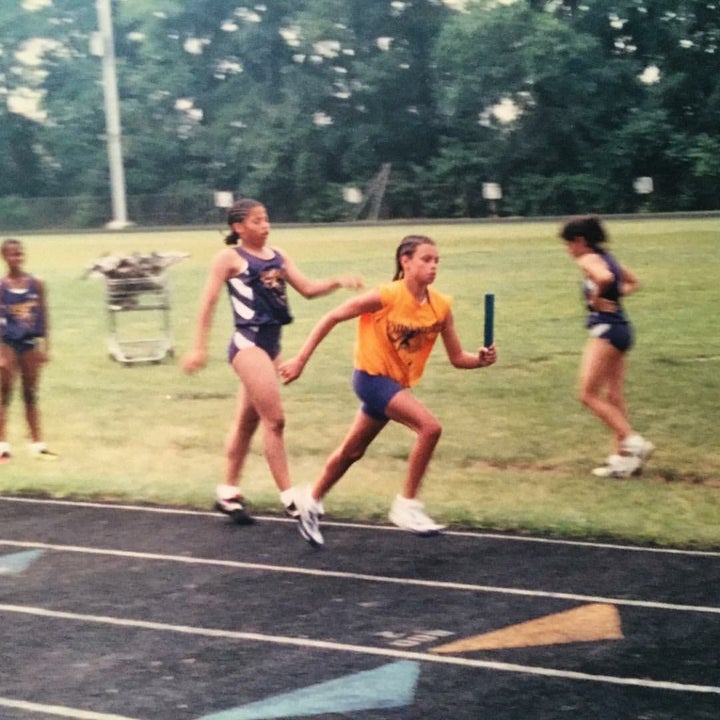 3. What sports did you play in high school and college?
JT: I ran track and played basketball for most of my young life. I started in 5th grade and also played volleyball and soccer. I ran track in college, I was a recruited division one track athlete, sprinter to be specific, so I ran for a year but being a college athlete was not for me. Trying to balance sports and being a student was difficult so I always commend them. And also I wasn't good enough to go to the Olympics, and I wasn't studying sports management, so it was too much for me. But I loved playing sports and even played soccer into my adult years until a few years ago when I tore my ACL, which as a grown up is extremely inconvenient.
4. What TV show are you watching when you're not watching sports?
JT: I love Law and Order SVU – it's my obsession and Say Yes to the Dress. I can binge watch those, even though I'm already married, there's something so fun about watching people pick out their wedding dresses! It's so fun to pick out your wedding dress, I probably tried on like 40 even though I knew I was going to buy the 2nd dress. It's just fun!
5. Favorite social media platform and why?
JT: Twitter was my favorite because I really do like talking to people, and interacting with fans and having conversations. I don't know if I'm going to be able to use it that much anymore because it's hard it's very hard to navigate having debates with fans on Twitter and the ridiculous amount of trolls that are out there. Whether I want to admit it or not, reading a lot of negativity about yourself gets into your psyche, so I try to avoid it. I like Facebook, even though I can't wait for the election to be over so I can thoroughly enjoy it again.
6. What would you rather wear, stilettos or running shoes?
JT: I've become much more of a running shoes person especially now that I'm in LA. In Miami everyone gets dressed up all the time, and the very underrated part of living in Los Angeles is you can wear whatever you want. Out on a Friday night you can wear tennis shoes and shorts or flip flops, a sundress, or get completely dressed up.
7. Finish this sentence- Family means....
JT: Family means everything to me. My family is my rock, I love my brothers and sisters, my mom is awesome. They are so supportive of me and we've all been through a lot together so we all have each other's backs.
8. Which leads me to my next questions, how many brothers and sisters do you have?
JT: I have four sisters and two brothers, two older sisters, two younger sisters, a younger brother and an older brother who is obviously Jason Taylor.
9. Favorite quote or inspirational saying that you live by?
JT: I don't know it's a quote as just a piece of advice I got when I was struggling and in between things and just starting out in the business. I had a lot of goals, a lot of aspiration, and not a lot of focus. So a piece of advice I got was put all of my energy into the things I want. Set a goal and then put your energy towards it.
I think a lot of people have a problem in life whether it be fitness or career…they don't actually set a goal. If you want to be on television you should be putting all of your energy towards things that will help you get there. Focus is really the biggest thing in helping you become successful. Since I got that piece of advice I've kept on that path towards those goals, and now I'm in L.A. on Undisputed on FS1 and I really do believe it's because I had a goal and I didn't get distracted from that.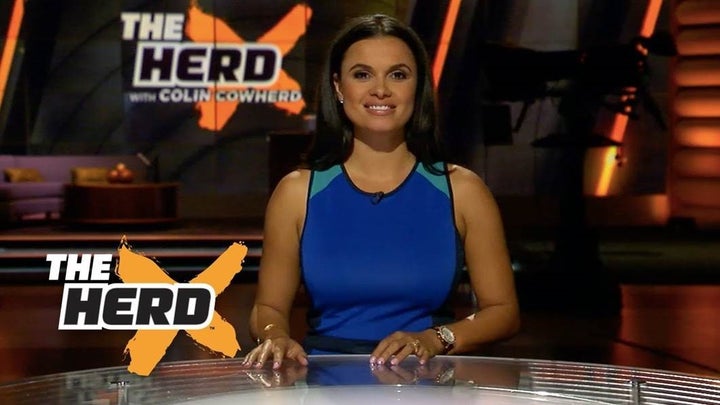 10. What advice do you have for young women who want to work in broadcasting?
JT: I get asked this a lot – the digital platform and blogging is free, it's such a great tool. And if you've ever been to any sort of broadcasting school all the professors are telling you that you have to write, write write. And it's true, I still write most of my scripts on FS1 at the network level. So you have to be able to write. Blogging and YouTube are really helpful. Networking is the biggest – so you should always be out there and be professional, and always following up with them. But also knowing what you want to do. It's hard for people to help you when you don't tell them how they can help you. Also the other thing I would tell young women is…You just have to be really REALLY good. You have to be better than you think you need to be. And always be on time, and present yourself professionally.
If you'd like to learn more about Joy Taylor, please watch the rest of our interview in its entirety below.
Popular in the Community