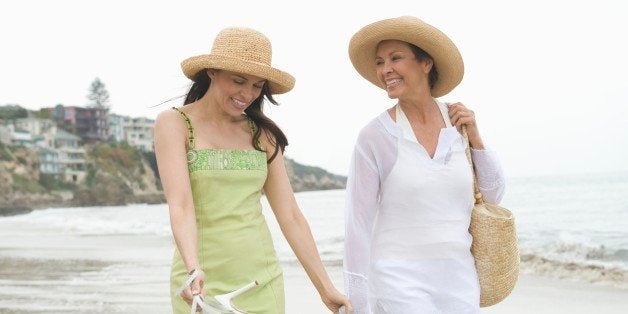 Mother's Day is less than two months away, but why do we need to wait for a Hallmark holiday to show our moms we care? Yes, all mothers deserve a day on the calendar so we can fully recognize them for all their sacrifices and love. But why not surprise them with a sweet gesture on an ordinary day? We know you are busy, so here are some creative ways to show your mom love any day of the year.
1. Send her a thoughtful card in the mail. Today, there are many ways to stay in touch: e-mail, texts, Snapchat, FaceTime. The list goes on and on! Sometimes it's nice to be 'old-school' and send a handwritten card through the mail. It shows that you are wiling to go the extra mile to tell your mom you love her -- plus, it's always a special surprise to receive mail that's not a bill, advertisement, or solicitation.
2. Set up a mother-daughter date to spend quality time together. Life is so busy and it can be hard to find the time to focus on your mother-daughter relationship, especially if you live in different cities. While holidays, phone calls, and quick visits are helpful, arranging a fun day out with your mom can help you connect in a deeper way. Make a dinner reservation, go to a movie, sign up for a painting class, plan a hike -- the opportunities are endless!
3. Make a donation to a cause she cares about in her honor. If your mom is particularly passionate about an issue or cause, this is a great way to show her you care. Giving back is a lesson many of us learn from our mothers, and showing that you are following in her footsteps can be very meaningful.
4. Buy her a gift "just because." If you are going about your day and see something you know your mom would like, just buy it! Why wait until the holiday season? Your mom will be so surprised -- it's a great way to show her you are grateful for her always, not just during the holidays.
5. Go the extra mile to help her out. One of the simplest ways we can show our love to our moms is taking the initiative to help. Whether it's doing the dishes, running an errand or cleaning up around the house, small actions can go a long way.
6. Surprise her at work and take her out to lunch. There's nothing better for a mom than getting a surprise visit from her children. If you are in town or and near your mom's office, why not take the initiative to stop by and brighten her day!
7. Share an article you think she would enjoy reading. With social media, we are inundated with information on just about everything. If you read something that would interest your mom, take a few seconds to send it to her. Knowing you are thinking about her and paying attention to the things she cares about will make her feel loved.
8. Cook her dinner or bake her a yummy dessert. There's nothing better than home-cooked food made with love! After all the meals your mom has made for you throughout your life, why not return the favor and treat her to her favorite dish. She will love being pampered and watching you work your magic in the kitchen!
9. Invite her to come to work/school with you for a day. As kids, we often went to 'Bring Your Kids to Work Day' with our moms. Why not do the reverse and create your own 'Bring Your Mom to Work Day'? Companies like LinkedIn are doing it! Many daughters who invited their moms to a Wharton Mother-Daughter Weekend told us their moms began to cry (happy tears!) when they invited them. Simply the invitation to get a glimpse into your world can mean so much.
10. Text her, saying "I love you." This is by far the simplest, quickest and most important thing you can do! As mothers and daughters, we often don't tell each other how we feel and show our appreciation for one another. Simply saying those three special words is one of the most impactful ways to show your love -- plus, it only takes a few seconds. Go do it... now!
Ellen Resnick and Jenna Gebel are co-authors of a blog, My Mother, My Daughter, My Friend where they examine different aspects of their mother-daughter relationship and celebrate their love for each other.
Calling all HuffPost superfans!
Sign up for membership to become a founding member and help shape HuffPost's next chapter