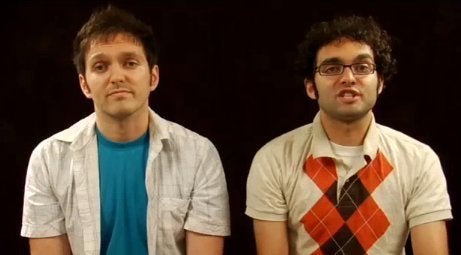 The Fine brothers are back and this time they are ruining TV Shows. In honor of the upcoming Emmy Awards, they are telling you exactly how this season of each nominated show ended and then going on to address every other major show of the past few decades.
Spoilers in this order: Damages, Big Love, Dexter, Breaking Bad, Mad Men, House, LOST, 30 Rock, Entourage, Family Guy, Flight of the Conchords, How I Met Your Mother, Weeds, The Office, M*A*S*H, Frasier, Hill Street Blues, Doogie Howser, M.D., Fresh Prince of Bell-Air, Full House, Sledge Hammer, Friends, Beverly Hills 90210, The O.C., Who's the Boss?, The Office UK, Happy Days, Dawson's Creek, Doug, That 70s Show, The Wonder Years, Boston Legal, The Mary Tyler Moore Show, The Prisoner, Twin Peaks, Nowhere Man, St. Elsewhere, Roseanne, Newhart, Life On Mars US, Life on Mars UK, Gilmore Girls, Family Ties, The Larry Sanders Show, Gilligan's Island, The Young Ones, WKRP in Cincinnati, Cheers, Just Shoot Me, Farscape, Quantum Leap, Babylon 5, Star Trek: The Next Generation TNG, The X-Files, Battlestar Galactica, Felicity, Dick Van Dyke Show, Married...With Children, Black Adder, Six Feet Under, Little House on the Prairie, The West Wing, Will and Grace, 3rd Rock From the Sun, Saved by the Bell, The Secret World of Alex Mack, The Howdy Doody Show, H.R. Pufnstuf, Clarissa Explains It All, Leave It To Beaver, Degrassi The Next Generation, The Fugitive, The Odd Couple, Malcolm in the Middle, ER, Death Note, Full Metal Alchemist, Cowboy Bebop, Facts of Life, Golden Girls, 7th Heaven, 7th Heaven Again, Magnum P.I., Mork and Mindy, Buffy The Vampire Slayer, Angel, Freaks and Geeks, Deadwood, My So Called Life, Murphy Brown, Arrested Development, Prison Break, Family Matters, Gargoyles, Ellen, The Shield, Beavis and Butt-head, Seinfeld, Dallas, The Sopranos. Phew.
Calling all HuffPost superfans!
Sign up for membership to become a founding member and help shape HuffPost's next chapter