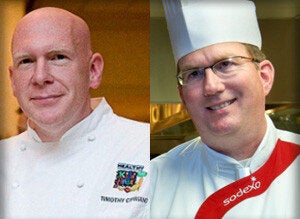 As the good food movement marches on, sometimes surging, sometimes plodding, many of us are left with a nagging question: what should be done next? Emboldened by last year's Congressional victories and the impressive rise of farmers markets (among many other markers), but also under constant threat from the deep pockets of Big Ag. and the defunding zealots within government, people are asking where do we go from here? If the ultimate goal is to make healthy food available to the greatest number of folks, then where will the systemic changes that we need come from?
In my humble opinion, it will be spurred by two factions: Innovators with bold vision; and corporations with budgets and mandates that aren't tied to Congressional shell games. With this in mind, I reached out to two leaders doing exceptional work bringing good food to lots of people. I wanted to get their quick thoughts on the way forward.
Spearheading the food revolution taking place in the New Haven Public School System, Executive Director of Food Services Timothy Cipriano serves nutritious meals to over 20,000 children every day, 80% of which are on free or reduced plans.
Chris Elam: So tell us what's happening up in New Haven?
Timothy Cipriano: Real food, actually. No nuggets, tenders or that stuff. No breaded mozzarella sticks. No flavored milk. No competitive foods. I'm talking REAL food - and local too! We served 140,000 pounds of Connecticut-grown produce last year - and that doesn't include the student grown produce from our school gardens and school farm.
CE: Sadly for too many school districts nationwide, I bet that sounds pretty radical.
TC: Yeah but I don't do it to be radical. I do it because we have a huge childhood hunger problem in this country. When they're in school, these kids should be eating real food. Why should it even be questioned?
CE: It's interesting that you mention childhood hunger, when so much of the press attention these days is focused on childhood obesity.
TC: Childhood hunger in this country is a major issue. Just because a child is obese doesn't mean he or she has access to unlimited food. Too often, it just means lack of access to nutritious foods. In other words, the very foods that children need to grow both physically and mentally.
CE: So how have you created such an amazing program?

TC: You just need the will. The resources are out there, just tap into them. First off, to focus our energy and our finances, we offer one good meal with deli sandwich or salad as a choice rather than menuing multiple hot-lunch offerings. That saves time and money. We also work with the USDA's Healthier U.S. School Challenge to gain additional funding, and LET'S MOVE's Salad Bars to Schools program has helped build out our salad bars, plus the Chefs Move to Schools program has engaged and activated our kids about where their food comes from. You'll find all our menus here plus our program descriptions. And you can follow our adventures via my twitter @LocalFoodDude.
Chef Dave Willard, National Executive Chef for Sodexo Health Care, the premiere food services provider for hospitals around the country, works in an entirely different environment, but his passion and commitment to nutritious food preparation are the same.
Chris Elam: So Chef Dave what really needs to change with our current food system?
Dave Willard: In general, I think people are moving towards more mindful eating. As an industry, we need to respond to that. We need to be where consumers want to be. The industry sees the wave, make no mistake, the data is there. It's just a question of what we're going to do about it.
CE: Do corporations have a role in the dialogue?
DW: Absolutely. At Sodexo, our mission is to provide a set of solutions. Most companies in our space tend to be product-focused. Here's a group of products, here's a bunch of menus. What we're trying to do is provide solutions that can help you elevate your quality of life -- whether you're a patient, visitor or hospital employee. Sodexo focuses on outcomes, offering the right balance of healthy food and educational materials, for the maximum result. More and more, we're thinking in terms of health & wellness.
CE: Considering that your budget isn't controlled by government mandate or political maneuverings, like that of school food budgets, you have the freedom to go where consumers are, as you say. So what are you offering them?
DW: We have a Better Tomorrow Plan, which outlines our 14 commitments to sustainability, spanning nutrition, community and the environment. Meatless Monday is a program we're rolling out to all our clients. First in our 900+ hospitals, then in our nearly 2000 corporate clients, with government offices, colleges and school districts to follow. Meatless Monday is a logical fit for us. It meets our nutrition as well as our environmental sustainability needs. And it's been a huge hit with our customers! We're thrilled actually with the response so far.
CE: Are there logistical challenges to providing plant-based meals to so many people?
DW: Not really, to be honest. Our #1 priority: it has to be great food. The practices aren't really that different. The greater challenge is remaining focused on our health mandate. I can make very unhealthy plant-based foods if I choose. In my business, salty fatty foods have certain side-benefits. These qualities help preserve food, where you can cook it well in advance, where it remains moist. But we've mastered all the tricks that allow us to do the same with low-fat, low-salt foods.
CE: Finally, what's your favorite plant-based dish that you serve?
DW: Hmmm. I think my favorite is a pretty humble item, the Portobello Rustico Sandwich. It's just a whole wheat roll, grilled Portobello mushrooms, roasted red peppers, feta cheese, spinach and a vinaigrette dressing to tie it all together. It's very simple, but it balances out nicely. It's fulfilling, has variety, and texture - it hits all the triggers. Sweet, hearty, a little bit of salt. It's been incredibly successful!
In an email exchange I had recently with Chef Ann Cooper, known as the Renegade Lunch Lady for her tireless work in support of healthy school food, this notion of nutritious institutional food was seconded. "Meatless Mondays in schools will expose kids to more plant-based entrees, but I could also see the big food companies simply developing some sort of soy/sawdust patty, which wouldn't be real food at all. We need to be certain that school food is based on fresh fruit, fresh vegetables, whole grains and clean protein so that vegetarian options don't become just more processed stuff!"
With Chef Ann's advice firmly in mind, Meatless Monday has launched its Bulk Recipe resource page. It's a great tool to help campus, school, worksite or other food providers make healthy institutional-size recipes. All the recipes come from tried-and-true resources: Chef Ann herself, the USDA, the Physicians Committee for Responsible Medicine, the New York Coalition for Healthy School Foods, among others, and serve between 30-400 people, but average about 75 people. Think: high in veggies and grains, low in cheese, perfect for a cafeteria, a work party or even an outdoor picnic! Check out the new Meatless Monday Bulk Recipes.