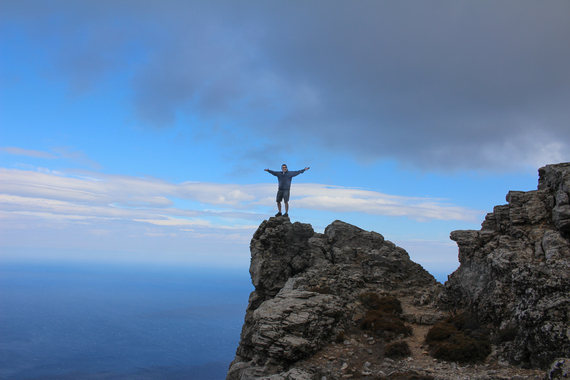 As we bid farewell to another year of travel, it is only appropriate to look back at some of the travel trends of 2014, and ring in a new year of wanderlust, seeking out astonishing, electrifying, or just off the beaten path destinations.
Ladies and gentlemen, it's time to see where the travel industry might be headed and what new adventures travelers will seek in the upcoming year. The world may be getting smaller, but that's a good thing. The chances of having extraordinary new experiences are only increasing.
A vacation now goes well beyond relaxing on a beach. As we enter a new year of travel, experiential travel continues to remain on the rise. With information at one's fingertips, it has never been easier to live in one's home, volunteer, study and learn, embrace and explore a new culture, and live like a local.
Some travel trends we learned about in 2014, and what's next on the horizon for 2015 -- a year for traveling. Global Tourism set record numbers in 2014.
As consumer confidence returned, the world pulled out from the prolonged global recession, and travel was on the rise in most parts of the world.
Travel agents are alive and well. Global online travel sales will amount to an estimated 630 billion dollars in 2014, 33 percent of total travel sales.
2014 was a record year for most tour operators.
Mobile devices are increasingly key in the travel industry in terms of both customer service and bookings. Mobile bookings are expected to reach 35 percent of online bookings by 2018.
Although most savvy travelers tend to know that turmoil is isolated, African tourism slowed down and is sadly, directly affected by the Ebola virus. This is a shame as popular safari travel nations in East Africa: Kenya, Tanzania, South Africa and more are perfectly safe travel destinations.
Almost nine of 10 industry executives polled about responsible tourism say sustainability is important to their businesses; with one in two stating it is at the forefront of travel.
57 percent of the travel workforce is female. Is a previously male dominated industry becoming dominated by more women?
Who doesn't love food? The blending of travel and food goes back to ancient times. Eating the local food of a country is considered one of the best ways to discover it. Eating with locals is a great way to meet people and gain a new perspective on the destination. Now, as the world becomes progressively "food savvy," culinary tourism is expected to jump by 30 percent in 2015, as travelers eat their way around the world. Many travelers don't want the culinary experience to end at the restaurant. They want to learn to make the meals so they can re-create the experience at home. Cooking classes, learning to prepare regional cuisine in countries like Italy, France, Greece, and Mexico are on the rise.
As people are living longer, the world is becoming increasingly health conscious. The Spa & Wellness sector will continue to increase. Healthy hotels, ancient spa therapies, holistic treatments, along with spa hotels and yoga classes are popular. Ayurveda, the 3,500 year-old Indian holistic system of medicine, and other ancient healing methods will continue to play an increasing role in the traveler's mindset. Look for more authentic experiences: Roman and Turkish baths, Russian banyas (steam rooms), traditional Chinese medicine and Nordic offerings, such as a trip to Iceland's Blue Lagoon, which will be an integral part of one's travels.
Biking, Hiking, Surfing, and Scuba Diving
You don't learn about the locals by driving by them. As a continuing experiential experience, hiking mountains, islands and even walking in cities is on the rise. Cycling is now the primary sport of a sector known as MAMILS (Middle-Aged Men in Lycra). Surfer Today estimates that there will be 50 million people surfing worldwide by 2020. 5 out of 10 travelers polled stated that they would like to become certified scuba divers.
Medical tourism will continue to grow in 2015. Traveling overseas for a medical procedure, then remaining in the destination for a holiday, is one of the fastest growing sectors in travel. With the ever growing high costs of medicine in much of the world the idea of taking a trip for dental procedures, cosmetic surgery, hip replacements, dialysis and more is on the rise. Some of the medical tourism winners are India, Malaysia, Philippines, Mexico, Costa Rica, Brazil, and Thailand.
Each year, travel industry experts come up with places that are exciting right now, offer new things for travelers to do, or are overlooked and underrated.
Many Americans will choose to explore the comforts of home by keeping travels within the United States. If you believe the experts at Lonely Planet, Queens, New York is well worth further exploration, as is Oakland, California, across the bay from San Francisco.
By all accounts, 2015 should be a banner year for the travel industry.
Popular in the Community