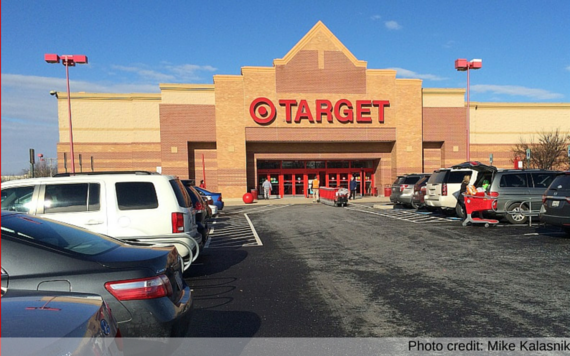 By Terence Loose, Contributor
With just short of 1,800 stores in the U.S. and a monster online business, it's no wonder so many people shop Target for everything from food to furniture. If you're one of them, you probably love the feeling of getting good deals on everyday items. But you might be missing out on some major savings.
From stacking coupons and watching for social media alerts to using discount gift cards and reading price codes, these 23 tips could take your Target savings game to the next level.
1. Pick Your Day
Most Target stores follow a schedule where they mark down certain departments for clearance on specific days. Knowing the schedule can help you find the best deals. "For instance, you'll find the best deals on clearance electronics on a Monday and sporting good clearance on Thursday," said Christy Palmer, founder of the blog All Things Target. Here's a schedule Palmer said is used by most Targets:
Monday: electronics, accessories, kids' clothing, books, baby, stationery
Tuesday: domestics, women's clothing, pets, market (food items)
Wednesday: men's clothing, health and beauty, diapers, lawn and garden, furniture
Thursday: housewares, lingerie, shoes, toys, sporting goods, décor and luggage
Friday: auto, cosmetics, hardware, jewelry
2. Check for Price Adjustments
Here's a head-slapping moment: You finally pull the trigger and buy that pair of jeans you've been wanting only to see them go on sale the next day. At Target, you can get the difference between what you paid and the new sale price refunded, said Palmer. For any item that goes on sale the week of or the week after you bought it, you can bring in your receipt and Target will refund you the cash you would have saved by waiting for the sale.
3. Shop Early in the Week
Target releases newspaper insert ads for specials on Sunday, and sales run Sunday through Saturday. "So, if the items in the ad are popular, you will have a much better chance of finding them in stock if you shop earlier in the week," said Palmer.
4. Check the Wall-Facing Endcaps
Endcaps are the shelves at the ends of the aisles and they are often a serious saver's go-to spot. Look for the ones marked "clearance." "Most of these clearance endcaps are the ones facing the walls, not the main walking aisles, so you may have to do some searching for them," Palmer said. "These endcaps are filled with items that have been marked down from 15 percent to 70 percent off."
5. Know the Clearance Code
Clearance items are some of the best deals at Target, according to Palmer. "They mark down their clearance items to certain levels," she said. "First, items will get marked down to 15 percent or 30 percent off, then to 50 percent off, and finally end up at 70 percent off."
These items have a red "clearance" sticker with the original price, the new price and the percentage of the markdown in the top right-hand corner without a percent symbol. "Check the number in the upper right corner of the price tag. If it says '70,′ it's been marked down to 70 percent off," sajd Palmer.
The only exception is holiday or seasonal merchandise, which can go as high as 90 percent off, she said. In those cases, the code will be 90.
6. Shop for the Holidays Early ― or Late
Want Halloween or Christmas decorations, Easter baskets or back-to-school books practically free? Wait a few days or weeks after the holiday to buy them. Holiday items will be cut by 50 percent the day after the holiday ― 30 percent for candy. But wait a week or so and products could go down to 70 percent off. Then, a few days later, if anything is left, they'll go to 90 percent off, which is practically free.
Here's a list of days and times of year that Target offers holiday sale prices:
Valentine's Day
Easter
Summer
Back to school
Halloween
Christmas
7. Text Target
If you're more the passive kind of saver, then having Target text you ongoing mobile coupons might be the way to go. To sign up, text COUPONS to 827438. You'll then receive up to five ongoing mobile coupons every month with an unlimited amount of offers attached to each coupon. At the register, the cashier will scan your coupon right from your phone. You can only redeem each offer once.
8. There's an App for That Coupon
If you have an iPhone or Android smartphone, you can download the Target App, which delivers ongoing coupons every month automatically. Simply download the app at the Apple App Store or Google Play Store, tap "mobile coupons," and fill out the form. Once the coupons start showing up, you simply present your smartphone to the cashier for scanning. Expired coupons will never display.
9. Clearance Items Version 2.0
You can find clearance goodies without pounding the Target floor tiles. Target has an online clearance section with items in just about every department up to 60 percent off.
And don't worry, you're not going to get stuck slogging through pages of women's shoes and toddlers' toys to find a desk lamp. The site is categorized. If you still need your Target fix, you can ship an item to your local store for free pickup.
10. Shop Amazon
Wait, shop Amazon for Target? Yep ― and any other retailer for that matter ― because Target has a price match guarantee. Some rules and restrictions apply, but in general, Target will match the lower price from a national or local retailer. Bring in proof of the current lower price with your original Target receipt to Target's Guest Service Desk. You can also request the price match before you buy an item.
11. Log On for the Weekly Ad
As Palmer said, Target releases their weekly ad in newspapers on Sundays. But if you're saving money by not getting a paper, you can still get in on all discounted fun by checking the ad online at Target.com. Just look for the Weekly Ad tab on the site's top menu bar. It will have pages of deals from a few dollars off to 50-percent discounts or more.
12. Stack 'Em and Save
If you've done your pre-Target-run prep, you might have more than one coupon for that item you've been waiting to grab. Good news: Target lets you stack coupons. So don't be shy about handing the checkout person a Target coupon, a manufacturer's coupon, and even a third coupon, such as Target's Cartwheel discount for the same item (more on Cartwheel discounts on the next slide).
13. Do Cartwheels
No, not down the aisles ― although you might want to by now. Use Target's Cartwheel coupon program. You can create an account at http://cartwheel.target.com and put the coupons you want in your list. When you visit Target, you simply present your barcode via your smartphone or a printout and you receive the discount. The barcode is tied to your account, so it never changes.
"By using the Cartwheel app, you can save an extra 5 percent to 50 percent off," said Palmer. And if you're not sure if it's a Cartwheel-discounted item, no problem. "Just scan the UPC code of an item you want to purchase with the phone app and it will tell you if a Cartwheel offer matches up with the item," said Palmer.
The really cool thing is that you can use each Cartwheel discount up to four times a day, she said. It also can be stacked with Target and manufacturer coupons.
14. Use a Cash-Back App
Free apps are great. Apps that give you money are even better. To save even more when shopping Target, sign up for an Ibotta, Ebates, BeFrugal, or Checkout 51 account. These online programs and smartphone apps give you money back for selected items you buy at Target or other participating stores. Each service is slightly different, but the bottom line is you receive cash rebates for the items you buy.
15. Check Out the REDcard
Target's REDcard is an easy way to save on every single Target purchase. It offers 5 percent off at the register on your entire bill, free shipping at Target.com and an extra 30 days to return items. You might want to sign up for the debit version instead of the credit version because the 20-plus-percent interest rate on the credit card could wipe out any savings.
16. Buy Discount Gift Cards
You can nab an extra 3 percent to sometimes more than 10 percent off your bill by buying discount gift cards at sites like Gift Card Granny, Giftcard Zen or Raise. The cards are real gift cards that you use like cash, so the bonus is that you save money with the gift cards in addition to savings with coupons or sales.
17. Stop at the Dollar Spot
You can find some great bargains at Target's Dollar Spot, which is right at the entrance to the store, said Palmer. Items in this section are often just $1 but can be as much as $2 or $3, she said ― and even these items get marked down.
"Certain items will get marked down to 50 percent off and then 70 percent off, so you end up paying $0.50 or $0.30," she said. "I find great deals on stationary items, coloring books, small toys, holiday items and more."
18. Follow @Target
Yep, Target is just like the rest of the world: It tweets. You might have to slog through a lot of splashy ads for things like Popsicles and summer dresses, but pay attention and you'll also be alerted to deals on new items or free shipping windows. That's worth a hashtag or two.
19. Make a Plan
We've all done it: Run in for some milk and bananas; come out an hour later with a cart full of ... stuff. That usually spells the opposite of saving. "Planning really is the one of the biggest keys when it comes to saving money," said Palmer.
Take 20 minutes before you leave for Target and plan your trip. "Make a list and stick to it," she said. "Those Target buyers seem to know what people like, so it's very easy to see something you just 'have to have,'" said Palmer. If it's really something you need, don't worry; you'll be back.
20. Red Is the New Yellow
Periodically, Target will have unadvertised markdowns on items, and these used to be marked with yellow "price cut" tags. But in the last few months, Target has done away with the yellow and now tags these bargains with red and white sale signs. The signs will have dates on the bottom telling you how long the sales are valid. "Some are valid longer than a week; some sale prices will last a month or more," said Palmer.
21. Get Paid to Help the Environment
Bring in your own reusable bag and Target will credit you 5 cents at checkout. It's not much but it can add up ― especially on those big shopping days ― because Target will give you 5 cents for every reusable bag you use.
22. Save on Drugs
Through Target's Prescription Savings Program, you can save 10 percent to 50 percent off of the retail price of your prescriptions. You only need one card for your entire household, and there is no limit to its use.
23. Check Out Your Coupons at Checkout
Don't be in too much of a hurry to leave: Many high-value coupons will print after your receipt. You will receive them upon checkout, and Palmer said they can vary from 20 percent off a certain department to $0.50 to $5 off certain items. No wonder Target shoppers come back.
Looking for the best deal before you buy? Take a look at HuffPost Coupons where we have hundreds of promo codes from brands you trust, including Target coupons.