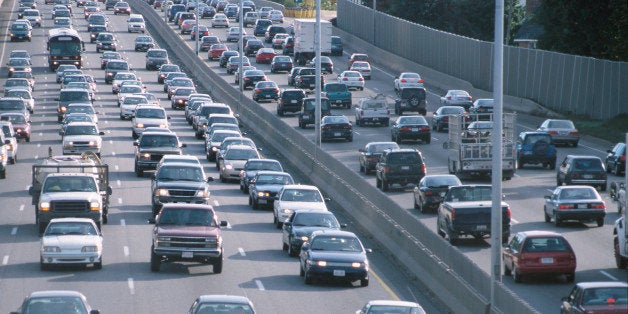 Any moment your eyes are off the road or your hands are off the wheel, you put yourself in a dangerous driving situation. Even sending what you believe to be a quick text message takes your eyes off the road for an average of five seconds. This is similar to driving 100 yards -- or the length of a football field -- at 40 mph with your eyes closed, which is something you certainly would never want to chance. That's why it is always necessary to avoid any and all distractions while driving, no matter how small or brief they may seem.
April is nationally recognized as Distracted Driving Awareness Month, so now is a perfect time to share some tips to help you beat distracted driving from AARP Driver Safety. The four tips below are designed to help you minimize the distractions that can make driving needlessly more dangerous:
1. Unplug
Keep your cell phone in an accessible place but not in one where you can see it light up for every notification you receive. Your cell phone should also be on silent mode. Just because your hands aren't on your phone doesn't mean the distraction has been eliminated. If a phone call or text message is really important, it's best to pull over into a safe location -- preferably a parking lot -- before using your phone. You can then safely return to your drive.
2. Refuel
Drowsy driving is distracted driving, so never drive when you're too tired and focus on your health. Make sure your sleep routine isn't affecting your morning commute. Aim to get the recommended amount of at least 7.5 to 8 hours of sleep every night. Don't forget to energize with breakfast before you get in your car, so you're not scrambling to unwrap your granola bar at a red light. Moreover, adopt a habit of drinking water regularly throughout the day. Staying hydrated helps you think with clarity, which is critical when driving.
3. Focus
Even though roadways are improving shapes and cars are becoming more high-tech, the driver remains the most important part of the driving experience. In a French university study of 1,000 drivers who were at fault in a collision, thinking about things other than driving -- or "mind wandering" -- was found as the main cause for nearly 50 percent of the collisions. Therefore, only drive when you're mentally and physically fit to do so. When you're behind the wheel, pay attention to what's happening all around your vehicle. Frequently scanning your mirrors and watching your speed will provide you with more control over your vehicle.
4. Secure your cargo
Rustling and falling items can distract you from the road. How often have you taken your attention off the road because you heard something fall in the back seat? While you can't prevent every distracting noise, you can prevent loose items from startling you in the event of sudden braking by securing your cargo. Also, never place smaller items on your lap or on the floor near the driver-side foot pedals -- such as phones, shoes, small bags or purses.
For more tips on how to stay safe on the road, consider taking a driver improvement course, such as the AARP Smart Driver course, available online or in a classroom setting near you. In recognition of Distracted Driving Awareness Month, AARP is offering the online course at 30 percent off in April with promo code AWARE30. The offer ends April 30, 2015. Upon completion of the course, you may even be eligible for a multi-year insurance discount in some states. AARP membership is not required to take the course. For more information, click here.
Related