Last Friday night, March 17th, was the third annual TOA Awards in New York City. TOA Awards was organized by TOA Consulting. Together with their Philanthropic Partner Turkish Philanthropy Funds, and event partners TAIK (Turkey US Business Council) and DEIK (Foreign Economic Relations Board) for the evening, TOA was able to shape an unforgettable event for the Turkish American community of not only New York, but also California, Washington DC and many other states. Comodo Group, a group of companies providing computer software technologies with offices in the United States, United Kingdom, Ukraine, Romaine, China, Turkey and India, was the Gold Sponsor of this memorable evening. The ceremony awarded 40 Turkish- Americans under 40, individuals who are the most successful in their own fields; from real estate to art, and technology to finance. The event took place at the Marriott Marquis Time Square's Broadway Ballroom. Besides drawing attention to the achievement of 40 young Turks, the event was also successful in being able to collect a large sum for the Turkish Philanthropy Funds through a live auction which Cuneyt Gurkan, Chief Operating Officer of TOA Consulting performed on stage. Turkish Philanthropy Funds is an organization seeking to maximize the impact of giving, with a particular focus on Turkey and an aim of taking philanthropy beyond the "feel good" into significant and measurable impact.
The evening, after the cocktail reception, commenced with Cemil Ozyurt, Co Founder and Editor in Chief od Turk of America Magazine, making the opening remarks, followed by Cuneyt Gurkan's speech welcoming the awardees and honorees of the night. The attendees were presented with a video of Congresswomen Yvette Clarke, congratulating the awardees and the TOA Team for their efforts in making such an evening possible to praise the achievements of young Turkish- Americans. During her opening speech, Perihan Inci, Board Member of Inci Holding drew attention to the achievement of women in particular and the role played by education and families in one's upbringing and further setting the stage for applaud-able achievements. William Parker, COO of the East West Institute and retired US Navy Officer, was among the opening speakers with a remarkable speech. As Parker emphasized the role Turkey plays in connecting the East and West, he pointed out the epical history of the nation.
Among the most influential speakers of the night was Jessica Walker, President of the Manhattan Chamber of Commerce, and Emine Perviz Erdem, KAGIDER & GENPA Board Member.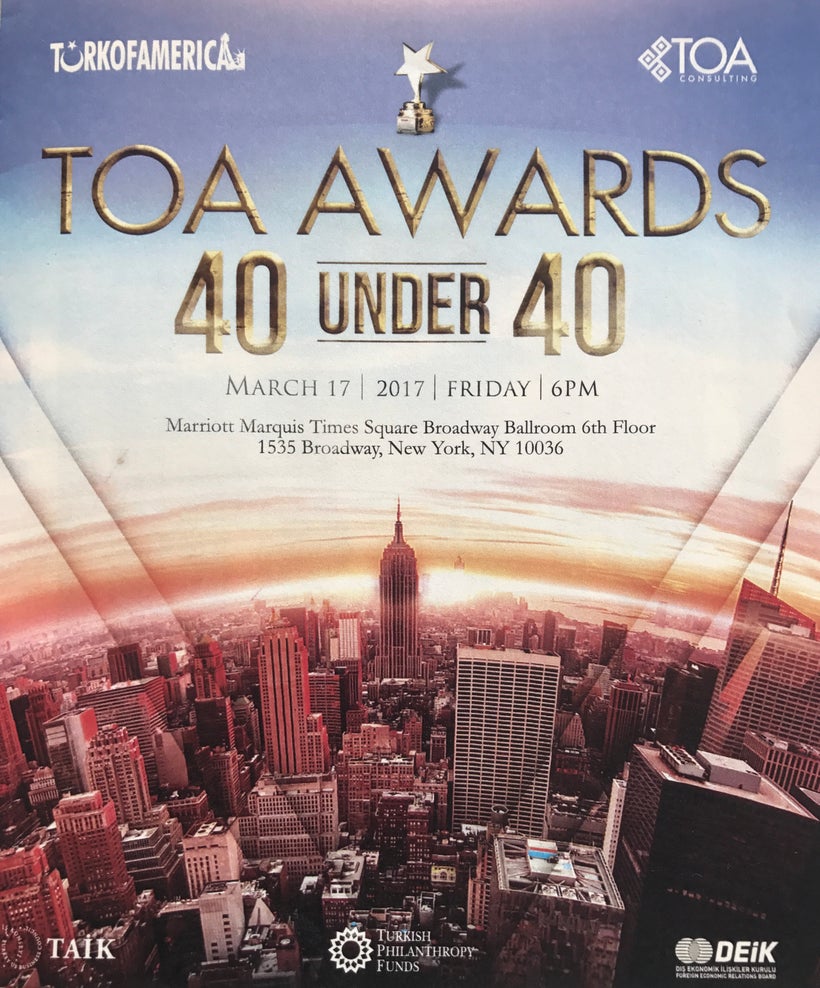 Achievements of the 40 Turkish Americans awarded at the ceremony was such that made everyone in the room feel proud and inspired. From successful entrepreneurs who sky-rocketed their businesses in only a couple of years to NBA basketball players and managers in the leading enterprises of the world to artist who have significant recognition, each of the 40 individuals on this list had more than noteworthy achievements.
Besides the 40 Turkish- American's under the age 40 awarded at the ceremony, TOA Excellence Awards were also represented to five individuals who excelled in education, entrepreneurship, journalism, leadership and industry. Ahmet Kose, CEO of BAU Global's US Operations, is known for establishing a language school, a university and a student dormitory that can host a total of 300 students for the Bahcesehir Ugur Education Foundation, which is one of the largest kindergarten to university educational foundations in Europe. Kose, started to work as a senior manager for the Foundation when he left government service to follow his new dreams. Seems like it was not a bad decision, as he was able increase the capital of the companies that he manages from $ 10 million to $ 55 million in four years. Kose was awarded the TOA Excellence Award in Education. Excellence in Leadership Award was presented to Ekim Alptekin, Chairman of the Turkey – US Business Council (TAIK), who is committed to boosting Transatlantic trade and bolstering the commercial angle of decades long Turkish American Partnership. Alptekin is also a member of the European Council of Foreign Relations and the Turkish Industry and Business Association (TUSIAD). Perihan Inci, Board Member of Inci Holding, a group which carries our activities heavily in the automotive supplying industries, was presented with the Excellence in Auto Industry Award. President of another automotive company, Hekim Tolog, was presented with the Excellence in Entrepreneurship Award, who has climbed through the stairs in his first day with a table and a cashbox, but today carries out a 15 million Euro business. The Excellence in Journalism Award was went to Barbaros Tapan, who was selected, after conducting myriad interviews with Hollywood stars and NBA players over the 2O years he has spent in the US, to be one of the only 90 members of Hollywood Foreign Press Association. Thanks to Tapan, Turkey was represented for the first time in the history of the Golden Globes!
The 40 awardees of the night received rounds and rounds of applause from the successful crowd in the room and many stated that this appraisal not only makes them proud but also inspires them to work harder and achieve even further. Furthermore, they inspired the many other Turkish Americans in the United States in the room, maybe without realizing, to achieve similar successes, and let them realize, that with hard work and dedication, what they have achieved is not impossible to accomplish for the younger ones who look up to them there and beyond.
The 40 Turkish – American's under 40 who were awarded in their sectors where they achieved significant success are:
Hafize Gaye Erkan – EVP, Chief Investment Officer and Chief Deposit Officer at First Republic Bank (San Francisco, CA and New York, NY)
Faruk Asik – NBA Player, New Orleans Pelicans (New Orleans, LA)
Ersan Ilyasova – NBA Player, Atlanta Hawks (Atlanta, GA)
Neslihan K. Hidirgil – Founder & CEO, N&F Global Corp. (New York, NY)
Egemen Tas - Senior Vice President of Comodo Internet Security (Clifton, NJ)
Baris Gultekin - Founder at Stealth Startup (San Francisco, CA)
Serdar Bulut - Manager at Facebook (San Francisco, CA)
Cosku Turhan - VR Lighting/ Rendering Supervisor at Magnopus (Los Angeles, CA)
Esra Guler - Head of Engagement Marketing – Google Express at Google (San Francisco, CA)
Hande Aksoy - Global Client Partner, Facebook (New York, NY)
Olcun Tan – Secret Lab LLC, Owner (Los Angeles, CA)
Mehmet Gulay – CEO of IGT Jewelry Shopping Mall (New York, NY)
Cetin Amato – CEO and Founder of Milas Foods, LLC (Fair Lawn, NJ)
Pinar Toprak – Composer (Los Angeles, LA)
Derya Taskin – Deputy Mayor of Paterson (Paterson, NJ)
Ceylan Ecer - Art Advisory (New York, NY)
Gizem Salcigil White - Turkish Coffee Lady, Founder of Turkish Coffee Truck & Turkayfe.org (Washington, DC)
Solita Marcelli - Global Head of Fixed Income, Currencies & Commodities, J.P. Morgan Global Wealth Management (New York, NY)
Mehmet L. Kirdar - Senior Vice President, Financial Advisor at Morgan Stanley (New York, NY)
Melis Kahya - Vice President, General Atlantic Private Investment Firm (New York, NY)
Pinar Kip – Executive Vice President at State Street (New York, NY)
Emre Sahin, Director (Los Angeles, CA)
Onur Kece – Co-founder of Found Beverage Corp. (New York, NY)
Kaan Dagalti – Head of Strategic Initiatives Coordination, Pladis Global (New York, NY)
Omer Er – Managing Partner, Middle Bridge Partners (Washington, DC)
Sinem Saniye – Musician (New York, NY)
Efe Orhun – CEO of Derivative Technology (San Francisco, CA)
Tolga Kurtoglu – CEO of the Systems Sciences Lab (SSL) at PARC (San Francisco, CA)
Umur Cubukcu – CEO and Co-Founder of Citus Data (San Francisco, CA)
Salih Eroglu – The Founder of NBA Turkish Heritage Nights (Los Angeles, CA)
Shiny Burcu Unsal - Life Coach (Los Angeles, CA)
Emre Erkul – Senior Vice President Marketing at Seminole Gaming (Miami, FL)
Onur Haytac - Founder and CEO of Benserson (Naples, FL)
Ahmet Atalay - Producer and Editor at The Ant Farm (Los Angeles, CA)
Refik Anadol – Co-founder and Creative Director at Antilop (Los Angeles, CA)
Guvenc Ozel – Architect (Los Angeles, CA)
Cetin Otar - CEO of Excel Capital Management, LLC (New York, NY)
Alper Nakri, Designofurnimationalist (Los Angeles, CA)
Eren Bali – Co-founder & CEO of Carbon, Co-founder & Chairman of UDEMY (San Francisco, CA)
Berk Algan – Director, IT Governance, Risk & Compliance for Silicon Valley Bank (San Francisco, CA)
REAL LIFE. REAL NEWS. REAL VOICES.
Help us tell more of the stories that matter from voices that too often remain unheard.
This post was published on the now-closed HuffPost Contributor platform. Contributors control their own work and posted freely to our site. If you need to flag this entry as abusive,
send us an email
.