Headphones have just about been absorbed into our social cues as the universal symbol for "I would like to be alone now". However, for the few of us who still value a good pair of portable music blasters to help us mask the sound of our voices as we belt out murderous renditions of our favorite music, sound quality is also a pretty big deal.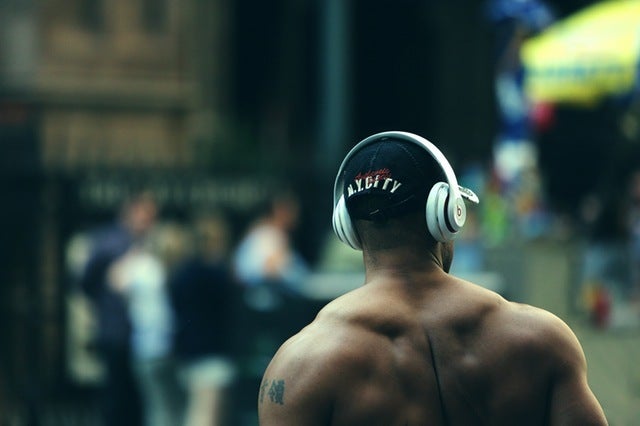 Unfortunately, we cannot all rock thousand-dollar Beats By Dre headphones. However, what most online product reviews will not tell you is that there are numerous options under 50$ that can still give you quite decent sound quality for a price that will not force you to blow through your entire month's food budget. Here are 5 top quality wireless headphones under 50$.
1. Sentey B-Trek H10 Bluetooth Headphones
From the moment you lay your eyes on these beauties, the 45$ price tag does not look feasible. The exterior design is flawless and premium-looking and it incorporates a flashy red and black color scheme. So what exactly are you getting for this price?
Although we are not absolutely sure these headphones can block out the noise of your neighbor getting stabbed, they are pretty well equipped with protein ear cushions. These block a substantial amount of noise (including any horrific attempts to imitate Taylor Swift) and make them quite comfortable for wearing over long periods of time.
The bass quality is Meghan-Trainor-good: crisp, pristine and surprisingly surpasses all expectations. It has a decent Bluetooth range of 10 meters, a 420mAh battery that can give you up to 6 hours of playback on a single charge, an optional audio cable (supposedly tangle-free but we'll let you be the judge of that) and a pretty handy in-line control panel that allows you to play or pause, tinker with the volume and answer calls.
2. W-Thalia WT BH004 Over-ear Bluetooth Stereo Headphones
If you have been having fantasies about murdering your siblings by strangling them with your earphone cord, we suggest that you upgrade to the W-Thalia wireless over-ear Bluetooth headphones. Not only will you save yourself from a possible death sentence, you will also get to enjoy pristine music clarity for less than 50$.
For the 35$ price tag, the headphones are not stingy with the features. 4-in-1 functionality may seem like a great deal until you realize that you rarely use your headphones for anything other than music and video games.
Nevertheless, you get a sleek exterior design, a 300mAh battery which gives you roughly 4-5 hours of playback, a decent sound quality and a Bluetooth range of up to 10 meters.
3. JAM Transit HX-HP420WT Wireless Headphones
If you have a tendency for leaving your phone lying around when playing music, these JAM Transit headphones keep you connected provided you do not wander more than 30 feet away from your phone.
One of the biggest perks of this pair of wireless headphones is their enormous battery life. On a single charge, you get to enjoy 11 hours of music or video game conversation or espionage—whatever it is you use your wireless headphones for. Precision drivers clear up the bass and give it a bit of oomph.
We are not saying that you should go biking with headphones on but if that is what you are looking for, this pair is perfect.
4. Leesom X1T Mini Invisible In-Ear Bluetooth Plugs
It doesn't get any more wireless than this. The Leesom X1T earphones are nothing more than two in-ear earphone plugs that require a Bluetooth connection to function and intervention from higher powers to stay put. They look incredibly easy to misplace or swallow (don't put them in your mouth) but are literal beasts when it comes to audio quality.
Stereo-quality bass and pristine sound quality are just a few of the spectacular features packed into these bean-sized babies. They come with an in-built microphone (we are not sure where exactly these are) that allow you to baffle strangers on the bus when answering calls.
What's more, a voice notification informs you of any incoming calls and messages. The aptly named invisible earphones have a range of 30ft and in-line buttons (again, we are not sure where these are) to make operating them breeze.
5. Bluedio T3 Extra Bass Bluetooth Headphones
Despite having a name that will probably get you picked on by your friends, the Bluedio T3 delivers audio performances no one can laugh at. At first glance, the exterior design is captivating and professional looking (as it should considering you're spending 50$ for them).
The exterior design of the Bluedio T3 headphones is definitely worth a mention. It consists of a durable metallic diaphragm and a generally sturdy frame that looks like it can withstand several "accidental" drops. Sound quality is spectacular with in-built 3D sound effects and a "bumping" bass.
Its in-built condenser microphone is almost studio quality (almost!) and it delivers superior voice clarity when you answer your calls. The icing on the cake is memory foam padding around the headphones to keep your ears comfortable and the noise levels bearable.
There you have it, five fantastic wireless headphones to help you ward off any strange conversations. No one should have to spend more than 50$ on headphones unless they are for professional use or bought as an expensive gift for your boss's 9-year-old kid who doesn't deserve them.