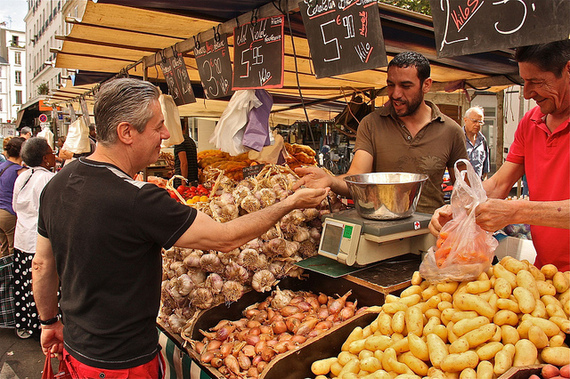 Save by learning these important phrases. Photo: Smilla4
So you're feeling like you've mastered the "bonjours" and "mercis"? Maybe it's time to kick it up a notch. Sometimes in Paris, hand signals don't always work when you are shopping or dining in a café.
We know the feeling when you want to say, "No, stop, please, I didn't want the €65 box of chocolate," and sometimes you just can't find the words.
So here are a few simple phrases to keep in your back pocket when purchasing items or dining out so that you can avoid spending too much. Bon courage!
1. Ça coute combien? - This costs how much?
Use this one when you don't see a price or if you're unsure. This one works wonders at the flea market where, once you know the price, you can see how good your haggling skills are. I just hope your numbers are up to snuff
2. Tout compris - All included
You may not actually have to say this out loud, but you should know what it means. You'll see this one on most receipts as in "Toutes taxes comprises" (TTC) or "service tout compris." What's that mean for you? No worries about leaving a centime more!
3. ...le moins cher? - ...the least expensive?
Use this one if, for example, you are at the wine shop and you want the cheapest wine. It's a good one to throw on the table when there's any doubt about pricing. It's not really sophisticated, but if you're counting pennies, there's no shame.

Asking or a "carafe d'eau" (carafe of water) comes in handy at cafes and restaurants. Photo: John Cohen
4. Carafe de - Pitcher of
This one's timeless. Wine or water--you don't want it too fancy. A "carafe d'eau" is tap water that's free. A "carafe de vin" is house wine that can be as little as a third the price of a bottle. And both are perfectly fine, if not delicious.
5. Une poignée de - A handful
I use this one at the market when I just want a few cherries, apricots or whatever other seasonal produce is available. Often the market merchants will bag your fruit and veggies for you, meaning you can't pick your own--after all, they know best.
But I don't want to ask them for ten cherries or twenty green beans, and I am not always good at guessing how many strawberries are in a kilogram. Just a handful, or a "bonne poignée" for a big handful. Just say "un peu plus" if you want a bit more than they bag.
Read the full article for 5 more phrases