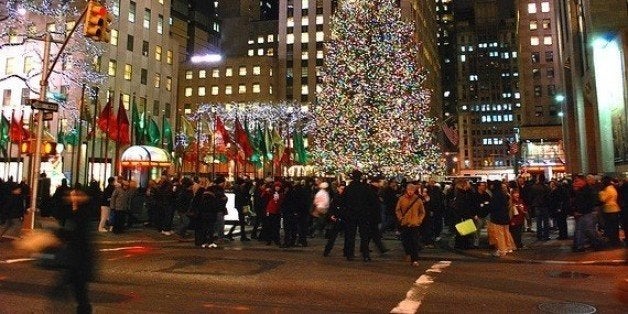 The kids have recently gone back to school and summer temperatures are just beginning to subside. But don't be fooled. It's not too early to start thinking about your holiday travel plans. Wondering where to begin? Start by asking yourself these five questions so that you can set your vacation plans into motion.
1. Are you seeking sun or snow?
When you think of the perfect holiday getaway, do you imagine sipping a hot chocolate next to a roaring fire? Or do you see yourself lounging on the beach, thankful that you won't be scraping ice off your windshield on New Year's Day? If you're in search of sun and surf, the Hawaiian Islands are a fitting choice, with average highs on Maui and Oahu hovering in the high 70s and low 80s. On the other hand, classic winter destinations like Québec City, Amsterdam and Aspen are ideal for those who want to wake up to a snow-covered scene on Christmas morning.
2. Do you want to drive or fly?
Each mode of transportation has its advantages and disadvantages. Winter weather can present obstacles, either delaying flights or causing hazardous conditions on the roadways. However, if you choose to drive, you'll have a little more flexibility to adjust your travel plans. Also, driving is often a cheaper transportation option, especially during the busy holiday travel season. If you do decide to drive, this is a great time to take your car in for a tuneup. Apart from ensuring a smoother journey, getting your car checked out can also help mitigate extra gas expenses since vehicles with properly inflated tires offer better mileage than cars that are underinflated.
If your travels are taking you far from home, flying might be unavoidable. Now is the time to decide if you want to fly to better your chances of snagging reasonably priced tickets during the holidays.
3. Do you want to stay with family or book a hotel?
When it comes to choosing where to travel for the winter holidays, it's best to decide if you would like to stay at a hotel or with friends and family early on. Even if you choose to skip the hotel, be sure to make other arrangements sooner rather than later. Don't assume the guest room at your relative's house is up for grabs. After all, other visiting family members could have the same idea. Reach out to your potential host now to see if they are willing to welcome overnight guests. And if you decide to stay at a hotel, start researching accommodation options now, especially if you are traveling to a popular winter destination.
4. What are your kids' travel preferences?
If your kids are young, it's likely that your family has special holiday traditions that you look forward to each year. Will your kids be open to the idea of putting a new spin on these special activities? Will they worry that Santa might not know where to deliver gifts on Christmas Eve? Or, do your kids love adventure and look forward to celebrating the holidays away from home? Consider how they want to spend their winter break before booking your trip.
5. Do you want to keep things simple?
Perhaps the most important thing to ask yourself is whether or not you want to deal with the stress of holiday travel. If you would rather wait and travel during a less hectic time, consider sticking close to home and booking a holiday staycation. You'll save time and money while still being able to escape the day-to-day routine and reap the benefits of a rejuvenating getaway.
Sarah Vernetti is a Las Vegas-based freelance writer who specializes in family-friendly travel throughout the American Southwest. Follow her adventures on Twitter @SarahVernetti or visit her online.