1. "We take all sorts of cooking shortcuts."
There's a reason diner chefs are often called short-order cooks: They've mastered the art of preparing a meal in a time-efficient manner. But making quick work of a burger or scrambled eggs on a hot flat-top grill is one thing, say culinary pros; letting precooked food, often made early in the morning, sit in a steam table for hours on end is another. And yet, many diners do just that, for the sake of maintaining a large menu with a full complement of daily specials, says veteran chef Bobby Orfanos, who owns Zorba's Taverna in Delray Beach, Fla. "The steam table is a big savior in a diner," says Orfanos. Other shortcuts that many diner insiders say are fairly common: reheating foods with a high-tech "rapid cook" oven or precooking pasta part way (and then finishing it off when an order is placed).
The obvious drawback to all of the above? A sacrifice in quality. "Once food is sitting in a steam table for two or three hours, you start losing the good flavors," says Orfanos, who's been involved with many diners. Certainly, some diner operators say they avoid taking too many shortcuts — after all, if the food suffers, patrons won't come back. And the best operators, say Orfanos, get a good handle on customer demand, so they prepare only so much at a time and avoid letting items sit out for too long.
2. "Made from scratch? Not quite."
Perhaps the biggest shortcut of all that diner operators take is relying on already-prepared foods. A lot of diner "cooking" is "opening a lot of number-10 cans," says San Diego diner proprietor Cecelia Moreno, referring to the industrial-grade size. Frozen products are also widely used in diner kitchens: Unless an item is a daily special, for example, there's a chance it's coming from the icebox. And those towering desserts you see proudly displayed in cases situated at the front of many diners? You can often thank a local bakery for providing them. For most diners, it's about being able to offer the variety that they're known for, but doing so with limited staff and resources. Consider the situation with desserts alone. "I don't think there are many diners that have a pastry chef," says Bret Thorn of Nation's Restaurant News.
Still, many diner operators insist they rely on very little in the way of already prepared food: "The freezer in my establishment holds my ice cream and that's it," says Cecelia Moreno, who's run her San Diego diner, the Crest Café, for nearly three decades. And at the Little Goat, a higher-end Chicago diner run by Stephanie Izard, winner of season four of TV's "Top Chef," the staff even bakes bread for all the restaurant's sandwiches.
Diner operators and food-service suppliers also say the quality of pre-made foods can be quite high these days and that convenience is not the dirty word it once was in the industry. In fact, more graduates of top culinary programs are "migrating into the manufacturing side of the business," says Mark Eggerding, a chef who works with US Foods, one of the country's largest suppliers to restaurants.
3. "You see a plate of eggs. We see dollar signs."
Even the cheapest diners will have a few higher-ticket items — say, a steak or salmon entree for $20. But that's not necessarily where diners make their real profits. If anything, their business model is built around that $5 plate of eggs. It all comes down to basic math — popular breakfast items like eggs, pancakes, cereal, toast and coffee cost a fraction of what lunch and dinner items do, and yet diner proprietors are still able to mark them up considerably. Restaurant pros say food costs for breakfast run about 20% of the total check price; at lunch and dinner, that figure can jump as high as 40%. Still, diners do find ways to boost their bottom line at other points during the day. "Entree salads offered at lunch time come with significant margins. Soft drinks of all types are also very profitable," says David Bakke, a former restaurant manager who's now a writer and editor at Money Crashers, a personal finance advice site.
4. "We're not as popular as you think."
Diners have been part of the American way of life for more than a century, and have been celebrated in movies, sitcoms — even museum exhibits. But these popular restaurants, known for their vast menus of comfort-food favorites, low prices and neighborhood vibe, are no longer the dominant force they once were. Sales have slumped, with some of the country's largest diner-style chains averaging annual declines of 5% to 25% over the period from 2007 to 2011, according to Technomic, a research firm that tracks the food industry. (By contrast, the overall restaurant industry was flat during that period, according to Technomic.) Many famous older diners have also closed their doors. Indeed, one of the country's best known manufacturers of prefabricated diners, Kullman Building Corp., ceased operations and auctioned off its assets in 2011. Add it up, and "the segment isn't doing well," says Bret Thorn, senior editor of Nation's Restaurant News, a leading industry journal.
What's behind the bust? Simply put, while Americans may love the idea of a diner and may take comfort in comfort food, they're often looking for more chef-centric approaches in restaurant cooking these days, even at the family-style level — think a new twist on meatloaf or a burger made with a better quality of beef. "I think the bar has been raised," says Dean Small, founder and managing partner of Synergy Restaurant Consultants in Laguna Niguel, Calif. In that regard, restaurant pros say diners are losing out to newer concepts, particularly "fast casual" eateries like Chipotle Mexican Grill and Panera Bread, that appeal to contemporary-minded tastes. Plus, truly classic diners have a financial disadvantage in that they tend to seat 50 or fewer patrons. In other words, "volume is limited by the physical size of the space," says Aaron Allen, an Orlando-based restaurant consultant.
Finally, independent diner operators are finding that fewer of their sons and daughters are interested in taking over the family business. "The next generation wants nothing to do with the long hours they've seen their fathers and mothers work," says Bill Kapas, a New Jersey restaurant broker who specializes in diners. "Many 'diner children' are now doctors and lawyers." Kapas adds that the high-profile locations of many diners also make the spaces valuable for other uses; today's diner becomes tomorrow's chain drugstore.
5. "Want to eat healthy? You've come to the wrong place."
No one orders a cheeseburger deluxe at a diner thinking they're stinting on calories. Indeed, many diner favorites — from onion rings to milkshakes — are popular because of the sheer indulgence factor. But nutrition experts and diner insiders say customers might be surprised to learn how more "innocent" diner foods are often loaded with extra calories and fat grams. For example, almost anything prepared on the flat-top grill — from eggs to grilled-cheese sandwiches — gets quite a bit of added fat from the oil that's used to keep the food from sticking to the surface. And from the short-order cook's perspective, the fat adds flavor, too. (That also explains why "bacon grease is added to a lot of diner recipes, such as gravies, green beans and cornbread," says former restaurant manager Bakke.) The end result? Even a relatively healthy dish like a couple of scrambled eggs — standard calorie count: around 200, if made with a nonstick pan and cooking spray — can become problematic at a diner. "You're getting easily double the amount of calories," says nutrition expert Jackie Keller of the diner version of the breakfast dish.
Which is not to say that there aren't plenty of healthy choices at a diner — be it a fresh turkey sandwich (hold the mayo, of course) or a bowl of fruit salad. For that matter, many forward-thinking diners have taken steps to offer patrons a slate of specialty items that are full of flavor but lower in fat and calories, including, yes, bison burgers (they're naturally leaner than the beef version). And at the Silver Diner chain, they've gone so far as to take french fries off the children's menu. "We probably have the healthiest kids menu in the universe," says Silver Diner co-founder Ype Von Hengst.
6. "We're suffering from an identity crisis."
Many types of eateries fit the diner mold — from mom-and-pop coffee shops to family-style restaurant chains. But these days, some "diners" are more like full-scale shrines to gourmet feasting than your everyday hash house — and the changes go beyond a new take on meatloaf. Consider Atlanta's Buckhead Diner, which promises "an American dining experience unlike any other" and has a menu that runs the gamut from crispy rock shrimp tacos to turkey breast "jardinière". Similarly, Chicago's diner-inspired Au Cheval notes that it's "not your typical greasy spoon diner," as evidenced by its drink menu alone, which features 30-plus international beers on tap, specialty cocktails and "a rockin' wine list."
Still, such restaurants have their fans — even with the typically higher prices they charge versus mainstream diners. Au Cheval, for example, was named one of the country's most popular new eateries by the Urbanspoon restaurant-review site in 2012. But purists insist the modern interpretation of a diner creates confusion, if not an outright identity crisis. "This is not really a diner in the classic sense," says restaurant historian Richard J.S. Gutman, curator of the Culinary Arts Museum at Johnson & Wales University in Rhode Island. Gutman is referring to a very specific style of early diner — as in a modestly appointed restaurant that was factory-built. But even diner aficionados with a slightly broader interpretation still sniff at the concept of a diner that, say, makes burgers from bison meat — and charges $15-plus for them. "A diner is about a place where people of any age, color or financial status can come and enjoy themselves," says Sol Sidell, owner of Boston's South Street Diner, which opened its doors in 1942. (And, no, South Street doesn't serve a bison burger.)
The gourmet diner contingent counters that they're very much open to all — even with the higher tab — and that the restaurants still hew to the diner concept in many respects. At the Buckhead Diner, for example, stainless steel and neon figure prominently in the overall design, notes Pano Karatassos, president of the parent company that owns the restaurant. Plus, as Karatassos says, "you can get a hamburger here," made from beef.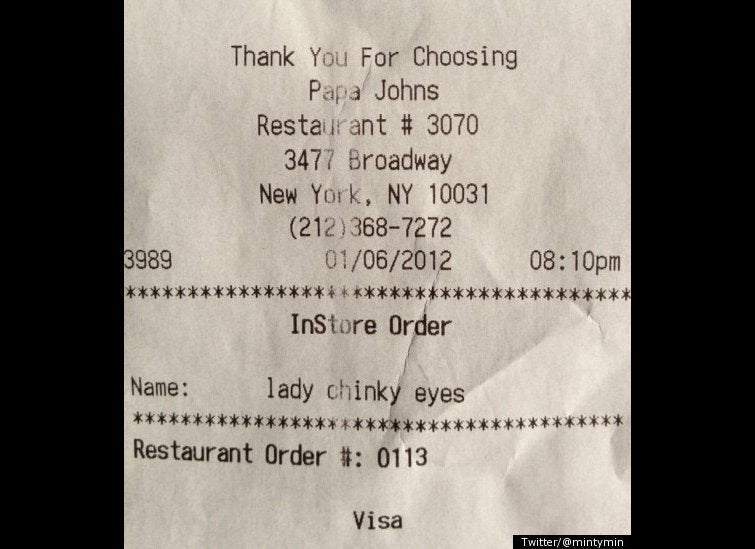 Outrageous Receipts (EXPLICIT LANGUAGE)
Popular in the Community