From Thailand to Canada, these floating structures feature the kind of innovative design and masterful engineering that you have to see to believe.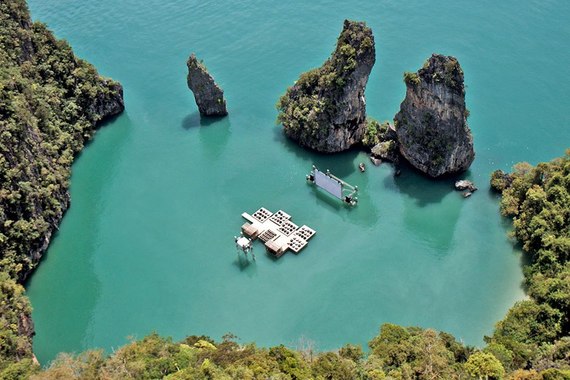 (photo: Piyatat Hemmatat, courtesy of Búro Ole Scheeren)
Devised by 2014 AD Innovator Ole Scheeren, the Archipelago Cinema is an outdoor movie theater surrounded by the towering rocks, lush vegetation, and crystal-clear water of Thailand's Kudu Island. The architect designed the structure in collaboration with the annual Film on the Rocks Yao Noi Festival, which is curated by Thai filmmaker Apichatpong Weerasethakul and British actress Tilda Swinton. Scheeren modeled the structure after the area's floating lobster farms, using a series of modular platforms to form the main seating section.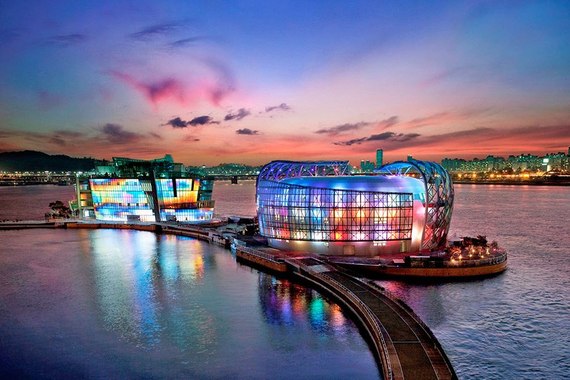 (photo: Haeahn Architecture)
Located in Seoul, South Korea, Floating Island was conceived as part of the Han River Renaissance--a municipal campaign to revitalize an often overlooked area of the city. A collaboration between H Architecture in New York and Haeahn Architecture in Seoul, the complex consists of three structures, representing the three stages of a blooming flower: seed, bud, and blossom. Formed from glass, wood, and steel, the islandlike buildings house shops, restaurants, and a number of venue spaces that host festivals, performances, and exhibitions throughout the year.
(photo: Attika Architekten/Bart Van Hoek)
This residential community was commissioned by a group of water-loving families in the Netherlands. Drijf in Lelystad, which translates to "Float in Lelystad," was designed by the Amsterdam-based firm Attika Architekten. Construction took place roughly 25 miles outside of the city, and the completed structures, built on concrete caissons, were towed over water to their destination. In total, eight timber-frame homes--all custom made to fit the requirements of each family--were erected for the project.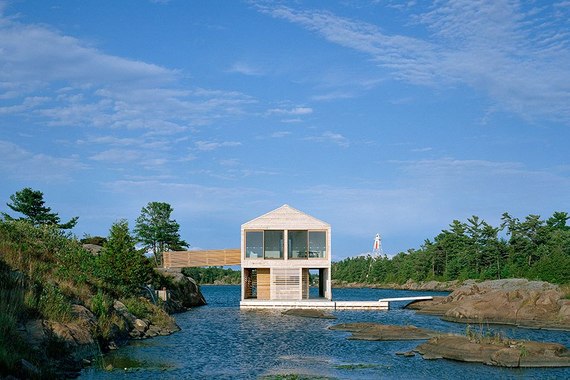 (photo: Florian Holzherr)
MOS Architects designed Floating House, a prefabricated home with 1,000 square feet of living space, and erected it off an island in Lake Huron near Ontario, Canada. Supported by steel pontoons, the residence can easily adapt to the lake's fluctuating water levels, which vary dramatically from season to season.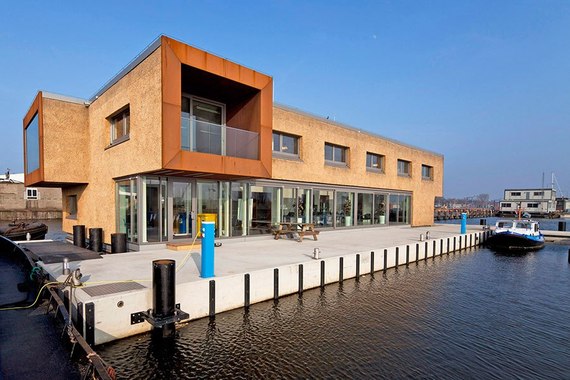 (photo: Attika Architekten)
When designing an office for a company responsible for cleaning and maintaining Amsterdam's waterways, Attika Architekten knew sustainability was paramount. Located in the northern part of the old city harbor, the floating office of Waternet has a timber frame and a thatched-reed façade, both of which are fully reusable and biodegradable if disassembled. Work spaces and a cafeteria are found on the upper levels, while a concrete caisson that sits below the water contains employee locker rooms. At a sprawling 9,418 square feet, the office is the largest floating building in the Netherlands.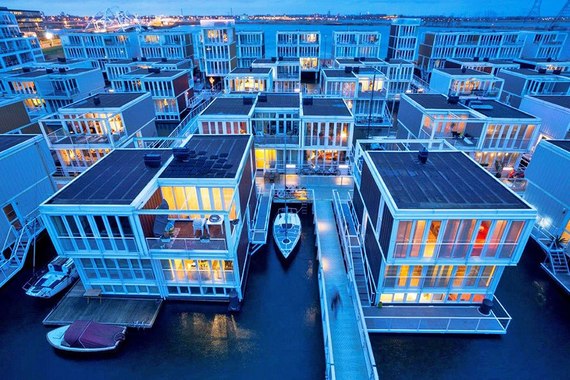 (photo: George Steinmetz)
The Waterwoningen housing complex is comprised of 75 individual homes. Designed by Marlies Rohmer Architects and Planners, the Amsterdam community can be reached by land or by canal. Below water, each home has a concrete base, providing a lower center of gravity for increased stability. The visible parts of the structure are made from timber with steel-finished plastic moldings. By staggering the houses along the jetties, the firm was able to keep the water a main focal point and provide appealing views from every residence.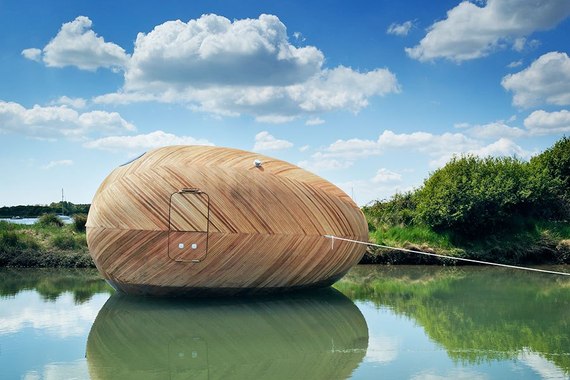 (photo: Nigel Rigden)
The Exbury Egg, named for its location in Hampshire, England's Beaulieu River (formerly known as the River Exe) and its shape, is a private residence designed by PAD Studio, in collaboration with SPUD Group and artist Stephen Turner. Crafted to have minimal environmental impact, the Egg is powered by photovoltaic panels that provide light and heat.
More from Architectural Digest: