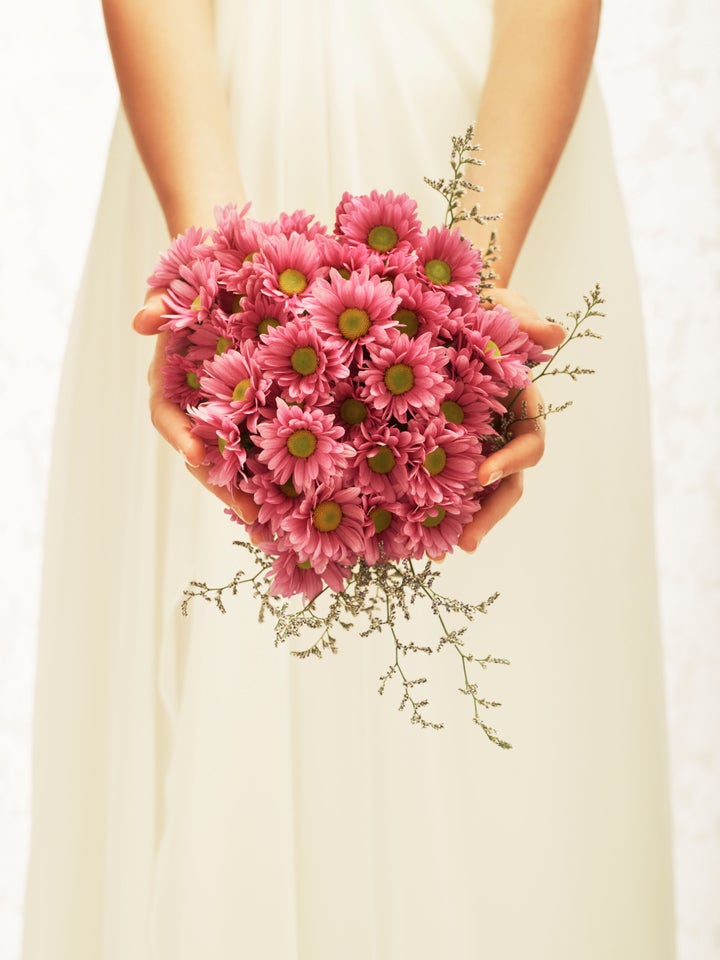 Don't get me wrong: Flowers are beautiful. In fact, there's nothing more classic than an all-white bouquet filled with perfectly-styled blooms (mine would likely have gardenias, probably one of the priciest buds, too) expertly wrapped in silk ribbon. But flowers can take a serious stab into your wedding day budget, which will inevitably be exceeded when you add your mother's co-worker's first cousin (with a plus one, natch) and two extra hours for the DJ. Rather than sacrifice a romantic look, try one of these gorgeous ways to glam up your big day.
1. Candles, candles, candles. Whether you go with pillars, votives, or a mix of both, the mood lighting will cast a warm glow on all skin tones -- making everyone look prettier in pictures and in real life. Head to a local craft store to pick up a variety of shapes, sizes and heights; and play with scale to get a customized look. Another great lighting option? Vintage lanterns. Etsy is a great source for those, but check out local flea markets weekly for unique finds.
2. Branches, sticks, weeds and wildflowers. Really! Once, when I covered a celebrity wedding, the eco-conscious bride carried a bouquet of willow nestled in her arms, and the resulting look was incredibly soft (paired with her cotton-and-lace gown, which didn't hurt matters either). The wedding planner had filled pots with local wildflowers for tablescapes that they later replanted, and used chalkboards as menus for each table. Not only did the duo save a tremendous amount on decor, but they were still able to create a traditional vibe without blowing serious cash.
3. Hurricane vases--filled with baubles. You know those glass beads you'll see at craft stores that resemble the mancala pieces you played with during summer camp? Well, pick up a ton of 'em, along with a bunch of clear hurricanes from shops like Michael's or Hobby Lobby. Choose different colors and fill each vase to a different level. Another great filler? Faux gemstones. For an InStyle Weddings shoot once, we filled an escort card tray with deep-hued stones. It was an incredibly luxe look that was surprisingly not all that girly. (Well, ok, maybe a bit.)
4. Feathers. Tie up a bunch together to make a luscious bouquet that's soft to the touch and pleasing to the eye. Dress 'em up a bit by inserting a few bouquet jewels or popping in a few fake pearls for extra luster. But be careful when purchasing the latter: Fake white pearls look far cheaper than their ivory or blush counterparts. And as for the bouquet jewels, use them sparingly--too much sparkle can scream "poor quality."
5. Carved glass or wood flowers. A few years ago, Marc Jacobs teamed up with Waterford to create a happy-meets-classic collection of crystal and tabletop goods. He created a few iterations of his iconic "Daisy" (which is now known best as being his signature scent) in glass, and placing just three of those in a milk-glass vase looked incredibly modern and chic. Bonus: You won't need to throw them out (or donate them) when the night's over. In fact, you could probably register for them and work them into your own home's decor.
6. Vintage Brooches / Hair Pins: Can you think of how gorgeous it would be to pin a bunch of beautiful pieces together to create one giant bouquet? I've seen it only once or twice (there are some majorly cool ones floating around on Etsy), but it's not only a visually striking idea, but also quite a sentimental one. Ask family members and friends to raid their own jewelry boxes for important jewels of his or her own; it's a touching nod to your guests (and good taste in jewelry).
7. Total Novelty Items: Work with me here. Best idea for a boutonniere I've ever seen? This little navy-and-white sailboat with rope detailing. It was subtle, yet perfect for the Cape Cod affair that was complete with pale yellow bridesmaids' gowns and seersucker pants for the men. Have your man pin just about anything on that works with your color scheme, location, or even just makes you laugh. Think about how great you'll look in your photos if you can't stop smiling throughout the ceremony.
And the one idea you should never take on?
Silk and/or plastic flowers. They're cheesy, cheap-looking and just in poor taste. If you must have a bloom on every table (not that there's anything wrong with that), think about floating a single blossom in a small container of water for an elegant and refined style. But especially do not even think about carrying a faux bouquet on your wedding day -- it's not something you'll want to ever remember.