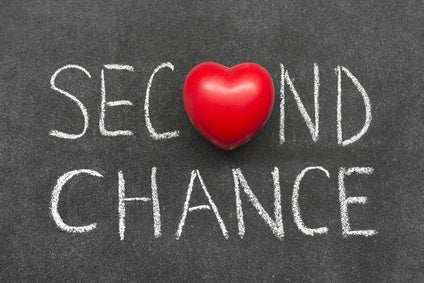 The holidays can bring up a lot of emotions and if you're single, or in a relationship that's on its way out, your mind might start to wonder about the one who got away.
With the help of social media, rekindled romances have become popular with the help of social media. Often Facebook will play Cupid to reunite someone with a long-lost love. A simple Google search, Linkedin request, or gazing at your ex's relationship status on Facebook is all you'll need to reconnect with a long-lost love who's still on your mind after many years apart.
Should you get back together with an ex and try again? Is a do-over in your future? These are the questions you might be tossing around before jumping in again.
If your former flame is still on a pedestal, and your heart is remembering the good times you once shared together as a couple, perhaps it's time go down memory lane with someone you loved dearly.
What happens next can become tricky.
Here are a few tips to consider if you decide you want to reunite with someone from your past. It just might become the happiest relationship of your life.
1. Learn what happened in their life when you were apart.
When you reconnect with your former sweetheart, spend hours, days, and a lot of time talking about your joyful life experiences while you were apart. Ask a lot of questions and sit back and listen. You might find you both had similar life experiences during your time apart.
2. Show empathy for each other.
There's a reason you're both single again and desire to reconnect. Perhaps the timing was wrong before and is better now. Chances are one of you, if not both, have gone through a bad breakup or a marriage that ran its course. Show concern and care for each other's pain, but don't dwell on the negativity history of your past.
3. Spend time in each other's present life.
As a couple, you will not only reunite with each other but also with each other's families and friends. Many will remember you from before and may welcome you with open arms, or not. If your long-lost love is now into hiking, go on a hike together. If they love country music instead of pop, grab tickets for a concert and share some music. One might have a new poker group and the other, a new group of friends from a social club.
4. Recognize you're different people now.
To make a rekindled romance work, know you can't pick up exactly where you left off. That means, don't rush into bed or changing your relationship status on social media just yet. Take the time to acknowledge the difference that took place during your time apart. Political views may have changed and sleeping habits may be different. Once a night owl, he or she might now be an early bird. A quiet night's sleep may have been replaced by nights of snoring. If so, just wear earplugs.
5. Don't live in the past. Forgive and forget.
As individuals and as a couple, try to remember the good things about your past relationship. When you first connect, your memories will be younger versions of each other. In time, they will become a distant memory as new versions of you as a couple will replace the fainted memories.

After you catch up on everything that happened in your past, it's time to live in the present and accept each other exactly as you are now. Together, you'll be creating new adventures, one moment at a time.
6. Keep the romance alive.
If the two of you once sent handwritten love cards to each other the first time around, continue to do so again, but add in a flirty text message with hearts and emoticons to add a digital element to your romance. Take the time to do random acts of kindness for each other and tell each other how beautiful or handsome they are. Never take your renewed relationship for granted.
While reuniting with a former flame can be an incredible feeling, don't rush the relationship. Take time to enjoy the honeymoon stage. You're courting again, but this time with a lot of memories as the glue for your foundation.
Resuming the relationship after pushing the pause button for years can be very exciting. While there's no guarantee your second chance at love will work, you'll be in the majority if it does. Research backs up that couples who have reunited have a 72% chance of working out.
Perhaps it's time to reach out and reconnect. In time, you'll know if it will stick or not.
Wishing you much love and joy in cyberspace, or wherever you may swipe or roam.
Calling all HuffPost superfans!
Sign up for membership to become a founding member and help shape HuffPost's next chapter
This post was published on the now-closed HuffPost Contributor platform. Contributors control their own work and posted freely to our site. If you need to flag this entry as abusive,
send us an email
.