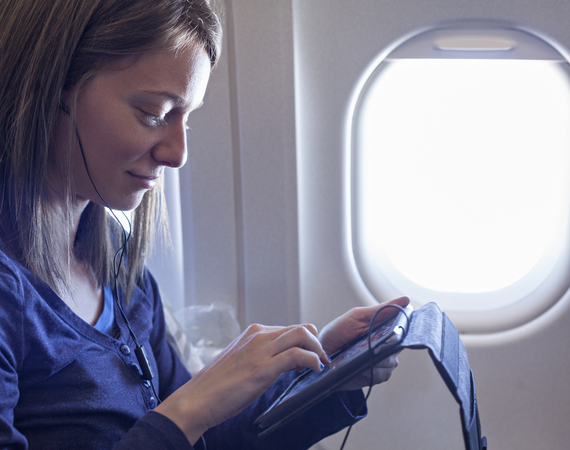 Travelers used to carry along guidebooks about each place they were visiting when exploring the world, but now you can find all the information you need in the palm of your hand. There's an app for virtually everything these days and many of them are designed to make traveling easier. Here are eight of our favorite apps for traveling abroad.
1. Viber
Viber is a must-have for communication abroad. The app allows you to text and call anywhere in the world for free when you're connected to Wi-Fi. It works best when used to communicate with other Viber users, but it also contains a ViberOut feature that lets you call contacts in your phone even if they don't want to download the app.
2. Tile
Tile is the ultimate app for those of us with a habit of misplacing things. Stick one of the eight Tiles on virtually any item you want, from keys and wallets to laptops, and the app can track it no matter where it goes. Tile uses Bluetooth technology to create a link between your Tiles and your phone so you have help finding the items you've misplaced. Your valuables are also vulnerable to theft when you travel, so Tile and other apps like it might be able to help you retrieve your possessions if they're stolen.
3. SayHi Translate
Communicating with locals in a new environment can be tricky if you're not a polyglot. SayHi Translate makes the transition from country to country easier by helping you translate your own words. Simply speak into your iPhone or iPad and the app will translate your words into the desired language and speak it back to you.
4. Amount
Currency conversion can be a tricky thing, but that's not the only area in which numbers can be confusing in a new country. The Amount app is a unit and currency converter and not only helps you navigate monetary exchanges, but also categories like speed limits, fuel consumption, cooking measurements and even clothing sizes in case you want to buy a new outfit overseas. The interface is simple to understand and contains over 700 different units in over 30 categories.
5. Entrain
If you find yourself hopping airplanes a lot you probably know how hard it can be to adjust to a new time zone. When jet lag sets in on your trip you can find yourself wanting a nap in the middle of the day. Entrain helps combat this by delivering mathematically proven lighting schedules that'll help you adjust to new time zones in a jiffy. The app records your lighting history and makes recommendations for you to adjust light levels around you throughout the day to help keep you moving.
6. Foodspotting
Photographs on a restaurant's menu can often be misleading, so why not trust people who've eaten there instead? Foodspotting is an app where people can post pictures and reviews of dishes they've devoured at local eateries and it currently features over four million dishes. Use it to seek out the best meals in any foreign locale and find the dishes you want while also getting an actual representation of the food served on your phone.
7. Like a Local
Avoid the tourist traps and let Like a Local tell you where the real hotspots in town are located. As you can probably guess, the app lets real locals post reviews and insights about their favorite places in town for you to see. They're picky about the locals they use, so you won't be getting reviews from someone who's only lived there a week.
8. SpeedSpot
Travelers who can't stand the idea of not getting online during their travels should seriously consider downloading SpeedSpot. The app allows you to search for and test the Wi-Fi capabilities of local hotels, cafes and restaurants. No matter where you go you'll never have to do without Internet access again.
No matter where your travels take you this summer, these apps should help you get the most out of your experience. Go ahead and give them a try and let us know your favorite travel apps in the comment section below!
Related