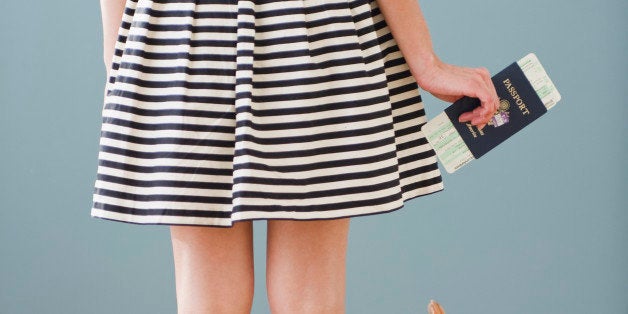 Traveling for business can be complicated when you have limited room in your suitcase and multiple days scheduled in another city. Here is a quick list to help you decide what and how to pack for your next business trip.

1. Bring items that are easy to wear.
Avoid anything that will wrinkle, pinch or bind, regardless of how stylish it may be. Take a look at the weather and dress accordingly. You may be able to get away with a lightweight jacket that retains the heat and rolls up in the corner of your travel bag.
2. Streamline your footwear.
En route to your travel destination, a pair of fashionable shoes that can handle the airport trek with ease is crucial. Change into your heels on your way to the meeting. If you do enough recon, you will eventually find a shoe that serves both purposes - comfort and fashion.
3. Look your best.
Author Jennifer L. Scott believes one can look presentable without feeling confined, and I wholeheartedly agree. With a little thought and planning, you can find a few pieces of clothing that are functional and appropriate should you run into your best client at the airport lounge. A pair of dark washed jeans, tee and lightweight blazer are casual and functional.
4. Anticipate delays.
Carry on a small bag of makeup, a scarf that doubles as a wrap or can be rolled as a small pillow, and don't forget a backup battery charger. Think about what you would need should your flight be delayed, resulting in an unexpected overnight stay. Simple details such as TSA approved size antibacterial gel, earbuds or noise canceling headphones, a pen and paper, business cards and a few breath mints will save you from getting sick, frustrated or caught off guard.
5. Utilize technology.
Make traveling as easy as possible by downloading an app on your smartphone that allows you to keep track of your boarding passes, reservations, receipts and even expenses. Look into TSA Precheck to make going through security a breeze.
6. Pack plenty of snack options.
Avoid the frustration of waiting in line for something to eat between flights. Buy a few power bars on your next trip to the grocery store, or bring a small bag of nuts and veggies to stave off your hunger. You won't have to suffer through long lines at the airport and can pick and choose exactly what you're in the mood for.
7. Don't skimp on sturdy luggage.
One piece of good quality luggage will last for years, and won't break down or fall apart at the most inopportune time. Nothing is worse than a wheel falling off your carry-on as you race through the airport to catch your next flight or a strap or zipper breaking when you need to quickly retrieve an article in your bag. The peace of mind of knowing your luggage will hold up is worth the few extra dollars you spend.
8. Select the right wallet and purse.
And, finally, take a close look at your wallet and crossbody bag. If you don't have one that is indispensable, it's time to do some research. Fishing around for random dollar bills or credit cards because your purse is too small to house a wallet isn't smart or safe. Lugging around a large purse, rather than a streamlined version of your daily handbag is cumbersome. Find a lightweight version that will take you from the airport to a business dinner.
With a little thought and planning, you can collect essentials that will make your travel plans easy and stress-free. I am sharing my Travel Checklist to get you started!