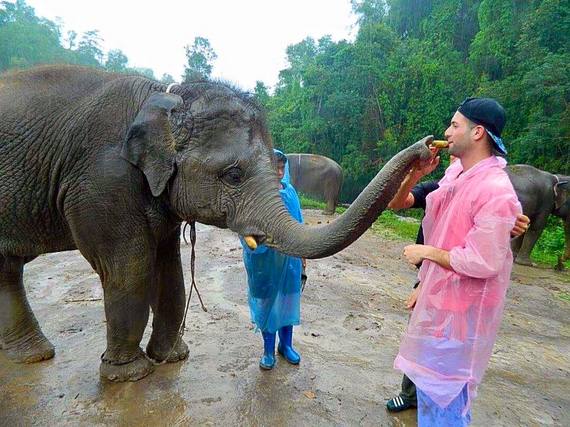 A few helpful tips to make your backpacking experience through Chiang Mai, Thailand stress-free.
Elephant Orphanages

Head to the jungle countryside to experience some of the best elephant orphanages where you can feed, bathe, and potentially ride an elephant.
Travel Tip: when choosing an elephant orphanage choose one that guarantees it doesn't harm or abuse the animals. Most likely if the company advertises with colorful picture-filled brochures, it is not an actual sanctuary. Check out the Chiang Mai Mahout Training Center which is owned by Mr. Sun, who guarantees that he doesn't abuse the animals in training them, rather uses positive reinforcement. Mr. Sun will pick you up from your hotel in the morning, drive you outside the city to the jungle down windy unpaved roads, and drop you back off at your place at night.
Travel Tip 2: Homemade lunch and bottled water are included.[gallery ids="1364,1365" type="square" columns="2"]
Night Market
Which is located on Th Chang Khlan. If you like to shop head here in the evening to get the best deals on souvenirs, watches, bags, and clothes. Feeling famished? There are many inexpensive local restaurants located within the area for you to enjoy all the papaya salad your heart desires. Feeling homesick? There are also many Western establishments such as McDonald's and Starbucks in the area, to make you feel at home.[gallery ids="1367,1372" type="rectangular"]
Tiger Kingdom
Want to hop in a cage and play with the tigers? Choose between baby, small, medium, or large sized tigers based upon your level of braveness. Feeling ambitious? You can chose a combo package in which you can choose two or more different sizes. Hire a photographer at the place for 290 Baht to come in the cage with you and conduct a photo-shoot. Guaranteed 50-80 pictures of you with different tigers, in different poses. Pictures are then given to you via a CD-Rom (old-school I know), or pay a little extra for a USB to upload them straight onto your computer. After you finish your photo-shoot and are waiting for your pictures take a tour and explore the zoo.
Travel Tip: Check out the white tiger!
Travel Tip 2: Hire a driver from your hotel to take you to the kingdom, wait for you while you explore, and then drive you back to the city. It's better to visit the tiger kingdom earlier in the morning as it does tend to get more crowded later in the day. After the Tiger Kingdom have the driver drop you off at a red taxi stop in the city, and take it to the Wat Phrathat Doi Suthep Temple (#8). This can all be arranged with reception at your hotel.[gallery ids="1369,1370" type="rectangular"]
Cooking Class
Try Siam Rice Thai Cookery School. They offer a unique experience at a natives home outside of the city, in the countryside. The company will even provide roundtrip transportation via red taxi, to/from the persons home. The menu selection of what is available is quite vast, almost guaranteeing something for everyone.
Travel Tip: chose the half day evening class if you are really trying to maximize your time in Chiang Mai. This is also a great way to meet other travelers, especially of you are traveling alone. I happened to meet two other people who were also from Queens, New York when I did my class.
Travel Tip #2: Choose the mango sticky rice for desert, I guarantee you won't regret that dollop of heaven.[gallery ids="1377,1376,1375,1378" type="rectangular"]
Into Nightlife?
Check out Spicy nightclub. Located on Th Chaiyaphum. This nightclub is bustling with tourists and expats especially on Fridays & Saturdays. Want to save money when ordering drinks? Order it by the bucket and share with your friends, if you want.
Looking for a Gay Bar? Check out Ram Bar for happy hour which offers a great ambiance, good priced cocktails, and drag shows. Check out their website to see what exactly is going on any particular night.[gallery ids="1380,1381" type="rectangular"]
Where to Stay?
Juniors Guesthouse located on 21 Soi 1 Ratchapakinai Road. Ask for Tata behind the desk who can help you organize everything from the cooking class, to the elephant orphanage, to the tiger kingdom. Pay a little extra money and opt for a private guest-room for 460 Baht a night (around $13/night). Rooms are a nice size, clean, and include a private washroom. There is also a 7/11 conveniently located around the corner, which also has an ATM. Located in the city center, and about only 50 baht (less then 2 USD) Tuk Tuk ride to the night market.
[caption id="attachment_1383" align="alignnone" width="550"]
Juniors Guesthouse.[/caption]
Getting Around?
By far the easiest, most convenient way to get around is by Red Taxi. While the concept may seem a bit strange at first involving you to hop in the bed of an enclosed pickup truck, you'll soon learn it's safe and efficient. Hail a red taxi driving down the street with your hand, approach the driver, tell him your destination, and if it's along his route he'll say yes; hop in the back, you've found a ride. Standard price is 40 baht, about 1 USD within city limits. In a rush? Grab a Tuk Tuk on any street corner. Always establish a price before you hop in, negotiate, and do not pay more then 100 baht to go anywhere within city limits. If the driver doesn't want to take you for the price you want, try another.[gallery ids="1386,1385" type="rectangular"]
Wat Phrathat Doi Suthep Temple
Nestled in a mountaintop overlooking the city, this temple is a must see not only in Chiang Mai but in all of Thailand. Be astounded by the 360° breathtaking panoramic views, marvel the rich architecture, and see monks meditating. Visit the meditation area, to reflect upon your journey. Admission to the temple itself is only 30 baht (less then 1 USD).
Travel Tip 1: Rememeber when you visit temples in Thailand certain dress code rules apply, such as wearing long pants. Avoid having to buy those elpehant pants outside of the temple for a higher price, just to be able to enter.
Travel Tip: Opt to take a funicular type lift for 20 Baht if you do not feel like climbing all of the steps to the top.[gallery ids="1389,1390" type="rectangular"]
https://thenycwanderer.wordpress.com/