With Mother's day now behind us, I feel I am still soaking in all the sentimental moments with my mother. As an ode to all mommies around the world, I think it is appropriate for even the toughest cookies to admit, yes, mothers are always right. So with this being said, I want to throw out some lessons many moms can teach us about fashion and beauty. With grace and wisdom, my mother's life experiences have taught me some valuable lessons. From saying no to that strappy sandal disaster, to embracing that crawfish-colored lipstick in honor of spring. So with this being said, pause for a minute and go hug your mother and let's get back to discussing all the wonderful things our mothers have passed along to their lovely daughters!
Not all moms are makeup gurus like Charlotte Tilbury (who is also a mother), so relax and don't expect your mom to teach you about the arts of spoon contouring or lip plumper gadgets. Through my mama, I've learned that a mother's advice is all about tried and true lessons to live by, from the "less is more" mantra, to never forget sunscreen, because sunscreen is always a best friend.
Collected from my very own mother, my biggest fashion and beauty idol, as well as other mothers in my life, the following beauty and fashion lessons from moms prove that yes, moms know what they're talking about. And yes, you should have probably listened to her from the beginning.
If you decided to walk your own path, however, (guilty as charged, sorry, mommy!), let this serve as a kind reminder of the general pieces of advice so many mothers are able to give.

1.Sunscreen, Sunscreen, Sunscreen, & More Sunscreen
Has your mother scolded you for not wearing sunscreen? Yeah, trust me, been there done that! But trust me, it's only for a good reason. SPF is everything for your skin, it can protect you from damaging rays. So be prepared to hear that redundant lecture for a very long time.

2.Default to Over-Dressing
If the occasion you're attending is vague, then default to over-dressing. At the end of the day, it's better to be over-dressed than un-dressed, as any mom would gladly agree.
3.Feeling Comfortable In Your Own Skin Is Key
Ever scared to just embrace that fitted dress or struggling to strut around in those sky-high heels? Keep your mommy in mind when you're trying to decide if you're happy with a look. Feeling good in your own skin is one of the most crucial aspects in rocking a style.
4.When In Doubt, Black It Out
While sometimes fishing through your closet can turn to an overwhelming experience, drop the rainbow, and go for black. One thing I swear by after seeing my mom rock the look is, never fear of black. Not only is black a sexy and easy color to match with almost anything, it's also slimming! Now that's a winner winner, but skip the chicken dinner!
So for starters, I just have to say that I pick every blister, zit, pimple, and scab on my skin. With the picking comes the guilt. I cringe just thinking of my mother's voice saying, "Don't pick, it will only get worse and leave a mark." Ladies let me tell you, she's right.
If mothers don't convince you, Dermatologists agree that picking at blemishes only create more issues for the blemish itself and the area surrounding it. So next time that little bugger pays a visit on your face, listen to your mama and don't pick! This beauty tip is definitely one from the dinosaur days and is unquestionably true.
Back in style and beauty's biggest natural disaster (aka middle school), I used to rack up on sequence belts, hair bows, and multi colored glass bangles. Since then, I've always chosen to that the "les is more" approach like my mom. While my mom's style is classy and composed, she keeps things feminine and simple. A chic yet easy outfit paired with a classic accessory and a pop of color on the lips is her go-to look, and I have to admit its been one I've been emulating for myself a lot.
7.Classics Will Always Be Classics
Oh the classics. I'm pretty sure my mom could talk for hours on end about endless benefits of a black dress and a beautiful red lip. Oh mother, you're right. Whenever I find myself in a pickle when it comes to combining trendy printed pants, or failing miserably at a cut-crease eyeshadow look, I just grab a makeup wipe and drop the pants for a fashion and beauty look that's classy and guaranteed of grace.
8.Beauty Comes From Inside
Yes I agree it is quite the cliché, but one of the truest things my mom taught me about beauty. Beauty comes from within. It's not about looking a certain way, but more about feeling beautiful.
I learned this the hard way time and time again, when I layer tons of makeup on my face or spray way too much hairspray to tame the mane. I feel in those moments, caked-up, like a Barbie. I didn't feel like myself. Beauty from within, I have learned is the most important, how you feel on the inside radiates to the outside.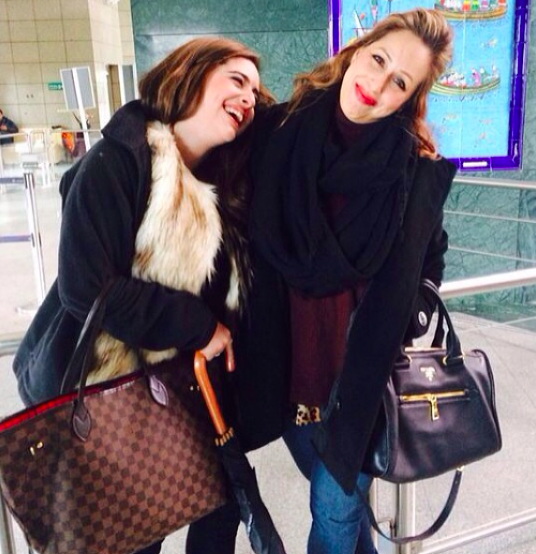 At the end of the day, we all have our own style. Yes it would be cute to be matching with your mother at all times, but she respects my taste, as I respect hers. My mother thankfully has always loved me despite my cray tastes, like blue eyeliner or rocking white pants after Labor Day.
Giving me the opportunity to define my own style while I grew up taught me how to use the tools of fashion and beauty as major outlets for creativity and expression. For that, and for all these valuable lessons, Im eternally thankful.
There you have it: 9 great lessons most moms preach. Let them show how knowledgeable moms can be when it comes to fashion and beauty.
ScreenShot20160510at2.32.22PM.png" src="https://images.huffingtonpost.com/2016-05-10-1462909033-6942820-ScreenShot20160510at2.32.22PM-thumb.png" width="404" height="565" />
Thanks mommy, not only have you taught me beauty and fashion tips for life, but you are the reason I shall practice them for life! I mean look at her, and yes I promise she is my mother, not my sister! P.S. take a look at skin of hers, keep using that SPF ladies, she is the reason I do!
Related