Happy Flag Day! The American Flag and its ability to convey a range of meanings is what has inspired independent curators and designers Aicha Woods and Dave Coon to create "Broad Stripes and Bright Stars", a massive exhibition at the Ely Center of Contemporary Art in New Haven, Connecticut. Like the American population, the exhibition presents a wide range of artists and viewpoints, from around in the world. The artistic work shown shares diverse meanings and interpretations surrounding the iconic symbol of the Flag. Azzah Sultan, Cey Adams, Christine Tinsley and many other notable artists will show work.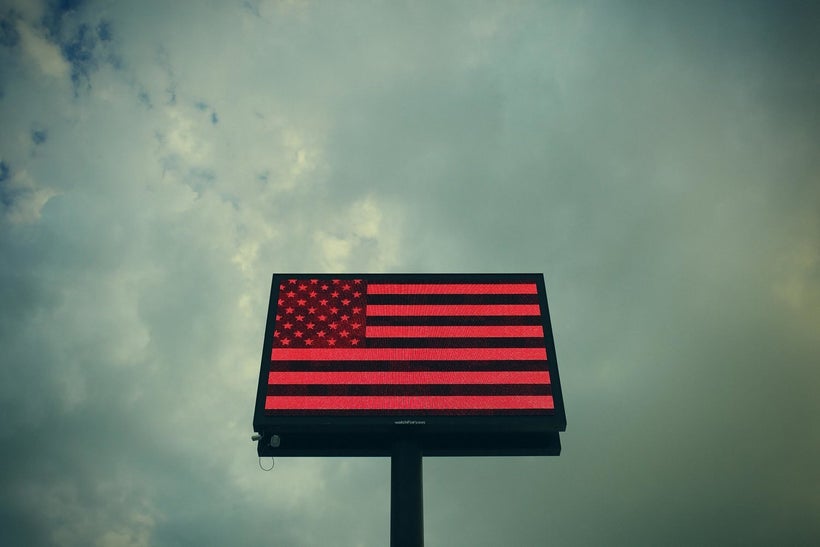 Citizens using the American Flag as a form of expression ranging from patriotism to protest is nothing new. In 1974, a college student in Washington state decided to make a political statement by showing an upside-down American Flag with a peace sign taped over hung from his dormitory room window. His intent was to "associate the American flag with peace instead of war and violence". Shortly after his display, he was arrested for violating the State of Washington's flag desecration statute. His case made it all the way to the U.S. Supreme Court, where the judges overturned his conviction on the grounds that Washington's law went against the First and Fourteenth amendments.
"It might be said that we all draw something from our national symbol, for it is capable of conveying simultaneously a spectrum of meanings". - From the 1974 U.S. Supreme Court case Spence vs Washington.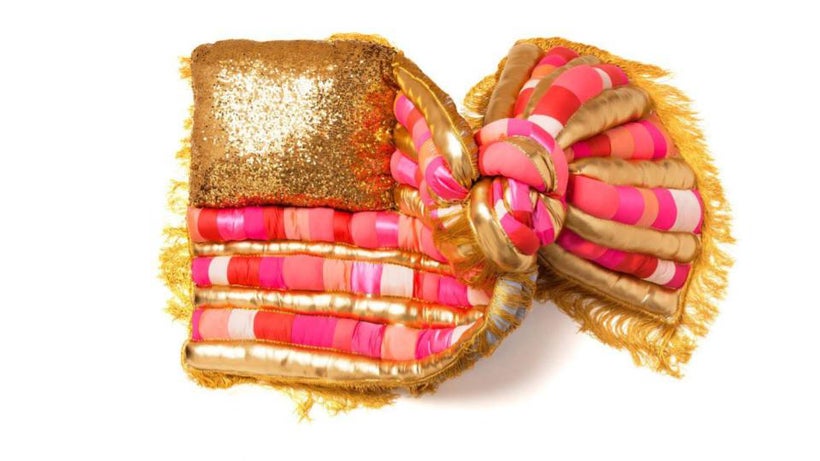 "The show seeks to contextualize the persistence of the American Flag as a theme in American contemporary art that crosses multiple disciplines and genres," says co-curator Aicha Woods. "It follows waves of flag display in celebration and in dissent across the American cultural landscape in response to events and political climates from the Vietnam War to 9/11 to the current upsurges in patriotism and protest."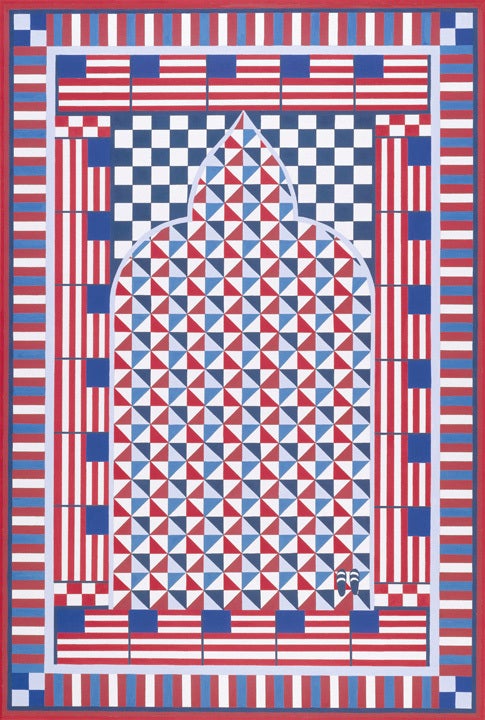 "The title was chosen because it refers to the specific graphic elements of the American Flag. It also allows for many readings, without a slant," says co-curator Dave Coon in a statement to HuffPost. "We took this approach so that the show can shine a light on the nuanced interpretations and attitudes and honor diverse experiences and artistic practices."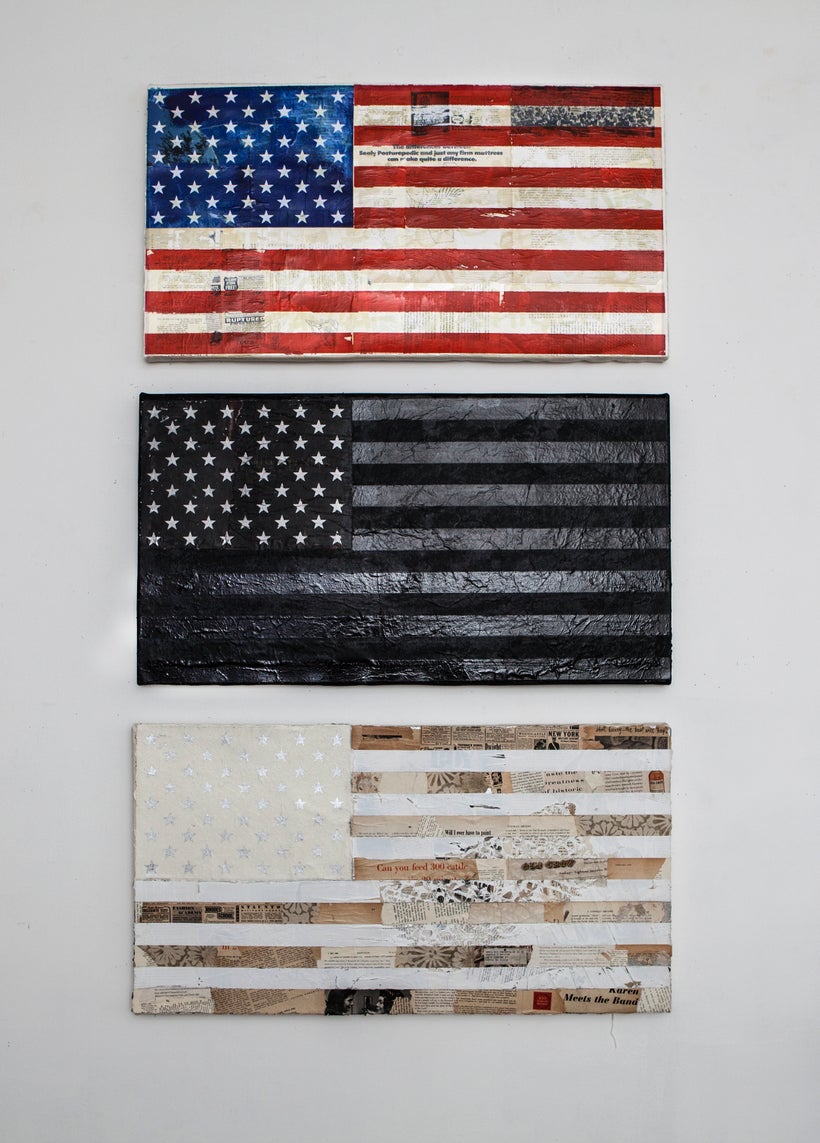 The exhibition, which runs through mid-August, will host a variety of programs allowing artists and viewers to engage in conversation and expression. Everything begins on June 29 with a free artist reception featuring DJ That Dana Game, live art performances and the "Flag Swag" pop-up shop.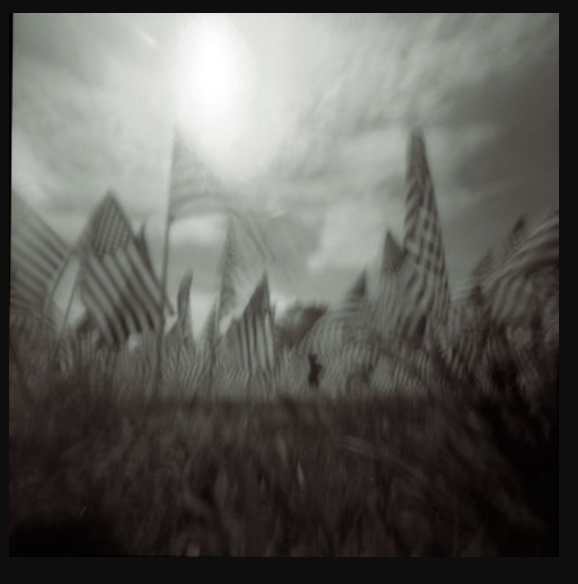 A list of participating artists include; Alteronce Gumby, Annie C. Thornton, Artcodex, Aude Jomini, Azzah Sultan, Bean Gilsdorf, Brian Edlefson, Buildface, Carol Diehl, Caitlin Cherry, Chico Aragao, Cey Adams, Chen Reichert, Chris Crawford, Christine Tinsley, Consuelo J. Underwood, Sr. Corita Kent, Daniel Eugene, Danna Singer, Daze, Destiny Palmer, Dooley-o, Eli Wright, Erika Ranee, Esperanza Mayobre, Gabriella Svenningsen, Helen Zughaib, Icebucket, Insook Hwang, James Esber, Jane Fine, Jay Critchley, Jeff Mueller, Jesse Albright, Jim Martin, John T Hill, Laura Genes, Laura Marsh, Laurel Porcari, Leslie Carmin, Lex Brown, Lisa Kereszi, Marion Belanger, Marc Morrel, Mark Olshansky, Mark Williams, Martha Lewis, Mauricio Cortes Ortega, Merritt Johnson, Michael Nÿkamp, Michael St John, Moussa Gueye, Natalie Ball, Natalie Baxter, New Haven Museum, Noe Jimenez, Paolo Arao, Phil Lique, Philip Knoll, Price Harrison, Rashmi, Robert D'alessandro, Robert Longo, Ruben Marroquin, Sket One, Stanley Forman, Stanwyck Cromwell, Sue Muskat, Susan Clinard, Stephen Shore, Sven Martson, Terrance Weinzierl, Tizzie Mills, Tom Strong, Vic De La Rosa, Walker Evans, Wayne Koestenbaum, Zeph Farmby and Zim-one.
For more information about the Ely Center of Contemporary Art visit elycenter.org.
REAL LIFE. REAL NEWS. REAL VOICES.
Help us tell more of the stories that matter from voices that too often remain unheard.
This post was published on the now-closed HuffPost Contributor platform. Contributors control their own work and posted freely to our site. If you need to flag this entry as abusive,
send us an email
.