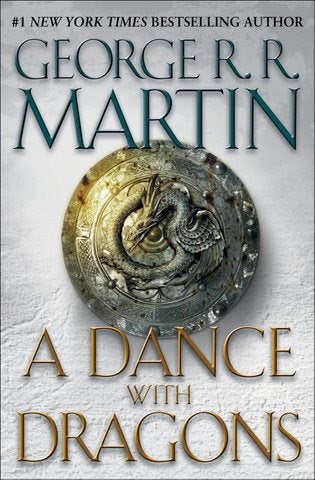 "A Dance With Dragons," the latest installment of George R. Martin's A Song of Ice and Fire series, which inspired the HBO series, Game of Thrones, has gone on sale today.
But was it worth the wait?
It has been six years since the last book in the series was published, and many critics were unsure of just what this new installment might bring to the table. While the previous book, "A Feast For Crows" was lightly criticized for a somewhat harsh back and forth between battle scenes and long trudges through war-torn lands, critics were eager to see the direction Martin would take the series, considering this newest novel was originally intended to be the second half of "Feast," according to Publishers Weekly.
But it seems to have worked. Many of the early reviews are lauding Martin's abilities, and the book's tactic.
"Martin's love for sophisticated, deeply strange fantasy permeates "Dance" like a phantasmagorical fever dream," wrote the L.A. Time's Jeff VanderMeer.
VanderMeer also writes that despite an overlapping time-period with 2005's "Feast," "Dance" manages to take a different tact, focusing on quests and adventure in the monumental multi-character world Martin has created.
Martin, who has occasionally been hailed as "an American Tolkien" for the series, has publicly stated that this book is intended to tie a number of seemingly diversified story-lines together. His respect for Tolkien gives some justification for the comparison. "Tolkien was my great model for much of this. Although I differ from Tolkien in important ways, I'm second to no one in my respect for him," he said in an interview with Entertainment Weekly. "If you look at Lord of the Rings, it begins with a tight focus and all the characters are together."
While the Tolkien comparisons abound, the series hasn't been hailed as knock-off. In fact, the term has been used pretty lovingly.
Martin has produced -- is producing, since the series isn't over -- the great fantasy epic of our era. It's an epic for a more profane, more jaded, more ambivalent age than the one Tolkien lived in. Tolkien was a veteran of the Somme, and The Lord of the Rings was partly written during World War II.
Without providing spoilers, it seems to have become fair to say that this installment will not disappoint long-time Martin fans. But if you're still not sold and considering calling the series quits, you can read an excerpt here, on Amazon.com, before you decide whether or not you'd like to buy it.
REAL LIFE. REAL NEWS. REAL VOICES.
Help us tell more of the stories that matter from voices that too often remain unheard.