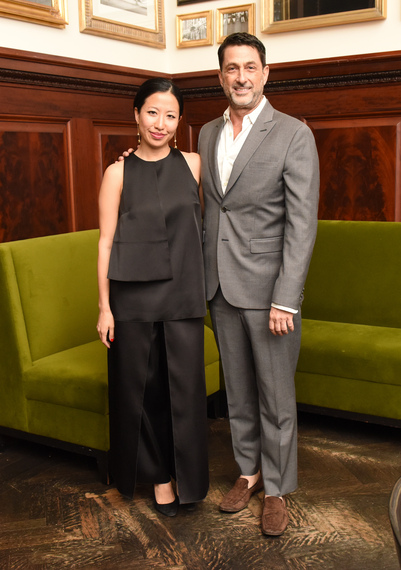 At a spontaneous, post party dinner in Milan this spring, Steven Learner and Jillian Choi of Collective Design Fair sat at a family style table surrounded by the company of Apparatus Studio, Callidus Guild, NES, and BDDW. As they passed around traditional Milanes, spring pea linguini and wine with an endless pour, they effortlessly conducted conversation about who is exciting in design today. To be on their list of ones to watch is coveted. Together they run one of New York's most celebrated design fairs: Collective Design that has been known to be a launching pad for hot shot designers like Brian Thoreen and Fernando Mastrangelo. Back in New York (the city they call home) Steven and Jillian told me more about about what it takes to make it in design.
Steven Learner (SL): Founder and Creative Director of Collective Design.
Jillian Choi (JC): Fair Director of Collective Design.
Tell me about Collective.
SL: Collective is about bringing together an international community of like-minded makers, designers, collectors, curators, and gallerists. At its core, there is a Bauhausian ideal that great design is integral to all of our daily lives.
How did this idea first begin?
SL: I'm an architect and interior designer. I was traveling to Basel, Miami, Paris and London to go to fairs to see what was new, often shopping for clients. It was ironic that I was often buying from New York galleries for New York clients; totally inefficient.
Why was there a need for it?
SL: New York didn't have the fair it deserved as one of the world's creative capitals. I simply created a fair that I wanted to go to, a fair based on discovery and supported by the design community.
JC: There really was no great design fair in New York.
How does Collective serve as a launching pad for designers?
SL: We bring together some of the most creative 'makers' with an amazing audience of 'buyers' that are looking to be inspired by what they discover at Collective.
JC: Collective provides an exceptional audience for smaller galleries and emerging designers. We take a lot of chances and trust our intuition. Luckily, people listen. I love to hear success stories from Collective - there are many.
Why is doing this in New York important?
SL: There are more than 44,000 practicing designers in New York and an exceedingly strong market between our schools, cultural institutions, and the designers creating architecture and interiors. I have worked in this community for more than 20 years in New York. I believe that this city is about the best in everything, and that should be reflected in a fair.
What do you love about working with galleries and designers?
SL: Gallerists are passionate and knowledgeable people who have committed their lives to this passion. Designers are pushing the envelope, challenging perceptions, givens and often the laws of physics.
JC: My favorite part of doing what we do is engaging with galleries and designers. Our galleries, both established and emerging, each have such different points of view and I deeply respect their connoisseurship. The energy at the fair is like nothing else - it is incredibly vibrant. The galleries and designers we work with put their heart into every show they do and many are doing shows all over the world. Of course sales are important, but it is also about excellence, education, and supporting the designers they work with. The gallerists do the legwork - they find the rare vintage pieces, produce the work of contemporary designers, and curate shows year-round. We just invite the to do what they do best at our show. Many galleries are launching new work or saving the most rare vintage pieces to show with us. It's a great privilege to work with them.
How do you discover the people you want as participants? Who makes the cut?
SL: The Collective is an advisory body that brings us new talent to explore, whether that is a gallery or a maker. Making these connections, learning about new galleries, makers, processes, studio visits; these are the best moments of my job.
As for the final cut: It's all about the mix. I want to see the most established, curatorially correct material next to work fresh from the shop. The Collective helps guide us but my gut is the final arbiter.
JC: We ask questions of the people we respect, we travel exhaustively, we see as much as we possibly can, we look constantly for something new and different to bring back to Collective Design and we relentlessly pursue our curiosity and passion. We are lucky to know a lot of great people who introduce us to a lot of other great people. This is what the Collective is all about: we are constantly engaging with them and the community at large.
What designers inspire you the most?
SL: I love Katie Stout's "why not" approach to design. Her work follows no rules and is incredibly personal. At the other end of the spectrum is the prolific yet highly restrained approach of Oki Sato of Nendo, our Collective Influence presentation this year. Design is very personal, it is art you can use, and seeing how various designers reveal themselves is incredibly compelling.
On your personal career path, what is the one thing that remains present?
JC: Creating a community of like-minded, supportive individuals. No matter what industry I've worked in.
What do you discover about yourself through work?
SL: That I have succeeded in surrounding myself with brilliant and passionate people.
JC: Endless curiosity, perseverance and endurance. It's the greatest joy to work hard and see something not only come to life, but really take on a life of its own. I'm incredibly proud of the work that we do at Collective.
What does your work contribute to society?
SL: By creating an inclusive environment, along with engaging young designers and galleries, we are helping people to understand how integral design is to their daily lives. We are building the next generation of collectors, not just catering to the culture of luxury shopping that has become so common at fairs.
What is your personal mantra?
SL: Jump. And on the way down, figure out how to land safely.
JC: "To feel all things in all ways." This is something I saw on a Cy Twombly sculpture many years ago that has always stuck with me.
REAL LIFE. REAL NEWS. REAL VOICES.
Help us tell more of the stories that matter from voices that too often remain unheard.