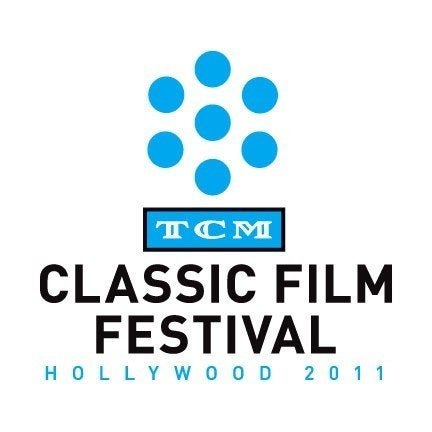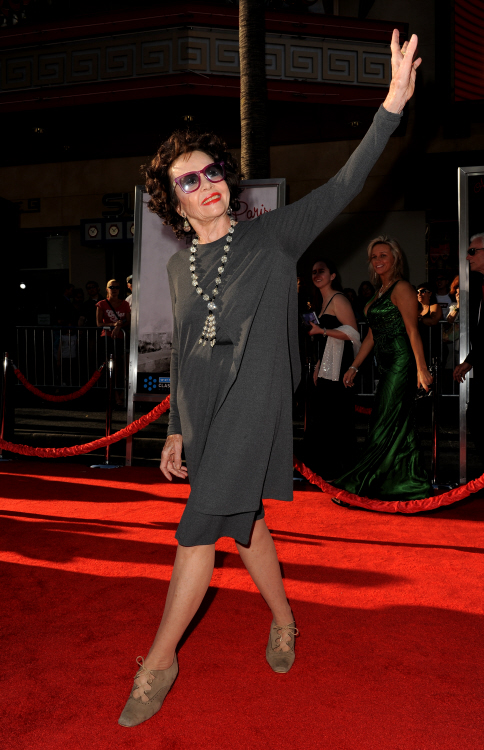 Leslie Caron walks the red carpet to the 60th-anniversary screening of An American in Paris, which opened the TCM Film Festival on April 28. Photo: Jordan Strauss, 2011 WireImage.
The evening began auspiciously with Leslie Caron walking the red carpet to Grauman's Chinese Theatre, which opened in 1927 and contains around 200 celebrity handprints, footprints, and autographs embedded in the concrete of the building's forecourt. Flying all the way from Paris and showing no signs of jet lag, the still lovely and energetic 79-year-old was in Hollywood for the premiere screening of the 60th-anniversary restoration of her very first film, An American in Paris.
Before the screening, Robert Osborne interviewed Caron, whose mood could only be described as jubilant as she surveyed the wildly enthusiastic crowd -- almost filling Grauman's more than 1100 seats -- who greeted her with a long, warm standing ovation.
As if the actress hadn't already won over the audience with her sheer presence, she upped the ante by declaring, "I feel like the real opening night is tonight and the opening 60 years ago was just a dress rehearsal." She mirrored the overwhelming cinephilia that infuses all events with TCM's imprimatur, "I feel like all of you, absolutely amazed by this. Hollywood Boulevard... the memorabilia, the pictures of all those great stars that have come before us. I'm a fan."
The screen legend also admitted, "I see about two films a day," which brought a smile to Osborne's face. "You're one of us!" he told her.
Background on An American in Paris
As with many classic films, fate took its course from preproduction all the way to the night of the Academy Awards. Cyd Charisse, who was originally cast in the lead, became pregnant and dropped out. Gene Kelly himself wooed the 19-year-old Caron away from the wooden floorboards of Les Ballets des Champs-Elysees. "Gene came to Paris to test me. I promptly forgot about the test and suddenly there was a phone call saying you've been chosen and you're going to Hollywood in three days. And my God, I was so shocked... I didn't even hope I'd get the part," the actress recalled.
Caron landed on the sometimes perilous surfaces of Hollywood's sound stages. Made of concrete and rendered "nice and glossy with beautiful colors," reflecting director Vincente Minnelli's broad palette. Kelly intervened and had the head painter mix the paint with sand, "so I wouldn't slip," she remembered.
Despite a musical score filled with Gershwin classics, art direction by Cedric Gibbons, screenplay by Alan Jay Lerner, and the innovative dance sequences created by Kelly and photographed by John Alton, MGM's interest in the musical waned by Oscar season. Promotional efforts were thrown behind Quo Vadis to compete with critical favorites A Streetcar Named Desire and A Place in the Sun. The film "least likely to win," according to Osborne, not only garnered the Oscar for Best Picture for MGM's producer Arthur Freed, but five other Academy Awards. TCM's prime-time host went on to describe an ad taken out in the trade papers shortly after featuring "the MGM mascot, Leo the Lion," posed beside a huge Oscar, red-faced with his tail between his legs and the headline: "Honestly, I was just standing in the sun waiting for a streetcar."
A Classic Red Carpet and After Party by Vanity Fair
Actresses Anne Jeffreys and Ann Rutherford arrived together, each festooned in red. When asked to describe An American in Paris, Rutherford -- who played the youngest O'Hara sister, Carreen, to Vivien Leigh's Scarlett in Gone With the Wind -- replied simply, "It's timeless."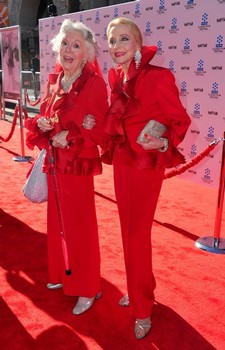 Anne Jeffreys and Ann Rutherford on TCM's red carpet to screen "the timeless" An American in Paris.
Other stars, who adorned the red carpet, ran the gamut from Hollywood's golden age (1930s - 1960s) -- Mickey Rooney, Jane Powell, Margaret O'Brien, Barbara Rush, Eva Marie Saint, and Diane Baker -- to British acting royalty -- Peter O'Toole and Hayley and Juliet Mills (daughters of actor John Mills and author Mary Hayley Bell). Patricia Ward Kelly (widow of Gene Kelly), Alexis Gershwin (niece of George and Ira Gershwin), and Barbara Freed Saltzman (daughter of producer Arthur Freed) were also in attendance.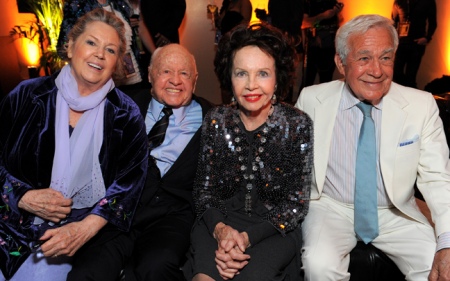 Jan Chamberlin and actors Mickey Rooney, Leslie Caron and Jack Larson at the TCM Film Festival's Vanity Fair after party at The Annex in Hollywood. Photo: Jordan Strauss, 2011 WireImage.
At the Vanity Fair afterparty, Powell, Rush, and O'Brien mingled effortlessly with fans, while George Chakiris (West Side Story) graciously signed autographs and posed for photos. Across the room, Hitchcock's muse Tippi Hedren sat with friends and, like Caron, has changed very little and is still working. She joined David O. Russell's star-studded cast in I Heart Huckabees (2004).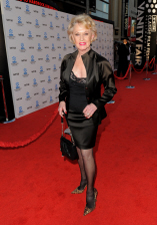 Actress Tippi Hedren arrives on the red carpet for An American in Paris, which opened the TCM Film Festival 2011 at Grauman's Chinese Theatre. Photo: Jordan Strauss, 2011 WireImage
Other bridges between past and present were actresses Illeana Douglas (granddaughter of Melvyn Douglas) and Priscilla Presley (widow of Elvis Presley) as well as film historians Donald Bogle and Foster Hirsch. Bogle reminisced about Ethel Waters (his critically acclaimed book, HEAT WAVE: The Life and Career of Ethel Waters, was released this February), even as he looked forward to introducing Vincente Minnelli's first film, Cabin in the Sky (with Waters, Eddie Anderson, Lena Horne, and Louis Armstrong) for TCM's festival. Hirsch was scheduled for an extended interview with Caron, including a book signing of her autobiography, Thank Heaven: A Memoir.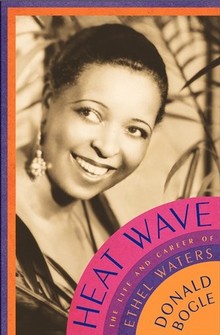 "I wouldn't be anywhere else in the world tonight, so I'm fortunate to be here," remarked Patricia Ward Kelly from the red carpet. Later, I caught up with her, and she described how proud her husband would have been "to see An American in Paris on the big screen and with such an enthusiastic audience. I've seen some really bad prints of the movie," she lamented, "but this restoration was beautiful and really brought out the lush Minnelli colors and the brilliant cinematography in the ballet."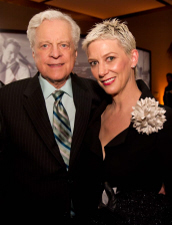 Robert Osborne and Patricia Kelly at the Vanity Fair Party. Photo: Mark Hill (c) Turner Classic Movies.
Preserving her husband's legacy as an actor and dancer, but also as a choreographer and director, remains a longstanding project. "While Minnelli was busy directing Father's Little Dividend, Gene was directing the dance sequences he choreographed." We discussed some of his forgotten work as a director, such as Hello, Dolly! Kelly also codirected (with Stanley Donen) Singin' in the Rain and On the Town.
Like 1939, 1951 was a seminal year in film. Besides An American in Paris with its debut of Leslie Caron, the height of Gene Kelly's creativity and multiple Oscar wins, it marked Vivien Leigh's return to Hollywood to win her second Oscar in A Streetcar Named Desire opposite Marlon Brando; Elizabeth Taylor and Montgomery Clift turn in two of their finest performances in A Place in the Sun; and Oscar nominations for Katharine Hepburn and Humphrey Bogart (who won) for The African Queen. TCM screened Streetcar on day two and closed the festival on Sunday, May 1 with a tribute to the inimitable Elizabeth Taylor and a screening of A Place in the Sun.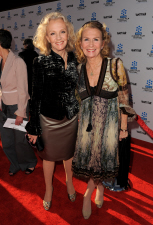 Hayley and Juliet Mills at the screening of An American in Paris. Photo: Jordan Strauss, 2011 WireImage.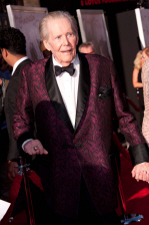 Peter O'Toole at the opening of the TCM Film Festival. Photo: Edward M. Pio Roda, (c) Turner Classic Movies.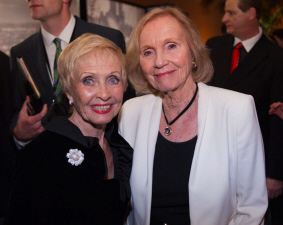 Jane Powell and Eva Marie Saint at Vanity Fair's after party. Photo: Mark Hill, (c) Turner Classic Movies.

Popular in the Community