The iconic mannequin company Rootstein is releasing a visionary new collection this season. For the first time in history both female and male mannequins are being sculpted based off the image of a single individual, the gender bender fashion designer Phillipe Blond.
In previous collections, the company sculpted mannequins from such famous women as Twiggy, Joan Collins, Pat Cleveland or Jodie Kidd specifically for their female figures. This time the iconic brand is utilizing the memorable looks of Phillipe as both genders, an identity that's always been unique to the young designer. "The whole process is surreal and magical, like a dream" says Blond.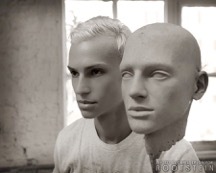 To unveil these remarkable figures, Rootstein chose to create an exhibition of the mannequins wearing an archive of The Blonds most memorable runway pieces. Some of the items featured in the exhibition will include garments worn by today's top performers such as Beyonce, Katy Perry, Rihanna, Miley Cyrus and Britney Spears. Representatives of the company elaborate: " In partnering with The Blonds, Rootstein continues its legacy of embracing individuality that captures, reflects and communicates the brilliant transience of fashion at its most beautiful and thrilling."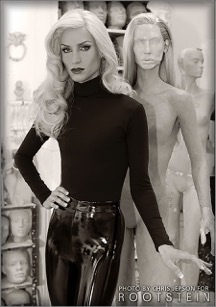 Rootstein however, is not the first company to borrow Phillipe's image for it's products. The giant Mattel, teamed up with Phillipe and his partner David to create a Barbie doll inspired by the look of The Blonds, including a diamond encrusted corset, high heels and the signature glowy blonde hair.
In a year of enormous advances for human rights and the fight for equality in different arenas, this is another great step in recognizing people's individuality and identity and reflecting it out in the fashion windows of the world.
The exhibition will open on September 9th at 205 West 19th street, in New York during New York Fashion Week.