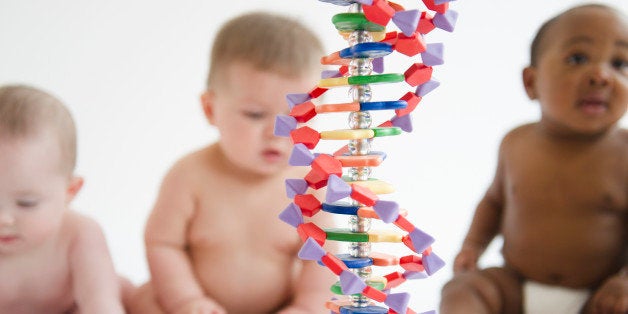 Thank you "synthetic" children for being born. Thank you for enriching my life in an unimaginable way. You help me see a world of possibilities not obstacles. As a pediatrician, I don't respond well to labels or other vehicles that hinder an innocent's ability to flourish. Moreover, if detached, elite, fashion icons opt to brand you in this light one would hope the term of choice would at the very least not be an erroneous one. A human sperm and egg are the most natural of substances. They are not manufactured chemically. By definition, you are not artificial. You are nature's cherished miracles. Regardless, you are so very special that no label, luxury or not, will ever shackle your boundless ability to change humanity for the better.
Having practiced in Manhattan for 13 years, I personally worked with every type of family. Love, loyalty, respect, caring, nurturing, being a role model are my requirements of the attributes necessary to benefit a child. Families, albeit of the offspring of same-sex couples or those challenged with fertility, tend to live those attributes and then some because they conquered challenges and attained such a grander perspective as a result. Simply because one can procreate with ease, by no means does that translate into possessing the skills necessary to be an incredible parent. I have been privileged to care for the children of every variation of family and deeply believe the gifts bestowed upon a child who is so profoundly wanted are beyond measure and replication. Children and adults, for that matter, need to feel a sense of belonging and certainly don't need role models championing calling their identity into question.
Thank you to your parents for consistently displaying gratitude for your big, important, fulfilling, rewarding and valued lives. You were so loved from the time you were a mere notion. Sacrifices were made for you. Judgements were endured and dismissed at hand. I implore you to hear my thank you(s) as the world is a far better place with you in it. As a result, you have been blessed with empathy to understand when others, albeit famous or unknown, display language that degrades or devalues that it is a mere reflection of how low they view themselves. Don't take it in and allow the hurtful words to diminish your worth. Take note of the amazing lessons to be learned from the detachment to reality fame can germinate and the behaviors you would never dream of emulating. When you live in so self-aggrandizing and crazy a world as that of Dolce & Gabbana, it is easy to comprehend how one may fall prey to inciting scandal for scandal sake. After all, there is no bad PR as they say.
I challenge Mr. Dolce and Mr. Gabbana to spend a week, no, how about even one day, in a pediatrician's office to witness directly the emotional and physical scars generated from an abused and neglected child born to a "traditional" family. Or, the toll taken on a child by divorcing heterosexual parents whose every word is vitriolic. In my experience, for the most part, those who adopt, are same-sex or historically challenged with fertility are present at every office visit, fully informed about the health and well-being of their offspring and are relieved and grateful each and every single time they are given a clean bill of health. They have life in perspective. They are replete with empathy, gratitude and sense of duty and obligation to do better and be better.
Webster's defines "traditional" to be "a belief or story or a body of beliefs or stories relating the past that are commonly accepted as historical though not verifiable." "Nontraditional" in this circumstance might actually be a compliment, as deviating from the norm might soon be determined to be an evolutionary advance. Embrace this teaching moment. Live your dreams and the lives you imagined. Accept that others have the right to express themselves. It is only through an open dialogue that ignorance can be trumped by understanding and genuine progress can be made.