This August, LEGO introduced the limited edition Research Institute set, complete with three female scientists, and this August it sold out, creating an uproar online about the lack of well-rounded female representation in the Lego world and how it affects young girls.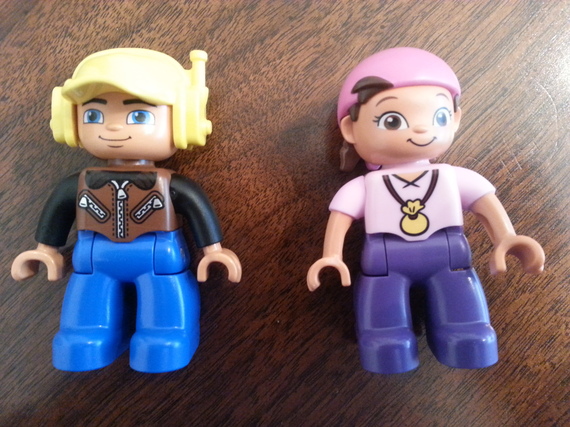 But as a mother of two boys, I am also disappointed in LEGO, makers of some of our family's favorite toys, for this. My oldest son is just two so I don't have any experience with the Legos of today that are aimed at older children, but even if you just look at the few non-themed, non-media-tie-in LEGO Duplo sets, the introductory blocks for toddlers and young children, there is an issue.
On the LEGO Duplo Creative Cakes box, there is an image of two cute girls, giggling as they play with their Duplo cakes in various shades of pink. It is clearly marketed towards girls, as if boys don't enjoy baking or playing with pretend food.
In the LEGO Duplo All-In-One-Box-Of-Fun, the Legos are housed in a green box and come with a male figure. I'll give them props for putting flowers in the box but whereas this lucky LEGO boy gets a car base for children to build on, the girl version, in a pink box, comes with rabbits for the LEGO girl instead of a car base. Because she is a girl and should be nurturing animals instead of getting to drive? Or because the human girls playing with her would prefer a cute bunny to a speedy truck? Girls and boys like cars, just like both women and men can drive cars. This is 2014.
I was aware of the LEGO gender divide when it came time to buy my son his first Legos. I wanted an open-ended set that didn't have a theme but I really wanted him to have blocks in all colors, like pink and purple. Unfortunately, in the non-themed sets, those blocks were only in the pink box, which, as stated earlier, didn't have a car base. So I settled for the My First Garden and My First Construction Site sets, thinking they would supply a good balance of flowers and vehicles for my son. But after a few months, I still felt he should be exposed to all colors of Lego blocks and decided to look again for a set that would provide pink and purple blocks without being sexist. I finally decided to get him the Never Land Hide Out set with male and female pirates and a pink flower block.
He had made the male construction worker a female builder, and made the pink and purple-attired, Boho pirate a boy named Chris, and no, it wasn't short for Christina.
Open-ended play is a great aspect to blocks of any sort, and the fact that my son made a traditionally masculine figure a female and a pink-clad figure a male is a testament to the power of children's imaginations but that still doesn't mean it is okay to force a gender divide on these blocks. That is equally insulting to boys and girls.
If you look at the LEGO website, one of their filtering categories is "Girls." Since there is no category for boys, it is safe to assume all the LEGO sets but the few that come up for girls are intended for the male gender. What is going on here? When I was a kid, girls and boys played with the same LEGO sets. We didn't need them to be color coded to clue us in to what was socially appropriate for us based on our gender.
A few years ago LEGO took this divide even further by introducing LEGO Friends, Legos marketed specifically towards girls, featuring a handful of LEGO girls that have names and personalities, and based on their figures, are in the midst of puberty. I'll give LEGO credit for trying to have diverse representations of women with a few of these sets, like Emma's Lifeguard Post, Emma's Karate Class, and one called Andrea's Mountain Hut rather than being called something cute like Marshmallow Camp, but the other sets leave a lot to be desired. There is an ice cream bike, a lemonade stand, a newborn foal to take care of, a newborn lamb to take care of, a downtown bakery, an outdoor bakery, a pet salon, and a beauty shop. And last but not least, Andrea's Bedroom. As the Lego website states, "Hang out with Andrea in her pretty bedroom with a makeup table and lots of beauty accessories, a laptop and a sofa bed for sleepovers!"
Other than the laptop, (which I'm hoping Andrea uses to research papers, or write code, rather than using it just to shop online for more makeup), there isn't much room for open-ended play with these sets or gender equality.
Even the non-LEGO-Friends Research Institute Set's description on the LEGO website states that it is "created by real-life geoscientist, Ellen Kooijman." "Real-life?" You mean females can be geoscientists in real-life? Perhaps I'm nitpicking but what was the need for that qualifier? What is that implying to young girls and boys?
Yes, it isn't LEGO's responsibility to teach our kids anything. But they are inadvertently teaching our kids that girls wear pink and nurture animals and don't get to go on all the adventures that boys get to go on, so of course there is going to be backlash from parents concerned about the popular toy's influence on the youngest generation.
So here is an easy solution for LEGO: put a female and male figure into every set that isn't tied in to a TV show or movie. Bonus points if the male figure is occasionally in pink or purple. That means there should be a female and male construction worker in that Duplo set instead of two men. What about sets without figures, like the Creative Cakes set? Instead of just two adorable, giggling girls on that box, add an adorable, giggling boy. And hopefully that will lead to more changes, like the removal of the "Girls" filter from their online store.
After all, why make things so difficult? Treat boys and girls as equals, because they are. Help more kids create LEGO worlds where a man can be dressed in pink and purple and a woman can be a construction worker.
You know, like in real-life.