This spicy ginger rum cocktail is everything you want. It's the complete package of spicy, sweet, and just a little bit sultry thanks to dark spiced rum.
Growing up I used to drink ginger ale like it was going out of style. Now, because I lived in Ohio, that meant that we almost exclusively drank Vernors ginger ale. It's not like the typical stuff you see on the shelves. It's super bubbly and is very gingery in flavor. It's so effervescent that the first sip almost always makes my nose wrinkle up in delight.
When I moved to New York I was sad to see my most favorite ginger ale was not available on the East Coast. Sadness.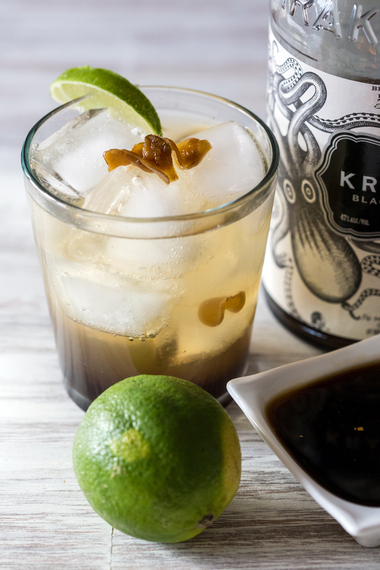 Well, that only meant that I was forced to break out of my ginger ale shell and try some newer brands. I finally settled on loving the spicy Jamaican ginger beer but I still craved the super bubbly ginger ale of my childhood. Then one day it dawned on me that I could just make my own ginger ale and get exactly what I wanted.
If you have never made you own ginger syrup, you are in for a treat. Not only is it simple - it's beyond delicious. It's sweet, syrupy and packed full of fresh spicy ginger flavor. Plus your whole house smells amazing as it bubbles away on the stove.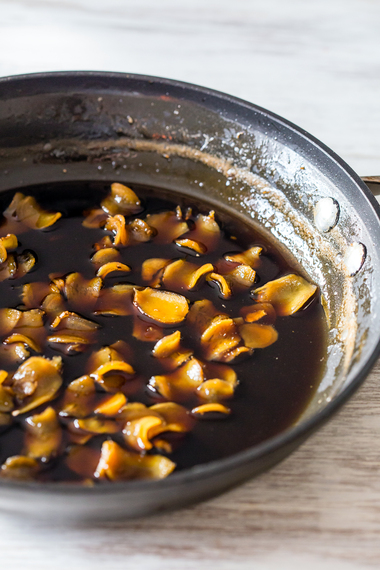 Making ginger syrup is as easy as 1-2-3. You can grate or slice your ginger, but I went with slices for this recipe because I think they're prettier, and the pieces can be used as garnish for the cocktail. Garnish makes all the difference!
You don't have to use your ginger syrup just for homemade soda. Nope. You can use it in cocktails (like me!), drizzle it over vanilla ice cream or add a few spoonfuls to your morning hot coffee. Trust me - it's good!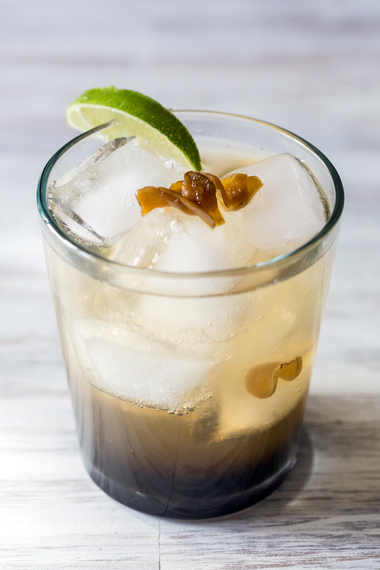 And if you're living anywhere on the East Coast, cold rainy weather is still here and shows no signs of leaving, so hot coffee with spicy ginger syrup is where it's at.
And if you're one of those lucky souls living on the West Coast where it's warm and sunny you will 100% enjoy this ginger-filled rum cocktail.
Oh and if you live on the West Coast and complain on Facebook that it's "super warm.. I wish it were cooler," I just might hate you.
Lack of summer weather is making me cranky.
About BrandyBrandy loves all things culinary, as documented on Nutmeg Nanny. But we're especially excited for her boozy cocktails and kid-friendly mocktails as our Cocktails and Mocktails Fanatic.
Related