 Last week, for the first time I can recall, the New York Times accepted and ran a wedding announcement with an image of a woman of Indian heritage displaying her navel and other comely attributes in a glittery, Bollywood-style gown.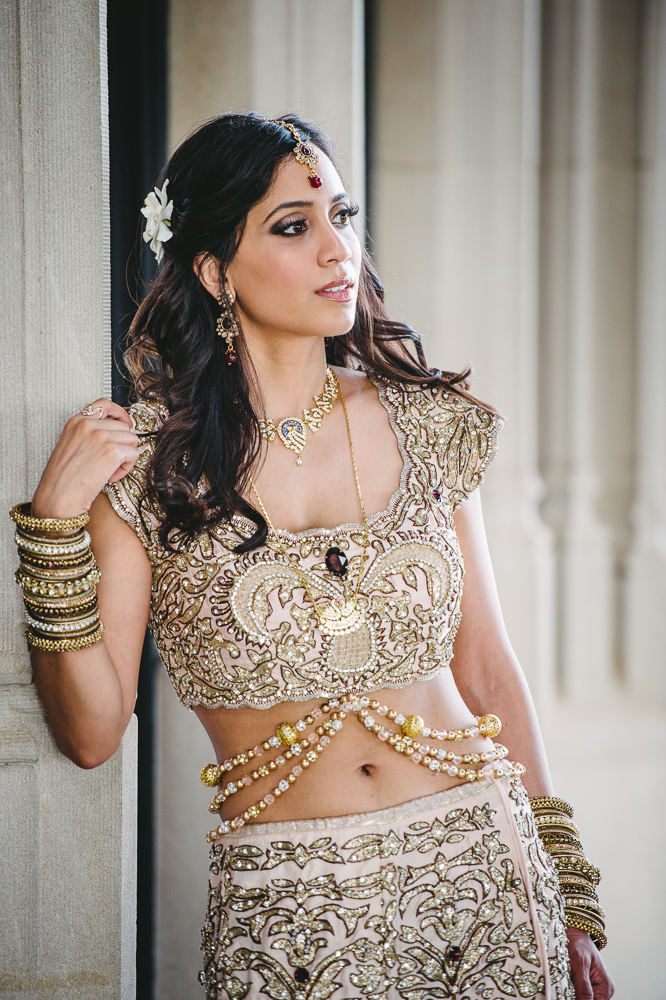 Image by, and courtesy of, Two Ring Studios
The New York Times has certain standards for wedding announcements and the photos that run above or alongside them. The Times fact checks the submissions and makes no guarantees that they will appear. Just like everything else in the Times, your announcement has to be in some way "newsworthy" either because of your illustrious education, accomplishments or the notoriety of your family.
The Times has, however, changed with the times. Just a few years ago, same-sex marriage announcements were verboten. Now, the Times wedding announcement submission form even has a box to check if you are not "in communication" with your parents. Sigh. For most of the Times' long history, brides appeared solo, in traditional, studio-style portraits. Now, most couples -- gay or straight -- choose to appear together, smiling, or even being demonstrative. The Times is open to more casual shots of couples -- as long as their eyebrows are at the same level. But if the bride still chooses to appear alone, it is fairly specific as to how the photographs must be submitted and even notes that appearance -- "neatly dressed," "professional quality" -- and the background of the photograph are all taken into consideration.
I learned last week in an email exchange with the bride, Veni Manickam, who was on her two-week honeymoon, that the dress was actually her reception dress, not her wedding dress. I'm not sure the Times knew this, or whether this is considered acceptable. For a religious Hindi ceremony in which elaborate saris are the norm, it seemed unlikely she would have bared her navel."Although we had a traditional ceremony" Veni clarified, " our reception was like any other, i.e., a fun, festive party of close friends and family." (Veni's photographers agreed to have the image run here at the HuffPost and even supplied others. Professional photographers, not brides, hold the rights to their photography).
Another bride who chose to be pictured alone on that Sunday, Amy Pierce, who had "first position" in the pages (at the very top of the listings in the printed edition of the paper) and whose family -- judging from a local North Carolina newspaper I consulted -- has a long history in the state, was pictured, in stark contrast to Veni, in a classic gown and veil in a formal studio pose that stood out amongst the more casual, lovey-dovey couples that populate the pages. Amy's photographer was willing to have the photo reprinted here, but wanted to double check with Amy's mother first. However, I did not hear back, so the link above will have to suffice.
But it takes a special bride in 2012, one who sees herself clearly, who isn't afraid to buck the trend, to show up on the NYT wedding pages all alone. Here is one telling fact: though Amy's announcement was at the top of the print edition and Veni's mid-page, Veni's appeared at the top of the online edition while Amy's was buried about halfway down the regular listings, reversing the printed formula.
I wondered about these two "topgirl" brides -- one online and one print -- what that said about the Times' announcements, and about modern brides in general. What do they say by clinging to tradition? Or by being newfangled?
On the face of it, the two women should not have much in common. Veni's provocative dress is about as far as you can get from Amy's conservative one. Veni attended New England's Ivy League Yale, Amy went to Elon, a southern liberal arts college with a reputation for hard-partying preps. Amy, a member of the NY Junior League and a former debutante, works as a saleswoman at the Upper East Side Manhattan boutique of Lilly Pulitzer, long a society standard of printed fashion. Veni went on to become a lawyer and is now an associate at a corporate firm.
But let's look closer. As it happened, the two attractive women had a surprising number of things in common. Both weddings were held in North Carolina in religious ceremonies (Hindu and Episcopal). The groom's families both live in the Northeast (Connecticut and New York). Both grooms graduated from Columbia (one magna cum laude). One groom is a math scholar, one bride's father a math professor. One father attended Columbia, one father-in-law taught at Columbia. One bride became a corporate lawyer for a white shoe firm in NY just like the other bride's father-in-law. One father is in real estate just like the other's new mother-in-law. Both are now New Yorkers. Both brides took their husband's names. (There seem to be no out-of-work starving artists or underpublished writers in either of the families.)
In fact, Veni whose given name is actually Swarnameenakshi and is fluent in Tamil according to her lawfirm website, went to Yale just like her husband Vikram Thomas' mother who is a director of the Yale Women's association. Vikram's father is now an endowed professor at the Yale business school and Veni's father is also an emeritus math professor. Vikram went onto Harvard Law and now works for Google. (As a Skadden Arps summer associate, he studied the effects of legal outsourcing to India.)
Amy's family is also accomplished if slightly less academically inclined. Amy's husband John Alvino, who grew up in New York, went into venture capital after college and has started his own firm.
Crazy things came into my mind. Though I had seen them at the outset as total opposites, I began to wonder: is it possible that Amy's father and Veni's were at Columbia at the same time? Or that Vikram and John were? Or that Vikram's mother ever sold John's family a house? Or even if the Greensboro, N.C. and Sylva, N.C. high school teams ever played each other? (They are only three hours apart.) Do Amy and Veni still vote in North Carolina, by chance, and do they represent the swing in the state that is so valuable to both parties?
Though I could not see Veni buying a dress from Amy at Lilly Pulitzer, the image of her at her work website is more conservative. Veni appears to wear suits to work just like most women who work at law firms. Still, on one of the most important days of her life, Veni chose to appear as a highly sexualized Indian woman. And Amy chose to appear very conservatively, perhaps with posterity in mind.
These two brides also appeared on a day when the Times ran a rebuttal piece to The End of Men, a book that tells of the ascendance of women at the top of the economic and social ladder, by documenting a more sobering tale of uneven advancement and pay scales and career paths thwarted by marriage and children. I could not help but be struck by this juxtaposition.
Judging by the Times wedding announcement pages, education and accomplishment are great equalizers no matter where your family comes from. But also judging by adjacent pages, the choices we make in how we present ourselves as women still matters a great deal. Though I don't know Veni or Amy, I want Veni, the daredevil lawyer, for my friend, though I'm not sure how her colleagues at the law firm have reacted to her wedding photo. Will they also see her as an admirable free spirit, one to be admired and promoted, or end up fantasizing about her during a lull in a complex merger negotiation? In the legal profession, one that relies upon precedent and tradition as much as Lilly Pulitzer, will she end up having gotten in her own way?
The whole subject of wedding photography is a sore one in my house so I am probably no one to talk. Because I wanted to be very creative when I got married, I hired someone at the suggestion of a friend who was also in the culture racket without really taking a close look at the photographer's previous work. She took hundreds of shots of the food -- which looks gorgeous -- and a few of the guests, all of us looking like we have been rounded up in a drug sting and are awaiting booking. Needless to say, I did not order one image of this important day and merely took a bunch of proofs and put them in a vinyl album I picked up at a local drugstore. They reside at the very back of a storage closet and are only taken out when I want to be reminded of the menu.