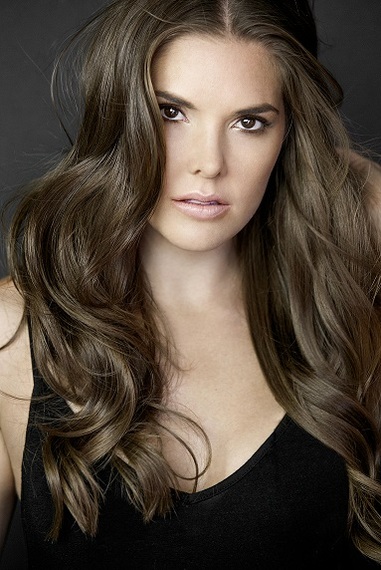 Nikki Moore is in the new indie feature film OCCUPY, TEXAS which premiered at the Dallas Film Festival last month.
Nikki Moore's Twitter.
Photo by David Heisler.
Living in the New York City area, I'm accustomed to seeing actors and models grace the city streets. But when you see someone as stunning as Nikki Moore waiting at a corner for the red light to change, you really lose your breath. (I didn't see Nikki standing at the corner but I still lost my breath.)
Nikki Moore moved from Houston, TX to New York City at the age of eighteen to attend The New School University's prestigious program where she graduated with a Bachelor of Arts in Theater, Writing and the Arts.
Nikki then moved to Los Angeles, where she currently resides, to further pursue her acting career, and has since appeared in feature films such as SORITITY ROW, alongside Robert Belushi, Rumer Willis, and Jamie Chung, THE BABYMAKERS, alongside Olivia Munn, and THE PERFECT STUDENT, alongside Michael Bower.
Or should I say those other actors appeared alongside NIKKI.
I learned some interesting things about Miss Nikki! Check it out!
You play 'Sherry Hensen' in the indie feature film OCCUPY, TEXAS which premiered at the Dallas Film Festival on April 15th. How did you audition for this role? What made you want to work on this film and how did you hear about it?
I learned about this role through a friend (Steve Stodghill) in Texas who was helping to executive produce the film. He sent me the script, I loved the story and the thought of playing 'Sherry'. They were about to make an offer to another actress but Steve said to the director and producers they needed to see one more person before offering the role. I flew out to Dallas to meet with the producing team, went to the audition in which we worked a couple scenes for about an hour, and by the end of it they offered me the part!
What's different about this role than other character's you've played?
This role was unique from other characters I've played because I have a lot in common with 'Sherry'. She is a school counselor who works at an all girls' school. I have a master's degree in clinical psychology and also see some clients in private practice. I've worked with children the same age as the girls in the film so it was familiar territory for me.
What do you hope viewers take away from the film, and from your character, 'Sherry Hensen' specifically?
The film is a coming of age story after the point at which you should have come of age. The lead character (Beau) learns how to take responsibility for his choices and how to make better decisions for the benefit of healing his family. The development of 'Sherry' and her point of view in the film is directly related to the choices 'Beau' made about abandoning his life in Texas. 'Sherry' lost a great love when Beau left but survived and came out on top. She represents strength and is a voice of reason.
You grew up in Texas and attended The New School in NYC where you graduated with Bachelor of Arts in Theater, Writing, and the Arts. What's the best advice or lesson you received at The New School?
Attending The New School was a wonderful experience because NYC is filled with endless resources and inspiration for artists in general. They were able to integrate these resources to develop a multifaceted curriculum which encouraged curiosity and exploration.
You're gorgeous! What's your secret?
Well, Thank you! I try to do things that make me happy. When I feel good on the inside it shows on the outside.
You train at Freddie Roach's Wild Card Boxing Club in Hollywood. Why did you choose boxing?
I chose boxing on a whim, actually. I just ended up being really good at it. Who knew?
If you were going to be a speaker at a TED Talks, what would you talk about?
This is a tough question... Perhaps, I'd do a talk on human interaction, interpretation and communication. There is a lot to elaborate on with this but I'd need some time to process my thoughts.
What was the biggest challenge of your life so far?
Completing graduate school was one of the biggest challenges I've ever had to endure. I was going to class, working an internship, bartending, and trying to find time to audition and work on the occasional film project. My internship didn't pay and acting jobs were so few that I was struggling to pay rent, eat, and put gas in my car to make it to class (let alone find time to study). There was a period of time when I didn't know how I was going to survive. But I did.
Do you have any siblings?
I have two older brothers (Chris and Michael) and I just adore them! Chris is a musician living in Austin and Michael works in finance in Chicago. They were always looking out for their little sister... While visiting Michael at college one year, I went to a party at his frat house and was getting along well with one of his fraternity brothers. He decided to quiet the band, shush the crowd and make an announcement, "Hey everyone! This is my sister Nikki. STAY AWAY!". It was mortifying, not to mention no one talked to me for the rest of the night.
If you were going to propose marriage to someone, how would you do it?
I would try to sweep the guy off his feet by taking him for an airplane ride (I'm also a pilot) to a romantic location like Santa Ynez or somewhere in wine country, then propose over a nice glass of wine.
What genre of books do you enjoy reading the most?
I like fiction novels; some of my favorite books are: Lolita, The World According to Garp, The Bell Jar, and The Fountainhead. And, I really enjoy Sylvia Plath's poetry.
Anything else you'd like to say?
As an actor, the best advice I've heard is, "live your life". Working as an actress is great but the business side of things can sometimes be tough. I try to do the things I love, continue to learn/be curious, and give back to the community through my work as a psychotherapist.
Calling all HuffPost superfans!
Sign up for membership to become a founding member and help shape HuffPost's next chapter