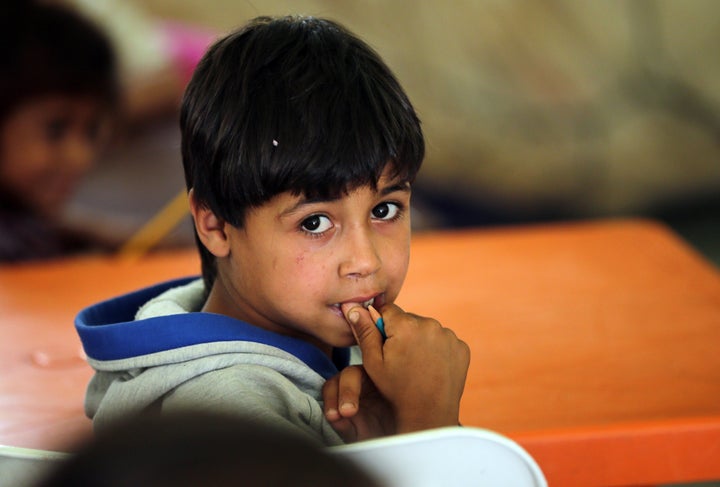 A reasonably priced education program could get 1 million Syrian refugees into school by the beginning of October, according to the U.N.
For many of the 2 million Syrian children who have sought refuge in Lebanon, Turkey and Jordan, their education has fallen by the wayside as humanitarian organizations struggle to get support for such basics as food and medication. But an innovative model could infuse much-needed funding to allow these kids to learn.
Former British Prime Minister Gordon Brown unveiled his plan earlier this month that would require $10 a week to provide 1 million Syrian refugee children with learning opportunities, without necessarily erecting any new infrastructure.
In Lebanon, for example, local children would go to school in the morning and then refugee children would use those same classrooms in the afternoon.
Brown's education proposal would cost a total of $250 million, according to the U.N.
The plan comes at a time when the refugee crisis is hitting children particularly hard.
Experts say that getting kids in the region into school is critical to helping to put a stop to the conflict.
When kids affected by war are exposed to education, they're less likely to get recruited to serve as child soldiers, a recent Save the Children report noted. Their earning potential also increases and education helps promote "social cohesion," which –- in turn –- encourages communities to work together.
Refugee children who have been fortunate to access education are demonstrating how beneficial it is for them, and their surrounding communities.
Mezon Almellehan, a Syrian teen living in Jordan, is in school in her refugee camp in Azraq. She was particularly inspired to pursue education after meeting Nobel Laureate Malala Yousafzai when she visited Jordan last year.
Mezon tries to spread that same motivation every morning when she ventures tent to tent, encouraging kids to go school.
"We have the right to attend school and I feel I have a responsibility towards the community," Mezon told the Malala Fund. "As a girl, I can find friendly ways to convince a girl to continue with her studies."