That green-eyed monster is back in town, down at NYTW. With a steely-determined Daniel Craig whispering Iago's innuendos into Daniel Oyelowo's ear, we watch in fascination as the claws close 'round the poor Moor of Venice. While Shakespeare's tragedy will always end as it must, Oyelowo's Othello doesn't stand a chance.
This is the hottest-ticket Shakespeare in off-Broadway history, thanks to the presence of superstar Craig (who has been the screen's James Bond since 2006). Oyelowo is a movie star too, of "Selma" (where he played Martin Luther King) and "The Butler." The other star of this Othello, though he doesn't sell tickets, is director Sam Gold of The Flick, Fun Home et al.
Gold, when working with revivals (as opposed to new plays), has a tendency of settling on sometimes severe concepts which allows us to see said plays with a new eye. This doesn't necessarily always work out (remember his Look Back in Anger at the Roundabout?), but it does take the audience out of the revival mode and allow what was familiar to have a fresh start.
He sets his Othello in a barracks; the image of well-used mattresses laid out on something like a gymnasium floor brings to mind emergency housing during floods and hurricanes. NYTW, which has reconfigured its 200 seats in varied configurations for shows like Hadestown, is here remade by set designer Andrew Lieberman as a roughly-hewn space of unfinished wood: floor, ceiling, stage and the four-tiered seating area on three sides. (The patrons, happily, are provided with padded seats.)
The characters are Shakespeare's, yes; but they comport themselves like gung-ho marines, ready to storm over the top when they are not pumping iron (in the far right corner of the stage). Venetian warriors, although they are wearing contemporary clothes--in several cases, at the beginning, designer underwear--and at least a couple of baseball caps with American flags. There are also girls among the bunch, although you can't quite tell since Gold plays the long opening scene in the pitch-black dark. We do notice one woman who, by the light of her cellphone, sneaks out of her bed and moves under the covers of the man in the far corner.
The woman turns out to be Desdemona (Rachel Brosnahan) and the man turns out to be our hero. Before the lights go on, and before we can identify them, we hear a strong and mellifluous voice already plotting. Patrons who've never read or seen Othello--which, sad to say, I suppose there are--won't know that this is Iago; but they will surely identify, in the dark, the voice of Mr. Craig.
Craig makes an altogether strong showing as the poison-tongued Iago, and deserves praise for favoring us theatergoers with his high-priced time. Appearing on Broadway, he could earn a decent fraction of what he gets from blockbuster movies; at a non-profit like NYTW, the actors earn a fraction of a fraction. Presumably wanting the challenge of playing Iago and working with the visionary Mr. Gold, Craig decided to participate simply for the privilege of playing the role, with those who can score the scarce tickets the beneficiaries.
Oyelowo--whose work with the Royal Shakespeare Company included a bravura King Henry VI in the trilogy of plays presented under the title This England: The Histories--comes naturally to Othello; he clearly knows how to speak the language of the Bard, and captures the poetry within the play better than the rest. He, and his Othello, are somewhat overpowered by Craig until the final stretches of the three-plus hour evening. There are some productions in which the actor playing the title character seems to be the focus of attention; here, it's Iago we consistently watch.
Ms. Brosnahan--who will be familiar to watchers of "House of Cards" as Rachel Posner, the call girl who goes into hiding and over three seasons is intertwined with Kevin Spacey's chief of staff--makes a self-assured Desdemona. Finn Wittrock (who next appears as The Gentleman Caller in Gold's upcoming production of The Glass Menagerie) is a fresh and strong presence as Cassio; Marsha Stephanie Blake is impressive, at least when given our attention on the final scene, as Emilia; and Matthew Maher, who was so memorable mopping the floor in Gold's The Flick, provides comic relief as Roderigo. I don't know that Shakespeare intended Roderigo as a clown, but in this case it works--and works well.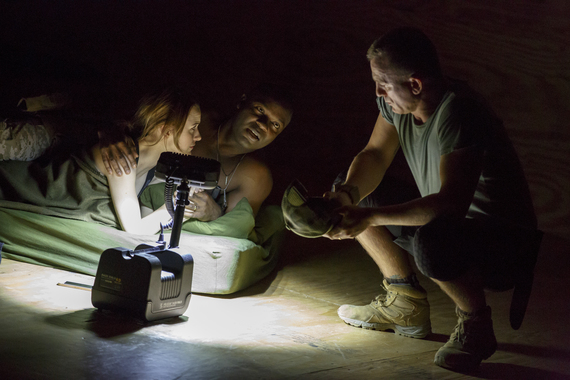 Rachel Brosnahan, David Oyelowo and Daniel Craig in Othello
Photo: Joan Marcus
This worthy production is not likely to erase memories of Othellos past; the contemporary slant has resonance with its references of current-day politics and current-day war zones, but the majesty of play and language is--inevitably--diminished. But it's fair to say that the Craig-Oyelowo-Gold Othello is something to see, and will not be soon forgotten.
.
Othello opened December 13, 2016 and continues through January 18, 2017 at New York Theatre Workshop
Calling all HuffPost superfans!
Sign up for membership to become a founding member and help shape HuffPost's next chapter