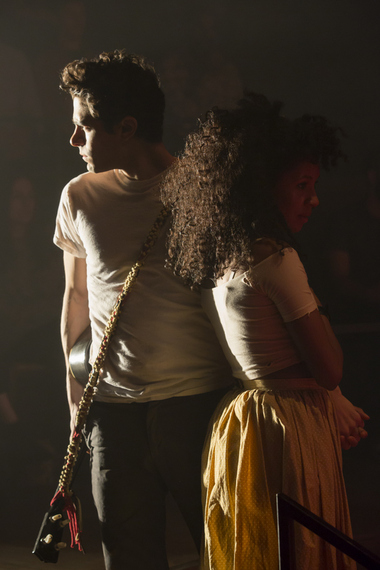 Damon Daunno and Nabiyah Be in Hadestown.
Photo: Joan Marcus
When the trombone growls at the start of "The Road to Hell," the second number of Hadestown (at NYTW), something of a thrill jolts the audience; and when Chris Sullivan leads the cast into "Way Down Hadestown," the joint is altogether jumping. A while later, Amber Gray starts the second act with the buoyant "Our Lady of the Underground." These numbers more than demonstrate that folk songwriter Anaïs Mitchell's 2010 concept album--a contemporary retelling of the Orpheus and Eurydice legend--offers strong theatricality. But this interestingly told and interestingly staged journey to the Underworld, alas, only occasionally hits the heights.
Most of the eighty-minute Hadestown is admirable enough; but 'admirable enough' is not nearly enough to get us through. Mitchell's notion is to take Orpheus and Eurydice, from the Greeks, and translate it into something with a contemporary American sound. In the stage version, it is at its best when the music goes Dixieland, and it is frequently enhanced by the eerily over-sweetened harmonies of a trio of Furies that we might as well call a Greek chorus.
But there's something of a problem with using Orpheus and Eurydice--who battle with King Hades in the Underworld--as your source. Classicists and those who paid attention in high school, back when they still taught the classics in high school, are familiar with the tale of the sweet-voiced singer whose wood nymph wife is consigned to afterlife with King Hades in Hades. One suspects that most of today's audience is unfamiliar with their Greek gods, though, and the storytelling in Hadestown is lazy and somewhat hazy.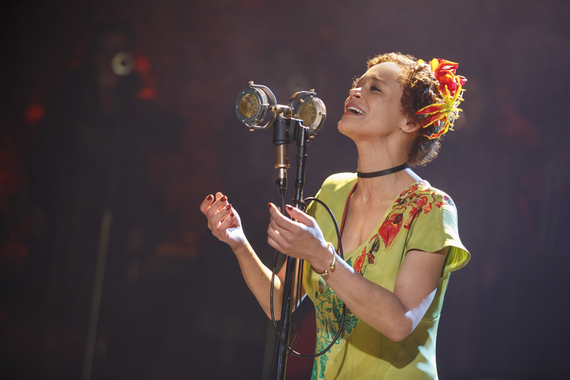 Amber Gray in Hadestown.
Photo: Joan Marcus
Unfamiliarity with source material is not a cardinal sin, musical theatre-wise; one only has to look at Natasha, Pierre and the Great Comet of 1812 to see how well current-day creators can do with relatively unfamiliar source material (raise your hands if you've read "War and Peace"). But the Dave Malloy musical--which is coming to the Imperial in October, although we are now supposed to call it simply The Great Comet--brings that heavyweight classic alive for audiences in a way that Hadestown does not.
The first act suffers from an age-old malady: while we have a bunch of prettyish numbers while Orpheus woos Eurydice, things don't get hot until we get the hell to Hades. The second act more thoroughly engages us and holds our attention. But as we learned from The Great Comet--and NYTW's own Once, another atmospheric and heavily-musical musical--shows of this type can weave a spell of enchantment, start to finish. Hadestown doesn't. Sitting through the first act, in fact, I was on more than one occasion reminded of the legendary Broadway musical Dude. Not the sort of association good new musicals aspire to.
The repeated citing of The Great Comet is not incidental. Hadestown has been directed and developed by Rachel Chavkin, one of the more intriguing young theatrical artists of recent seasons. Chavkin followed Natasha with Beth Wohl's unconventional (and dialogue-less) Small Mouth Sounds; Malloy's play-with-Rachmaninoff music, Preludes; and Marco Ramirez's knockout of a drama, The Royale. Each was excellently staged, decidedly different, and highly satisfying.
Hadestown clearly aspires to follow this path: The NYTW space has been turned into something of an in-the-round amphitheatre by designer Rachel Hauck (of NYTW's An Iliad and Signature's Our Lady of Kibeho), with seating on mismatched but not uncomfortable hard-backed chairs on platformed bleachers, cushions provided. Chavkin has the action swirling through the auditorium, keeping the audience engaged. But Hadestown doesn't engross us nearly as much as the director's recent projects.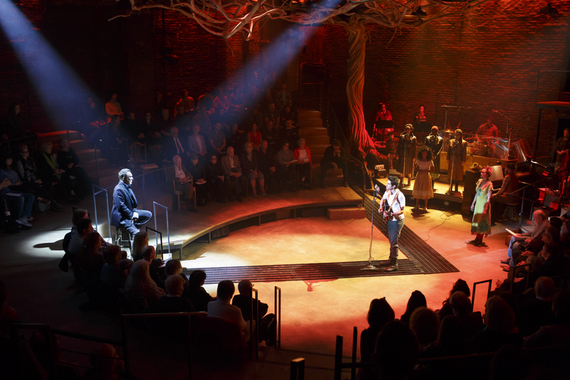 Patrick Page, Damon Daunno and Company in Hadestown.
Photo: Joan Marcus
The cast is game. Patrick Page--most recently of Casa Valentina and Spring Awakening--is playing another of his deep-voiced villains. Ms. Gray (the villainous Hélène in The Great Comet) is properly smoldering as Persephone, while Mr. Fitzgerald (a comic foil in Nice Work If You Can Get It) keeps the show rolling as a rich-voiced Hermes in narrator guise. Damon Daunno and Nabiyah Be sing prettily as the young lovers, while the trio of Fates (Lulu Fall, Jessie Shelton and Shaina Taub) continually enliven the proceedings. There is also a dynamite band, led by Liam Robinson at the piano and featuring standout spots by Brian Drye on trombone and Ben Perowsky on percussion.
Fans of Mitchell's album will likely be wowed by the piece, and the stage version is a worthy attempt at trying something different. But this visit to Hadestown is not quite compelling.
.
Hadestown opened May 23, 2016 and continues through July 3 at New York Theatre Workshop
Popular in the Community