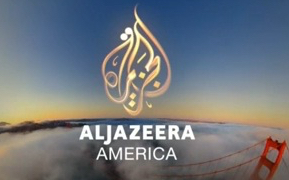 The Al Jazeera TV news organization that began in Qatar missed a great opportunity when it started Al Jazeera America (AJAM), using the cable channel it bought from ex-Vice President Al Gore's Current TV.
It had already parlayed itself from being a remarkable Arabic phenomenon into becoming a genuinely global media player, with its very creditable Al Jazeera English network. Then it lost its nerve editorially, as I've highlighted before, and in trying to crack the American cable-news market it ended up abandoning its respected international credentials ... just cravenly copying the downmarket, parochial look and feel of the existing domestic cable outfits it set out to compete with. It also failed to match even the poor ratings of its predecessor.
But complaints like mine about Al Jazeera America's disappointing editorial approach pale entirely when compared with their contemptible approach to managing staff.
It's to be hoped that something better will flow from the May 6th appointment of Al Anstey to take over the US operation. Anstey earned his spurs in news agencies and at Britain's ITN network and has been running Al Jazeera English as Managing Director for five years.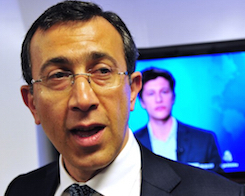 There must be, you'd think, an improvement on the 'leadership' of Ehab Al Shihabi (left), the CEO who began AJAM's launch in 2013. He presided over widespread discontent and disbelief among the staff, dramatically illuminated by a New York Times report that concentrated on the rampant "sexism and anti-semitism" within AJAM's management.
Al Shihabi's reign culminated in a civil suit for wrongful dismissal by Matthew Luke, head of media and archive management, and the resignation of senior managers like Diana Lee, EVP for human resources, Dawn Bridges, EVP for Communications, and the well-respected former CBS News executive Marcy McGinnis, who had been AJAM's Senior VP for Outreach.
Truth to tell, though, there was rot setting in some time ago - even at the global level of AJE and under the supposedly more assured managerial hand of Anstey.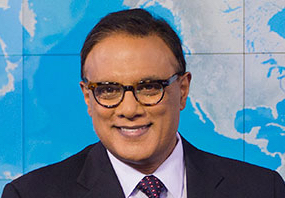 He was the decision-maker when AJE got rid of two anchors, Anand Naidoo and Imran Garda, in 2012. Naidoo (right) is an experienced international CNN hand, having started work during the dying years of apartheid in South Africa. He nowadays works for Chinese television, CCTV, having put in six years as an AJE anchor.
Both Naidoo and Garda were born in South African, and as it happens both are of South Asian heritage. The reasons for their disappearance from AJE's TV screens (Garda remained with Al Jazeera in an online digital capacity) have been cloaked in confidentiality clauses, but the company's corridors resounded at the time with the horrified understanding that management had come to view the anchor bench in Washington as looking "too brown".
But though Al Jazeera's employment practices exceed any mere editorial tawdriness, by comparison the employment practices of the network's country-of-origin are excessive beyond measure.
In a gigantic PR bid for international recognition, not unlike their original creation of Al Jazeera, Qatar's rulers will - notoriously now - be hosting the soccer World Cup of 2022. (It's a bid whose success has thrown into greater relief than ever the ugly corruption endemic to that venue-awarding process, controlled - if that's the word - by the world soccer body, FIFA.)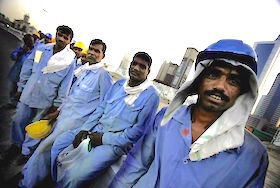 And Qatar's already appalling reputation for slave-like treatment of its immigrant domestic workers is now, if possible, surpassed by how it treats the armies of construction workers (right) employed in building new sports stadiums and other tournament infrastructure. Both classes of worker are, it's well-known, unsurprisingly imported in large part from South Asia - and any connection with the attitudes evidently demonstrated in the Naidoo and Garda cases is probably not coincidental.
Any visitor to Qatar's capital Doha will appreciate the full-on racism practiced toward South Asians.
Discrimination, though, can obviously be relative. Journalists and executives may have been mistreated at Al Jazeera. But the slave-like employees in Qatar's construction industry are being killed. The death rate, according to the International Trade Union Confederation, has been about 250 per year - and this week the newly-created campaign, "Play Fair Qatar" calculated that if work-safety and living conditions are not improved, the total of deaths could be 4,000 by the time the tournament begins. On the mathematical assumption that 66 football matches will be planned, campaign spokesman Stephen Russell says:
"As things stand, more than 62 workers will die for each game being played in Qatar".
Under such campaigning pressure, Qatar has promised wholesale improvement in workers' conditions - and it even invited in a BBC news crew last week to report on progress. Clumsily, the country's security services ended up arresting reporter Mark Lobel and his team, imprisoning them for two nights. The BBC's equipment (plus recorded material) is still being held - and beyond a vague accusation of "trespassing" no official explanation has been given.
I look forward to seeing just how the staff of Al Jazeera might now present - at home or abroad - the employment issues being raised in the place where their company started.
Read more of David Tereshchuk's media industry insights at his regular online column, The Media Beat at its new site. The Media Beat Podcasts are always available on demand from Connecticut's NPR station WHDD, and at iTunes.
Related
Popular in the Community