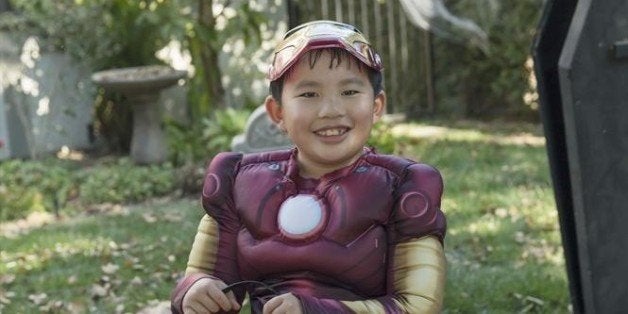 The California native plays Bert, the 7-year-old adopted son of semi-oblivious hippie mom Jackie (Michaela Watkins) and a straight-laced dad, Pete (Bradley Whitford), who remarries the much younger Kate (Malin Akerman). The adults on the show are rounded out by Oscar-winner Marcia Gay Harden, who plays Pete's first wife, Diane.
But all that star power doesn't intimidate Tsai. (He once played laser tag on "How I Met Your Mother" with Neil Patrick Harris, so he's got this covered.) Instead, he's become the show's scene stealer, gaining attention from our own TV critic Mo Ryan. He drops Yiddish, develops a mini-caffeine addiction and stays up all night to make necklaces for his mom's floundering jewelry business.
First of all, how was your Halloween?
My Halloween was great. I was Iron Man like Bert was for the Halloween episode. But I wasn't the fake Iron Man; I was the real Iron Man.
Was it your idea for Bert to be Iron Man in the show?
It was the writers' idea and I thought it was great. I got the costume from set.
They let you take it home and wear it?
Yes. One of the guys gave me this really cool glowing wire that was hooked up to a remote and once you pressed a button it would light up. One of the wardrobe girls built the costume for me -- where the glowing light for Iron Man was supposed to be, [mine] actually lit up.
That's so cool. What did you think of the Ironing Man joke, where Bert's mom Jackie (Michaela Watkins) made you a costume with an actual iron?
That was pretty funny. I would never have thought that Iron Man was that type of iron.
Me neither. What is it like working on the set with all the adult actors?
Well, really nice working with them. All of the cast and crew are really nice to me. We help each other and they help me and every time I work with them, I learn from them.
What kind of things have they taught you?
They taught me different voice expressions.
What's your favorite part of being on the show?
My favorite part of being on the show is to be able to watch the production team put together a TV show. I also like to make my castmates laugh.
How does it feel to be called one of TV's breakout stars right now?
It's a nice feeling. I'm really grateful for everything I have.
What's been your favorite joke that you've gotten to say as Bert?
I really liked when I got to learn how to speak Yiddish in one episode.
Did you know any Yiddish before?
No. I think that was my first time learning that language.
Do you think you'll use it in your everyday life?
Is your life at all like Bert's?
Well, me and Bert have a lot in common. We are both smart and funny and we both love to dance.
What kind of dance do you like?
I like freestyle dancing.
Yes. In one episode, "The Tryst," I think he was doing a little bit of the noodle dance.
What can we expect next on "The Trophy Wife"? Can you give us any hints?
There's going to be a holiday episode and a lot more physical comedy.
"The Trophy Wife" airs Tuesdays at 9:30 p.m. EST on ABC.
REAL LIFE. REAL NEWS. REAL VOICES.
Help us tell more of the stories that matter from voices that too often remain unheard.
BEFORE YOU GO
PHOTO GALLERY
Critics Picks 2013-2014