Four New Mexico teenagers have been charged after a young girl was killed in her sleep during a drive-by shooting, authorities announced Monday.
A 15-year-old and a 16-year-old were taken into custody on murder and other charges for allegedly stealing two Kia Souls and opening fire at the Vista Del Sol mobile home park on Aug. 13, unintentionally striking 5-year-old Galilea Samaniego, the Albuquerque Police Department said at a press conference.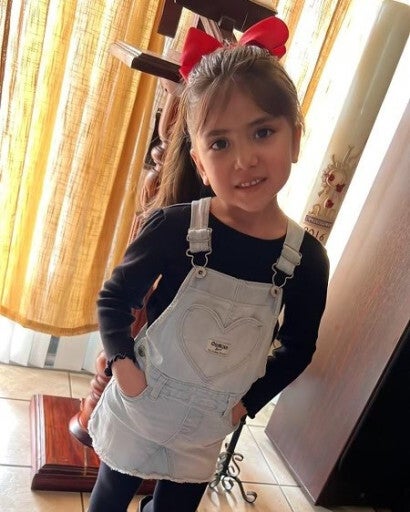 Authorities are still searching for two brothers, ages 17 and 15, who also face charges for their alleged involvement.
According to police, Galilea was sleeping overnight in a mobile home with her siblings and other children. The home belongs to a women living there with her two teenage grandsons, who are not related to Galilea. And one of them was the intended target of the drive-by, Deputy Chief Cecily Barker said at the press conference.
A bullet pierced the mobile home and hit Galilea in the head, police stated. She was taken to a local hospital, where she was pronounced dead.
Following the shooting, authorities released surveillance footage of the two Kia Souls that they said were present during the shooting.
In a statement, Albuquerque Police said the teens were involved in a "dispute over a girl" that went back years, to when they were in middle school.
The feud "escalated in recent months, allegedly resulting in drive-by shootings between the two teens and several friends," the statement said.
According to police, detectives linked bullet casings from the Vista Del Sol shooting to an incident in November 2022 that involved several teens, including two of the suspects in Galilea's killing.
Authorities are not sure how the teenagers allegedly obtained firearms.
Four minutes after the Vista Del Sol incident, the teens who police said were driving the Kia Souls allegedly took part in another drive-by shooting at a separate home, with surveillance footage capturing the vehicles near the scene.
According to authorities, the family inside that residence were uninjured. However, they told police that this was not the first attack they'd seen.
"The homeowner, his wife and 4-year-old son at that home escaped injury in that shooting, which was the second drive-by they experienced in recent weeks," police said.
A teen residing at the mobile home where Galilea was shot told officers that two of his friends lived at the second drive-by location, adding that they were involved in the dispute with the 17-year-old who remains at large.
Both Kia Souls were abandoned after the shootings, and one of them was set on fire, according to police.
The four teen suspects are charged with an open count of murder, conspiracy, shooting at a dwelling or occupied building, shooting at or from a motor vehicle and unlawful taking of a motor vehicle.
The New Mexico Law Offices of the Public Defender, representing the two teens in custody, did not immediately respond to HuffPost's request for comment on their cases.
In a GoFundMe campaign raising money for Galilea's burial service, the girl's mother said the family is heartbroken, adding that she "never thought my little baby would die this way."
Support HuffPost
The Stakes Have Never Been Higher
Popular in the Community