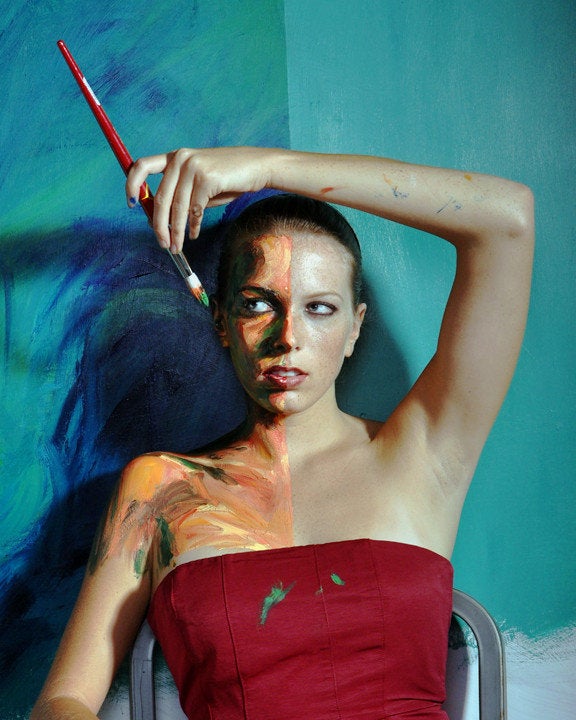 Alexa Meade creates portraits that look like traditional representational paintings. But in fact the "living paintings" are actually photographs painted on with acrylics, making the subjects of the work the canvases as well. In her work, which was recently on view at the National Portrait Gallery in Washington, D.C., we see the results of her control over the physical world; she collapses subject, set and background, then snaps a photograph of the painted over 3-D scene, which gives the illusion of a 2-D painted canvas. Her works show the mediation and participation that exists, though often ignored, in all representation.
Many of the images make it nearly impossible to find visual evidence of the secret their construction. Yet others toy slyly with their unexpected merging of photography and painting; one figure paints herself while another is only painted inside the boundaries of a picture frame. Meade grapples with the heady conceptual terms at stake between painting and photography and mixes them with the playful wink of an inside joke.
We asked Alexa some questions about her work. Scroll down for slideshow.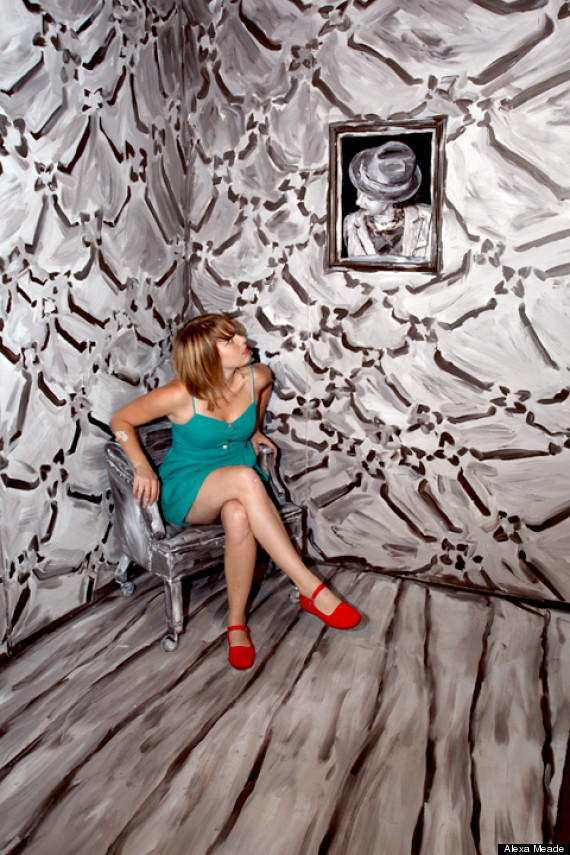 HP: Your website talks about your experience as a press intern on Capitol Hill as well as a press staffer on the Obama campaign as inspiration for your work. Can you elaborate on these connections?
AM: My background in political communications fostered an interest in spin and my desire to explore the power framing has in altering the perceptions of the issue at hand. What I'm doing in my art is covering my subject with a superficial layer of information that is a reinterpretation of the core. While my paintings are created directly on top of something real, it seems to sit in a plane far removed from any reality.
HP: Which artists influenced your unusual assemblage process and why?
AM: I draw a lot of inspiration from installation artist Robert Irwin. His biography "Seeing is Forgetting the Name of the Thing One Sees" has been very influential as I think about how we perceive space.
HP: Your work has gone viral, often because of its uncanny ability to trick the viewer. Yet your motivations behind the work are more complex than merely presenting optical illusions. Do you worry that your pieces may be too simplified through viewing them online and are you taking any measures to protect the full vitality of the pieces?
AM: Something that I think is exciting about my work is its ability to resonate with different audiences. There is the basic layer that has been responsible for much of the viral success of my work, the general wow factor of "I can't believe my eyes!" However, even here, there is more than meets the eye. Within the fine art world it has been recognized as an innovative leap in portraiture by fusing the subject with its depiction and altering the codes for representational spaces within the picture plane.
Check out her paintings below:
PHOTO GALLERY
Alexa Meade
Calling all HuffPost superfans!
Sign up for membership to become a founding member and help shape HuffPost's next chapter
BEFORE YOU GO