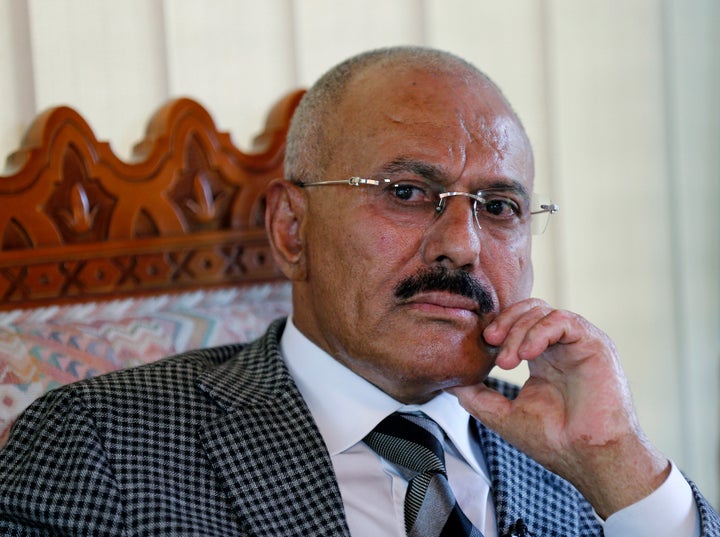 Yemen's former leader Ali Abdullah Saleh says he is working to bring his successor and former deputy, President Abed Rabbo Mansour Hadi, to trial at The Hague for his role in the deadly violence raging in Yemen.
In an exclusive interview with HuffPost Arabi, which is translated into English and published in full below, Yemen's former president weighed in on his political future and the conflict currently ravaging his country. 
Airstrikes and ground fighting between Shiite Houthi rebels, also known as Ansar Allah, and Saudi-backed troops loyal to Hadi have left some 4,000 people dead and sparked a humanitarian crisis of unprecedented scale in the impoverished country. 
Saleh, who was forced to hand over the reins of power in 2012 after mass protests against his rule, threw his weight behind the Houthis, his former enemies, after their uprising gained momentum in 2014. Now, it appears the former autocratic leader is positioning himself to emerge even stronger from a crisis he helped create.
Notorious for his willingness to make deals with anyone, and sacrifice anything, for his own political survival, the former president used his influence among large pockets of the security forces to help the rebels overrun the capital, put Hadi under house arrest, and, after his escape, pursue Hadi to the southern port city of Aden.
As the rebels closed in, Hadi fled the country, prompting a coalition led by Saudi Arabia to launch airstrikes in March aiming to push back the Houthis and reinstall Hadi's government.
 Ever a master of expedient political alliances, Saleh told HuffPost Arabi that Hadi "betrayed" Yemen by asking for Saudi intervention, and calls his former ally Saudi Arabia a "ruthless murder machine" that is "no longer a friend."
Here is HuffPost Arabi's interview with Saleh in full:
You have been lying low ― is it because you are afraid? Or are you retreating from the political scene? Or is it because you are running the battle from behind the scenes?
I have faith in God, my people, and myself, and I fear only God Almighty, who controls life and death, but it is better to take all the possible precautions when you're facing a ruthless murder machine. It is not out of fear, but I feel that it is my patriotic duty to be with my people in these sensitive times, in which the country faces major challenges and threats to its safety, stability, sovereignty and unity. I am here for my country, among my people, and I am prepared to die for my country, as it is worthy of my sacrifice.
Who currently rules Yemen? You or the Houthis?
Ansar Allah is in power today. The traitor Hadi handed over power to them after he allied with them, with the Muslim Brotherhood, and with the elders of powerful tribes.
Your party applauds the Houthis and their war on Saudi Arabia. Is that your position as well?
I applaud the position of the Yemeni army and all those who stand in the face of the brutal aggression suffered by our people, carried out without justification or political or social sense. Defending the homeland is a duty for everyone.  
Who currently runs this army, which force is it affiliated with, and who funds it?
It is run by Ansar Allah, who assumed power after Hadi fled the country.
What are the reasons for your enmity with Saudi Arabia?
There is no dispute between Saudi Arabia and myself. My only problem is their aggression on my homeland, targeting and killing my people, young and old, men and women, and destroying the country's infrastructure. This cannot possibly be accepted by any patriotic citizen or human conscience. Saudi Arabia made a huge mistake with this immoral, illegal aggression, which cannot be morally or legally justified. It will leave deep wounds, since my people will not, for generations to come, forget the brutal aggression and injustice it has suffered on the hands of its neighbors and brothers.
Is your dispute restricted to its current leaders or do your interests conflict with the regime at large?
Actually, the dispute is with al-Saud [the royal family that has ruled Saudi Arabia for generations]. They have found in the new leadership those who would implement the policies that they thought up from 1934 to 1970, and 1994. Until today, they seek to have the upper hand over Yemen, and they use wealth, not specific ideologies, to keep that stronghold.
Some people call you ungrateful ― the Saudis supported you for 30 years, and treated you after your injury, and protected you with the Gulf Initiative in 2011.
On a personal level, I will never forget Saudi Arabia's help, under the leadership of the late King Abdullah, when I was being treated in its hospitals after I was exposed to that terrorist attack by assailants who are now embraced by the Kingdom, at the forefront of which were Muslim Brotherhood leaders... Saudi Arabia does not realize the threats these groups pose, and they are bound to get a taste of their evil.
Would you agree to a national dialogue called for by Saudi Arabia?
Talks among Yemenis must be held under the jurisdiction of the United Nations, and held in a country that has not participated in the aggression on my people and homeland.
Some Saudi provinces have been targeted by Yemeni rockets. What is your stance on that?
The targeting of Saudi lands is a reaction to the al-Saud regime's flagrant aggression on the Yemeni people, without distinction between one Yemeni province or the other, or among different parties. They targeted everything. We are victims, as the whole world can see, and self-defense is a legitimate right.  
Are you communicating with any world powers such as Iran, Russia or the U.S.?
I am in contact with many international parties, including the U.S., Russia and the U.K., as we seek to put a stop to the aggression suffered by my country and find a peaceful way out of the Yemeni crisis, through resuming dialogue and setting a foundation for a fair resolution that would ensure a better and safer future for Yemen. I am not looking for a way out for myself; I am searching for a way out for Yemen. As I said, I am willing to die for my country and my people.
Do you see a role for the U.S. in Yemen's future?
Yes, it has a role. As a superpower, the U.S. must play a role in bringing about peace, not only in Yemen, but the world over.
I have a good relationship with politicians in the Republican and Democratic parties. Still, Americans are only concerned with their own interests.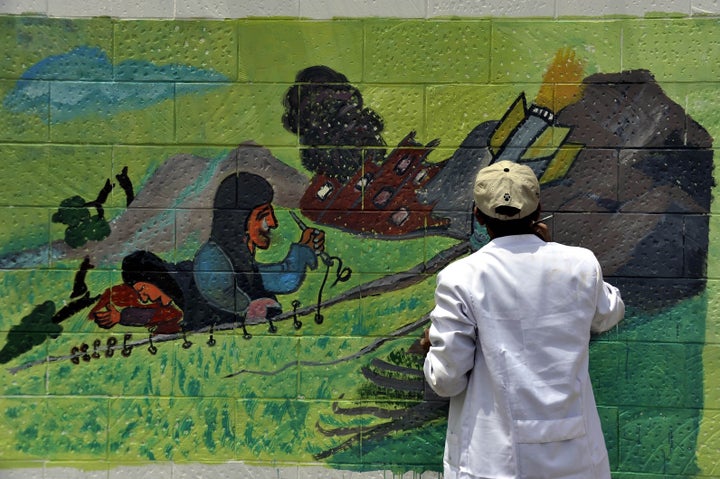 You seem to still be flirting with Saudi friends such as the Egyptian regime -- how would you justify that?
There are very strong bonds between the Yemeni and the Egyptian regimes. The Egyptian people supported the Yemeni revolution, and offered up more than 10,000 Egyptian martyrs in both revolutions, Sept. 26 [North Yemen's revolution against imamate rule in 1962] and Oct. 14 [South Yemen's revolution against British rule in 1963], which is a position that we will never forget.
And the Egyptian people have demonstrated a very sound stance toward the Muslim Brotherhood; they rejected them and revolted against their leadership after they grasped their threat to Egypt and the Arab world at large. And this stance is shared by the majority of the Yemeni people.
And in the Gulf, we have a close relationship with the United Arab Emirates, founded by the late Zayed Ben Sultan al-Nahyan. We have no disputes with them, but we do regret our Emirati brothers' participation in the aggression against Yemen, and we invite them to reassess their position with regards to this aggressive coalition.
Among Saudi Arabia, Iran and Gulf countries, which do you consider a friend of the Yemeni people?
They are all friends. After its aggression on Yemen, Saudi Arabia is no longer a friend. It is a country that has assaulted my country and the Yemeni people.
What do you consider to be the shortcomings of the Houthis?

Since they are now in charge of the county, Houthis should pay more attention to political work, and they should develop a convincing program, so that they can really present themselves as a superior alternative to Hadi the traitor and the Muslim Brotherhood.
Did you know that they would take over Sanaa?
I have already clarified that I did not know that they would enter Sanaa, and that the person who was aware of that was the traitor Hadi, who helped them in order to undermine the Muslim Brotherhood and to get rid of them, as he did when he brought down Amran and got rid of Awlad al-Ahmar after they all became a burden.
How do you feel about them looting the camps and seizing control of the country?
Their actions were natural and to be expected, as a result of Hadi's betrayal, the absence of the state, and the defeat of the Muslim Brotherhood.
Some accuse you of using the Houthis to settle debts with opponents who rose up against you in 2011.

I have nothing to do with the kidnappings or similar events; I am no longer in power, and I have no more power. Ansar Allah is in power now. And these accusations are false, and have been made by political opponents, extremists from the Muslim Brotherhood.
Power was handed over to President Hadi as part of the Gulf Initiative, which you had personally approved, but now you think of him as an opponent. What changed?
Hadi betrayed Yemen when he called for Saudi and international intervention, and for Resolution 2216 under Chapter VII [the April U.N. Security Council resolution that established an arms embargo on Houthi and pro-Saleh forces]. Hadi the traitor has now become a rival of all Yemenis, not just of mine. After all the crimes he has committed, he should be tried in the International Criminal Court, which is what I am working toward right now.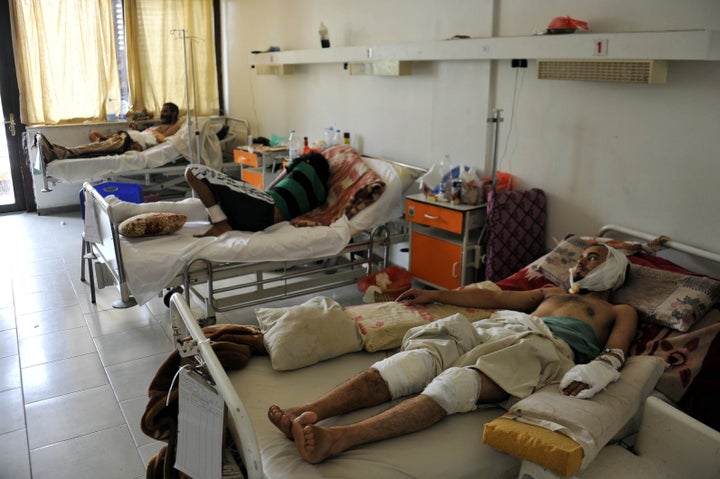 Do you support the return of Hadi and the parliament to resume their work and find political solutions?

The parliament as a national institution should resume its operations; as for Hadi the traitor, it is impossible for him to return to Yemen. He is playing with fire. The Security Council must understand this very well.
What do you expect for Yemen's future?

I am optimistic that the will for peace will triumph.
We hope that the aggressors would respond to our calls to end the aggression, and that they would give Yemenis the power to decide what they want for the future of their country.
Are there solutions that would relieve Yemen of this crisis?
First of all, putting an end to this aggression, ending the siege enforced on my people, and holding all those responsible for war crimes accountable, because Yemeni blood has been spilled, and lives were lost, without justification or legitimacy. Who gave Saudi Arabia the right to attack my people, or to intervene in our affairs and violate Yemeni sovereignty?
Secondly, the return of Yemeni forces to dialogue. Russia can play a big role in this. These talks should shoot for ending the transitional period and moving swiftly to a state of constitutional legitimacy after the constitution is ratified, in a period of no more than six months after the presidential elections ― and readying for parliamentary and local elections, to ensure security, stability, and unity for Yemen's future.
Thirdly, my people should be compensated, and everything that has been damaged ― factories, schools, university campuses, hospitals, bridges and infrastructure ― should be rebuilt, even though what Yemen has lost as a result of the aggression is irreplaceable, especially in terms of the innocent souls lost.
Fourthly, holding a Yemeni-Saudi dialogue to solve all the disputes, and find compromises that ensure a better future for the relationship between both countries, and safeguard security and stability for the region.
The National Dialogue Conference has offered a vision for the future, and it is now under assessment by regional and international forces. The conference advocates for a peaceful way forward, and political resolution that is fair and comprehensive. It suggests Yemeni dialogue and national partnership that works toward building a prosperous, thriving Yemeni state.
Sara Elkamel contributed reporting.
PHOTO GALLERY
Saudi Airstrikes Yemen
Calling all HuffPost superfans!
Sign up for membership to become a founding member and help shape HuffPost's next chapter