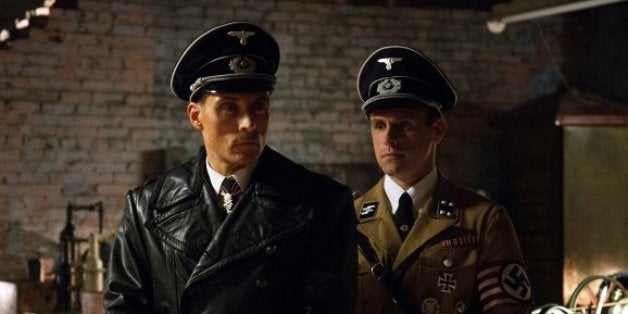 Amazon Studios dropped some good news into the middle of the week: "The Man in the High Castle" and "Mad Dogs" were among the pilots that were picked up to series. Full seasons of those shows will arrive later this year or in 2016.
Amazon didn't stop there: It ordered more episodes of "The New Yorker Presents" and the children's programs "The Stinky & Dirty Show" and "Just Add Magic." The classical-music comedy "Mozart in the Jungle" was also renewed for a second season.
"Mozart" is uneven, but, as I wrote in this piece about the Amazon cop drama "Bosch," the arts-focused comedy is a good addition to the company's burgeoning roster of original series. I highly doubt any other entity would make a TV show about egotistical conductors and the striving musicians in their orbits, and the uniqueness of the show's setting helps offset some of its patchier elements.
As is the case with the great "Transparent," "Mozart" offers the kind of milieu that can't be found anywhere else. I don't expect all of Amazon's shows to break the mold of television as we know it, but why not create shows that other networks can't or don't want to make? In order to keep people coming back, the shows on Amazon, Netflix, Hulu and the like have to not only be good, they have to offer audience something special. Increasingly, we live in a word-of-mouth media landscape, and people won't talk up shows they don't feel deeply attached to. And if there are viewers out there who just want to see reasonably familiar characters moving through predictable worlds, there are many other media providers who are willing to provide competently made TV comfort food.
For me, the most heartening piece of Amazon news is that it's putting its money behind an ambitious science-fiction program. Ever since "Battlestar Galactica" went off the air, the top tiers of TV have been without a gripping tale of speculative fiction, and that's preposterous, given how many TV writers are capable of creating that kind of show and how many great premises can be found in novels and graphic novels.
One of my very fondest hopes is that a smart TV executive convinces creators Brian K. Vaughan and Fiona Staples to make an animated version of "Saga" for adults. The profane and wondrously humane "Saga" is without question one of the best and most imaginative serialized stories being told in any medium right now. Even if an adaptation never comes to pass (and Vaughan has said they're not keen on the idea), Amazon should search the roster of beloved science-fiction novels on its site for more properties that could work on screen.
My top pick from the realm of classic sci-fi: The emotionally engaging space adventures found in Lois McMaster Bujold's Vorkosigan saga. Miles Vorkosigan would make a fantastically complex lead character for a TV series (if you're a fan of "Game of Thrones'" Tyrion Lannister, chances are you'll love Miles). Even so, if I were adapting Bujold's novels, I'd spend the first few seasons on the adventures of Miles' redoubtable mother, the smart and persistent Cordelia Naismith. What's great about the suspenseful Vorkosigan tales is that they adroitly combine psychological depth with attentive world-building, and they offer a welcome variety of tones and locations as they flit among genres: There are space operas, war sagas, romances, morality tales and even a comedy of manners. It'd be an ambitious storytelling cycle for any TV provider to take on, but a deep-pocketed outlet like Amazon or one of its competitors would be smart to give it a shot.
That said, when it comes to classic sci-fi, Philip K. Dick isn't a bad place for Amazon to start. "The Man in the High Castle," which is based on one of his novels, has been given a warm and thoughtful translation to screen by Frank Spotnitz ("The X-Files," "Hunted"). All a pilot needs to do is make the viewer want to see more, and I eagerly await additional episodes of this alternate-history dystopia.
Paltry budgets and the resulting constricted vision often hamstring science fiction on the small screen, but "High Castle" doesn't suffer from either of those problems. Director David Semel smoothly and skillfully introduces a version of 1960s North America that has been taken over by the Axis powers, and the costume and production designers do an outstanding job of depicting that time in history, refracted through a lens that is familiar and unfamiliar all at once. Spotnitz was a writer/producer on "The X-Files" for many years, and many classic installments of that show introduce places that seem all right on the surface but somehow feel a little off. "High Castle" captures that kind of lyrical foreboding well, as it sketches out the lives of several characters who are trying to navigate a treacherous version of post-war America.
The Amazon pilot for "Mad Dogs" is no period piece: It's a very contemporary drama in which several guys encounter a series of unexpected events on a group vacation. The subtext of "Mad Dogs" is all about male friendship, and how hard it can be for the men in a particular social circle to maintain emotional intimacy when they can't escape their desire to compete with and dominate each other. The "Mad Dogs" pilot didn't fully convince me that there's a series in this premise; the pilot feels like the first half of a decent movie that might peter out if it lasted more than two hours. But I'll definitely watch "Mad Dogs" when it returns, in large part thanks to the show's unfussy humor and energy, and also because the cast (Ben Chaplin, Romany Malco, Billy Zane, Steve Zahn and Michael Imperioli) gels so well together.
"Mad Dogs" doesn't exactly break any TV molds, in that ensemble dramas starring mostly guys aren't hard to find. That said, there are other ways to play with form and content, and it's interesting to see what a drama looks like when its creators don't have to worry about the insertion of ad breaks. Both "Mad Dogs" and "High Castle" benefit from unforced, organic pacing, and these dramas use the breathing room that Amazon gives them to pay attention to character development, and I can't complain about that, given that the broadcast networks seem to have largely abandoned the idea of creating characters who are even remotely interesting. Rufus Sewell is quietly masterful as a Nazi in "High Castle," and if the guys of "Mad Dogs" end up being as interesting as any of the characters on "The Shield," which is one of executive producer Shawn Ryan's previous shows, time in that world will likely be well spent.
REAL LIFE. REAL NEWS. REAL VOICES.
Help us tell more of the stories that matter from voices that too often remain unheard.
BEFORE YOU GO
PHOTO GALLERY
"Transparent"