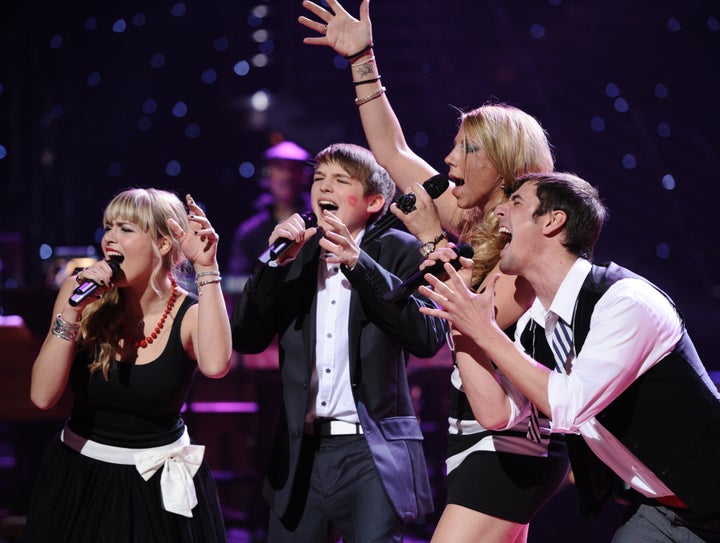 Thursday night's cruel, two-hour episode of "American Idol" continued to challenge the contestants, shuttling the Hollywood Week survivors off to Las Vegas for another round of group numbers. Thankfully, all the outbreak monkeys who were contaminating the other contestants in Los Angeles had obviously been culled from the herd by the time they reached Vegas, so disease and dehydration weren't running rampant through the halls any longer. That's not to say that everyone had miraculously learned how to stay in key following their ordeal in Hollywood -- there were still plenty of mediocre performances in store.
I'm mostly just baffled that the "Idol" producers got away with stretching out the drama this long; we saw solo cuts, group cuts and another round of solo cuts in Hollywood, followed by Day 1 group cuts, Day 2 group cuts, and another round of Day 1 group cuts in Thursday's episode. Were the judges really so incapable of reducing 309 contestants to 40 that they couldn't have settled for one group number and one solo between Hollywood and the live rounds? At the end of this episode, the tally of remaining contestants still stood at 42 instead of 40, so at this point I'm just wondering if the judges never learned how to count.
Next week, the remaining 42 have to sing another solo before they're told whether they made the Top 24 or not. It's unnecessarily cruel for both the competitors and the audience, and at this point, I just wish that the judges had skipped straight to waterboarding to figure out the finalists, since this painful exercise in delayed gratification seems far more torturous than actual torture would be. Let's face it, sleep deprivation is a form of torture in itself, especially when paired with dehydration, so I'm pretty sure that Amnesty International has the "Idol" producers on their watch list.
But we're slowly, gradually creeping closer to a list of finalists, and there were some serviceable performances in Thursday's supersized edition, so here are our top 5 most memorable moments from Las Vegas.
1. Peggi Blu Shows a Softer Side
Last year, she was known as the "Vocal Coach From Hell," and probably a whole lot of other epithets that the editors had to cut for broadcasting standards. She has previously made a number of contestants cry, cower and tremble, and she certainly exercised her nasty streak with poor Lauren Gray this week -- although her tough love approach tends to unearth impressive performances, which held true for Lauren. But while she cracked the whip with Lauren's group, she was a regular cheerleader when it came to coaching Heejun Han, Phillip Phillips, Neco Starr and Jairon Jackson.
While Peggi's reputation preceded her -- and had Heejun backing away to avoid her wrath -- she actually had no criticism for the foursome, telling them that she was lovin' it after they ran through "I Only Have Eyes For You" by The Flamingos. The group was even better on stage, the song perfectly showcasing Nico's rich, natural tone and varied range. As Jennifer Lopez keeps commenting, Heejun just has a really "pretty," soulful sound, although his enunciation clearly needs work. Jairon was average, since his voice sounds somewhat generic, and Phillip's low, quirky tone is still an awkward fit in any group number, which was especially obvious when it came to the harmonies, but the group gelled well and sounded good -- much to Peggi's approval. The four easily got a pass to the next round on the strength of the performance, and Heejun was so grateful for Peggi's support that he thanked her on stage and insisted that they couldn't have succeeded without her -- aww! All that love didn't stop Jairon from getting cut in the final round of eliminations at the end of the night, though, while Heejun, Phillip and Neco made it through to the Top 42.
2. Goodness Gracious!
The powerhouse group of Adam Brock, Erika Van Pelt, Angie Zeiderman and Shelby Tweten was another standout of the night, and their take on "Great Balls of Fire" was playful and exuberant. The raw, gravelly beginning was perfect for Adam's natural register, while Erika is a natural belter whose husky tone added a bluesy twist to the lyrics. Theatrical Angie went a little too Broadway on her solo, with a few too many dramatic flourishes that probably brought all of Randy Jackson's musical theater phobias screaming back to him, while Shelby performed admirably, even if she wasn't quite distinct enough to really steal the spotlight from her more accomplished teammates. All four were given a pass to the next round, although Angie, like Jairon, was cut before the Top 42. In her exit interview, she did point out -- with admirable tact -- that "this isn't the only way that anything can ever happen for me," so expect to see her on the next season of "The Voice," where they'll probably embrace her quirkiness.
3. Battle of the Basses
One of the night's unlikeliest -- but ultimately most satisfying -- collaborations came from gigantic Jermaine Jones and Heejun's dreaded rival, Richie "The Cowboy" Law. Both men possess deep bass tones that could've proved jarring if they didn't work at the harmonies, but the duo's rendition of "Make It Easy On Yourself" was soulful and rich, with the song perfectly suited to Jermaine's voice. He sounds like a natural successor to Barry White, delving into the depths of his register in a way that seemed totally effortless. Richie has a weird habit of singing somewhere between his nose and the back of his throat, which came across as whiny and vaguely nasal in his solo moments, but his voice blended with Jermaine's well enough in the harmonies to disguise that niggle. It's not really the style of music I favor, but I'd totally buy that track right now, because the Brothers Righteous sounded surprisingly great together.
4. Neapolitan Doesn't Sound So Sweet
They certainly had the looks and the sparkly pink ensembles working for them, but Courtney Williams (who made it to Hollywood in Season 7), Jessica Phillips (with the boyfriend who suffered a stroke) and Britnee Kellogg (the single mom with the cheating basketball player ex) didn't have much tune during their performance of The Supremes' "You Keep Me Hangin' On." The trio unwisely decided that, since they all sing professionally for a living, they didn't need to practice with the band or vocal coaches before their turn on the stage, and it showed. All three were pitchy, tossing in extraneous runs that oftentimes just seemed off-key and completely out of place in terms of timing. Randy told Courtney and Britnee that they took too many risks that didn't pay off, while Steven noted that Jessica didn't take enough -- and she was the one who was sent home immediately, despite all three being mediocre at best. It might've soothed her ego to learn that Britnee would follow her before the end of the day, while Courtney -- who I thought to be the pitchiest -- continued on into the Top 42.
5. Lady and the Spectacles are a Spectacle
The second day of the second batch of groups came to a close with a team comprised of Jen Hirsch, Nick Boddington, Creighton Fraker and Aaron Marcellus -- basically the same group that performed in Hollywood under the moniker "Groove Sauce," only lacking Reed Grimm this time around. The group, who had become good friends over the course of the drawn-out audition process, wanted to tackle the song as a barbershop quartet, but the vocal coach (Katharine McPhee's mother, who, unlike her daughter, hasn't abandoned "Idol" for NBC) vetoed the decision, pointing out that this is still a competition and that each needed to make sure they had an individual moment in the spotlight. The harmonies on "Sealed With a Kiss" were a thing of beauty, perfectly modulated and complimentary with not a bum note between them (once you got used to having Jen's higher tone in the mix with the three guys, anyway), but each team member did make the most of their solo opportunities. Jen is a natural belter whose style seems reminiscent of Christina Aguilera (right down to her diva hand gestures), while Creighton -- although a little affected -- always sounds unique and confident in his inflections. Aaron held his own against the two extroverts, with a smooth, pitch-perfect tone, while Nick was probably the weak link in the foursome, occasionally skewing a little sharp. He was the only one to be eliminated from the group -- which is bizarre, considering they let pitchy Courtney go through, while the others were ideal Top 42 (and probably 24) material.
Some other familiar faces were surprisingly cut in the last wave of eliminations, including Gabi Carrubba, CW-esque Johnny Keyser, Colton Dixon's younger sister Schyler and Candice Glover. And yet we still have another week to go before our votes start counting. Sigh.
Who were your favorite performers from Vegas? Were you surprised by any of the eliminations? Weigh in below.
"American Idol" airs Wednesdays and Thursdays at 8 p.m. EST on Fox.
Popular in the Community