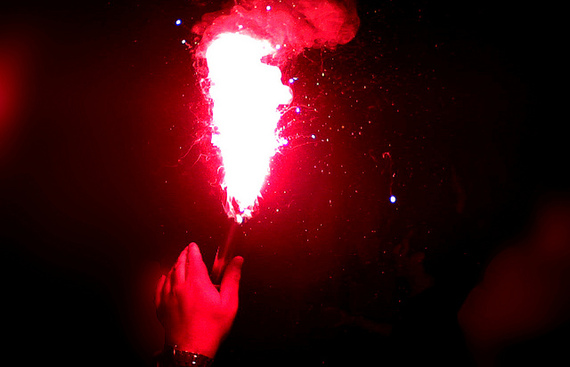 "We look forward to Saturdays, all week long. It's the most meaningful thing in our lives. It's a religion, really. That's how important it is to us. Saturday is our day of worship"
Richard in Among the Thugs
When does devotion turn into fanaticism? When do the intense feelings of devotion, the one-pointed approach to someone or something, fueled by what Freud describes as an "oceanic feeling", beyond the pale and the mundane, the aching desire for meaning, fulfillment, happiness, and seeming sense, curdle into the kind of fanaticism which then fuels any and all means of violent expression?
In Bill Buford's Among the Thugs, The English Football Saturday is the weekly religion of the bloke, the young English man, struggling to get by in an increasingly corporatized and globalized world, yet still full of the all of the privilege centuries of empire and colonization can buy. The bloke claims that the ritual of the football match, where he is a supporter of the football club, the totem of civic pride, is simply an event of communal enjoyment giving deep meaning in an increasingly meaningless world. The bloke/supporter simply is there "for the laugh... and the drink and the football."
Yet, in the context of Thugs, in the 1980s English football world, where Buford, as an American journalist, decided to immerse himself in the world of English football supporters, sometimes it goes off. Sometimes the devotion of English Football Saturday becomes the setting for literally skull and rib-cracking violence, committed against anyone who can be labeled the Other.
Buford describes a trip with a group of very drunk, very sunburnt, very half-conscious Manchester United supporters to a 1984 UEFA Cup-Winners Cup match in Turin, Italy against Juventus. The initial problem with this trip by the blokes was that the blokes were not supposed to be there. Because of a stream of violent incidents preceding them everywhere that they went, their own Club, the very totem of their devotion, had banned them from traveling to away matches, especially to away matches in other parts of Europe.
Yet the blokes, to a man, as Buford was able to shed off a bit of his American foreignness and earn the trust of the blokes, told him that they were simply there for the laugh and the drink and the football. They were adamant that they were simply supporters of the Club, devotees of the Club, there for a very important European match, there with no intention of creating the kind of violence which on every level can be considered psychotic and terroristic.
Yet Buford will next horrifically recall and reveal, with a literary panache which makes you feel and sense and smell the physical crack of the violence itself, how it went off.
In Hindu/Vedic sacred and philosophical texts, the art and act of devotion, like nearly every element of material existence, can be framed through the three gunas, or modes of nature. The practice and expression of devotion for someone and something can either be in the guna of sattva (goodness/peacefulness/nonviolence/contemplation), rajas (passion/intensity), or tamas (darkness/ignorance/violence). Yes, ideally devotion to the Divine, as also explained in texts like the Bhagavad-Gita, is actually beyond these gunas. This ideal devotion is explained as the practice of bhakti-yoga, or the yoga of selfless love.
A.C Bhaktivedanta Swami Prabhupada, one of the preeminent contemporary scholar/teachers of the Gita, describes that the mode of goodness, sattva, is the platform to practice our devotion in a more loving and selfless way. He writes that "when the mode of goodness is developed, people will see things as they are...when they are actually educated in the mode of goodness, they will become sober, in full knowledge of things as they are. Then people will be happy and prosperous."
Yet, when we consider the history, philosophy, theory, and practice of religion, we are confronted with the mystery and the reality that our devotion often curdles into these other gunas. The passion of our devotion can so easily lead into a vision of the world where our sober and clear understanding of our inherent interconnectedness with all other planetary beings curdles into a conviction of Otherness towards those who do are not our immediate kin or who don't share our exact convictions of devotion. Our devotion then enters into tamas, where we find ourselves thinking and feeling, to the seeming core of our being, that we are justified committing the worst violence against those we consider the Other.
"Since public violence is a display of power, it appeals to those who want to make dramatic statements and reclaim public space. In moments of social transition and uncertainty it can simultaneously hold both political currency and religious meaning... This is one of history's ironies, that although religion has been used to justify violence, violence can also empower religion."
The intersection of religious feeling and violent expression is one of humanity's most intense crises, whether we consider this intersection in more "traditionally" extremist religious veins such as the presence and phenomenon of ISIS, of Buddhist violence against the Rohingya community in Myanmar, of Hindu violence against Dalit communities, and Christian histories of Crusades and more contemporary expressions against, for example, the LGBTQ community worldwide, or in more out-of-the-usual religious box extremist veins such as the religion of white supremacy committing violence against black bodies/bodies of color or, as in our current case, the religion of the English football thug against everyone who does not represent their exact flavor of thuggery.
This crisis is of deep existential import, for it not only threatens the most vulnerable members of our human family, but also the very fabric of our planet itself. I don't think we can deepen our understanding of this crisis, and our understanding of how to solve this crisis, until we attempt, as Buford did, to enter into the very experience, the very hearts and minds, of those whose devotion has completely curdled into violence.
Our instinct, when faced with people using their devotion to commit violence against that which we hold dear, is to Other them, to make them the enemy in return, and this sentiment has immense truth and justification behind it. We are never to coddle or excuse those who commit such violence, but I argue that if we dehumanize them in return, the crisis of devotion-into-violence will only increase. The mystery of why devotion curdles into violence exists in the hearts and minds of human beings who feel completely justified in their ways and means. We have to confront their justification with all of our courage and condemnation, yet we have to hold them, in a kind of compassion which seems impossible but which is all too necessary, as fellow human beings with the same fundamental desire and concern for meaning, love, happiness, and fulfillment as we have. To make it plain, we have to try to know them as we know ourselves.
In our next blog, we will follow Buford deeper into his immersion and experience as he reveals what it means when it "goes off", when the devotion of the Manchester United supporters becomes violence against everything which is Other to them. Shockingly, their violence is both chaotic yet deeply and distinctly structured, completely illogical yet intelligently explained, and never disconnected from the very fabric of their devotion.