With celebrity memoirs, there's always a hope that the author will divulge crazy details about their life. Amy Poehler's new book, Yes Please, certainly delivers. The book includes amazingly detailed stories, like that time she worked at a Chicago restaurant and served Oprah, who naturally gave her tablemates gifts. Poehler also recounts befriending the star player of the New York Knicks upon moving to New York and scoring free courtside tickets. The funny lady even jumped on George Clooney's lap at the Golden Globes without asking. But these moments are probably not that relatable.
Unfortunately for you, it is unlikely Hillary Clinton will write your first child a letter upon his birth, or that you'll get to be in a cult classic movie like "Wet Hot American Summer," which Poehler describes as "a film whose behind-the-scenes stories would make for a steamy beach read." At 43, Amy Poehler already has so much to share.
Yes Please also contains quite a few LOL stories that -- if you ignore the celebrity names -- could totally happen to you. Poehler may have hinted at these stories in interviews over the years, but Yes Please gives a lot more to the perfect narrative of Poehler's life. This is a book that will make you recall the phrase Leslie Knope and Ben Wyatt share with each other in "Parks and Recreation," and say, "Amy Poehler, I love you and I like you."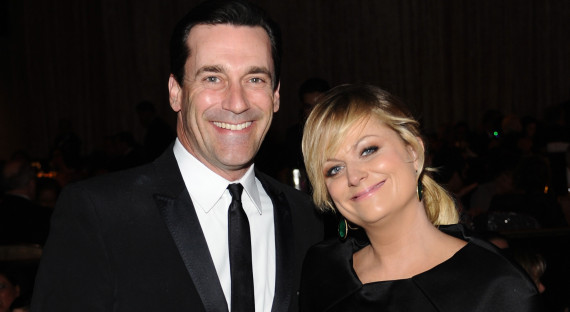 Both Amy Poehler and Jon Hamm are notorious for receiving multiple awards nominations, but never winning. In Poehler's book, she has a whole chapter called "Gimme That Pudding," in which she discusses that while awards shouldn't matter all that much, perpetually coming so close to the "pudding" and not getting it can get you down. Referring to the 2010 Emmys:
The following year I was breast-feeding a six-week-old Abel. I was too tired to think of bits but my hormones were telling me to just jump onstage and grab the award before they announced the winner. Luckily I had enough oxytocin floating around in my body that I didn't care or notice who won. (Edie Falco.) Jimmy Fallon hosted and crushed. I sat in the front row and heckled the after-party with what Tina referred to as my impressive "temporary rack." I broke my toe on the banquette I was dancing on. That's right. ON. I acted like the blue-collar party machine I had been raised to be. Jon Hamm and I held Emmys that weren't ours. We called ourselves losers all night and years later threw a losers party where winners had to donate money to charity to get in.
Really the best way to handle that situation.
Raised in Newton, Massachusetts, Amy Poehler graduated from Burlington High School in 1989. In her high school yearbook, classmates bestowed upon her a pretty prestigious honor:
I weaved in and out of activities and groups, and hid on occasion. My school was big and sprawling, with four hundred students in my graduating class. I played basketball and soccer for a while and I thought I might be some kind of athlete ... Softball was the most fun because of the opportunity to shit-talk. But my enthusiasm for team sports fell away once I realized I would never be great. (Once they move you from shortstop to second base, you might want to start making other plans.) I was a cheerleader for a while. I did student council. I started to hang with the popular crowd but was never considered the prettiest or most interesting. I tended to blend. In my high school yearbook I was voted third runner-up for "Most Casual." I never figured out if that meant most casual in dress or in overall manner. In any case, I didn't come in first. I guess the two ahead of me wanted it less.
Poehler's whole high school experience wasn't just winning superlatives though; the Boston suburb had a rough crowd. As she explains in the book, many of the boys were jocks who'd beat each other up and "the girls were a tough bunch as well. I was pushed into a locker and punched by a cheerleader. One girl pulled my hair at lunch because she thought I was 'stuck up.'"
Amy Poehler had been planning to appear on an episode of "Saturday Night Live" hosted by Jon Hamm that coincided with her due date. After a day of rehearsals and writing, she was exhausted and, as she explains: "I went home and got in bed. It was three thirty in the morning and I put on my favorite TV show, 'Law & Order,' to go to sleep. I heard the 'bam bam' sound effect in the opening credits and my water broke."
Poehler missed "SNL," but in one of her lowest moments during the week of preparation, when she learned her doctor had died and wouldn't be able to help her deliver the baby, Jon Hamm helped to drastically change her mood:
I cried and cried in my "Mad Men" dress. Jon Hamm held me by the shoulders and looked at me and said, "I know this is very sad, but this is a really important show for me, so I'm going to need you to get your shit together." This made me laugh so hard I think I peed. Going from crying to laughing that fast and hard happens maybe five times in your life and that extreme right turn is the reason why we are alive, and I believe it extends our life by many years.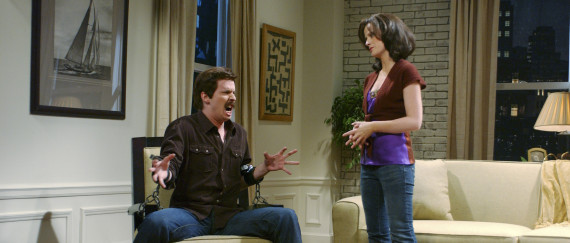 A friend at school had brought in handcuffs, the origin of which was mysterious but not really questioned at the time. Since Poehler and her childhood best friend, Keri Downey, were already inseparable, it made sense to handcuff themselves to one another. As Poehler explains in the book:
Keri and I immediately took them and then shared a look as we locked them on to our wrists. Keri discreetly dropped the key to the ground and then we pretended it was lost. We faked being upset while a small group of kids gathered around, excited about the idea of handcuffs and lost keys and people being stuck together. The general hubbub turned into real concern once we couldn't actually find the key we had dropped.
The two eventually found the key, but not before causing a lot of angst for the staff, who had hatched a ridiculous plan to set them free before the girls' parents found out.
Poehler says, "The school called us the Handcuff Girls, which will be my band's name when I become a rock star in my mid-sixties. It was the most exciting thing that had ever happened to me up to that point, and it was the perfect kind of scary story that only lasts a few hours and ends up well."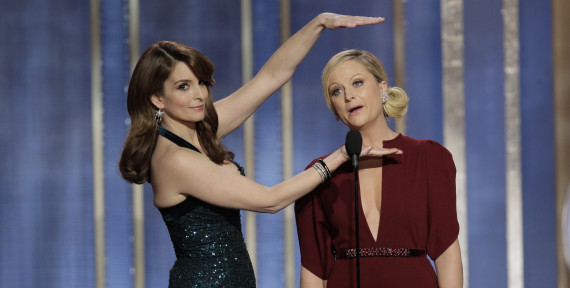 The friendship between Tina Fey and Poehler is well-documented, but, in the book, Poehler gives a very sweet detail about their friendship immediately following Fey's exit from "SNL." "When Tina left, I gave her dog tags that read 'Pleasant Tomorrow.' Recently she gave them back to me while I was going through a tough time," Poehler wrote. "I like to think we will give them back and forth to each other whenever needed."
The two came up in the improv world together and the book includes many stories of their touring days. Here's a particularly funny one involving a dominatrix:
We traveled all over Chicago and the United States in a van with hilarious men and women. I think we were paid $65 a show. We would drive across Texas and perform three or four times and come back to Chicago deep in debt. Those van rides were tiny comedy labs. I remember a lot of beef jerky and bits. Tina taught me how to pluck my eyebrows. During our Texas tour we stopped at a Dallas S&M club and drank warm Diet Cokes as we watched a woman lazily whip a guy. Nothing is more depressing than a tired dominatrix.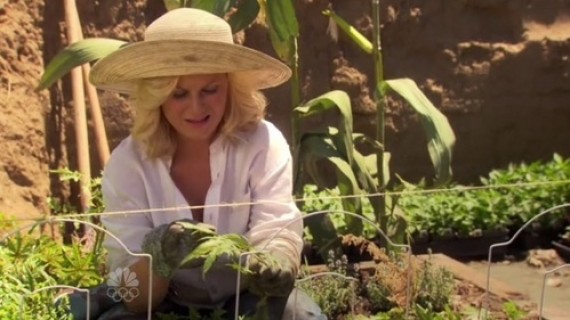 There's a chapter in Yes Please entitled "Obligatory Drug Stories, or Lessons I Learned on Mushrooms."
"I've tried most drugs but avoided the BIG BAD ONES," she wrote. One of the ones Poehler "tried" quite a bit was pot, although it didn't help her be any funnier:
High school and college came and went and I smoked pot very rarely. Then I arrived in Chicago and lived the life of a stoner for a year. I would smoke in the morning and listen to Bob Marley. I would wear headphones and buy records and comic books. I would make mac and cheese while watching "Deep Space Nine." I am not one of those people who smokes weed and suddenly has a burst of creativity. I am one of those people who smokes weed and spends an hour lightening my eyebrows. It slowed me down and helped with my Irish stomach and anxiety and the constant channel-changing that happened in my head. I can't perform, drive, or write stoned, and therefore I smoke pot a lot less than I used to.
Hopefully, with the finale of "Parks and Recreation" approaching, spontaneous dance parties between the greatest cast of all time won't end as well. Amy Poehler explains in the book about why dancing is so important:
Spontaneous dance parties are important in my life. I have one in the makeup trailer almost every afternoon on "Parks and Recreation." Dancing is the great equalizer. It gets people out of their heads and into their bodies. I think if you can dance and be free and not embarrassed you can rule the world.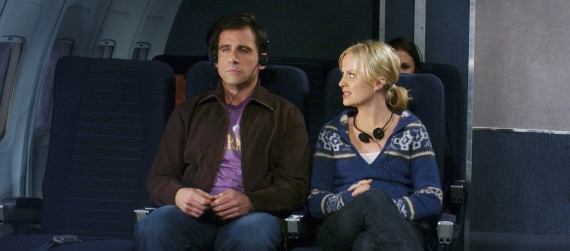 Amy Poehler was flying with Fey and Ana Gasteyer in first class, en route to shoot scenes for "Mean Girls" in Toronto. They talked throughout the flight and a man seated nearby became audibly aggravated and eventually shoved into Poehler as they were exiting the plane, trying to tell her off and suggesting that she does not deserve to be in first class. Poehler wasn't having that:
All of my lower-middle-class Boston issues rose to the surface. I don't like it when bratty, privileged old white guys speak to me like I am their mouthy niece. I got that amazing feeling you get when you know you are going to lose it in the best, most self-righteous way. I just leaned back and yelled, "FUUUUUUUUUUUUCK YOU." Then I chased him as he tried to get away from me. "You rich motherfucker! Who do you think you are? You're not better than me. Fuck you and your fucking opinions, you piece of shit." And on and on. Tina was laughing. Or horrified. I don't remember...
Poehler admits she's still figuring out the right balance between finding her voice and apologizing.
Moving to the big city with her boyfriend at the time, comedian Matt Besser, to see if their Upright Citizens Brigade improv group could break through, the two had some rough times. Poehler describes one such Manhattan apartment:
Each evening Matt and I would roll our change and throw pennies at the rats outside our windows. We put bowls over our stove at night so the mice wouldn't come up through the burners. Once i pulled back the curtain and locked eyes with a masturbating Peeping Tom, and he just waved at me like someone saying farewell from the deck of a ship. It was the closest I have ever felt to Patti Smith. I loved it.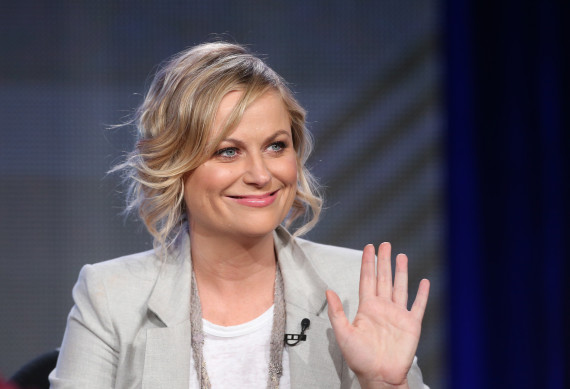 From the first section of the book, "Writing Is Hard: A Preface," Poehler writes, "One of the things I have learned about me while writing about me is that I am really onto myself. I have got Amy Poehler's number, I'll tell you. I also learned that writing topless tends to relax me. Go figure. Life is a mystery."
A whole chapter in Yes Please is entitled "Humping Justin Timberlake." (Nobody is safe from the charms of JT.)
[Emily] Spivey and I wrote a sketch based on a real moment we had with the handsome and talented Justin Timberlake. He was hosting and came into the office one writing night. We both got very flummoxed, and it caused us to write a scene where I was attempting to give him notes backstage during a show. I was dressed as a leprechaun with a giant orange wig. I ended up getting tongue-tied and eventually just started humping on him. Justin had a lovely Southern woman who was his ex-teacher and "handler" at the time. She did not think it was a good idea for him to be shirtless during this sketch. I point to these boundaries as one reason why Justin has kept his shit together.
And now, a few more stories from the chapter about "SNL" hosts:
Christina Aguilera: Poehler danced with her in a club.
Antonio Banderas: He "smelled the best of any host."
Colin Farrell: He was "super hungover and super nice."
James Gandolfini: Poehler made him a drink before a piece on "Weekend Update" to "settle his nerves."
Paul Giamatti: Responded to Poehler's question as to whether or not he was having fun by saying, "This is a fucking nightmare!"
John Goodman: Amy Poehler's favorite as "he was nice to [her] when no one knew [her] name."
Hugh Jackman: He was "incredibly kind and sent everyone a case of Foster's beer."
Ashton Kutcher: While leaving an "SNL" after-party, Poehler was smoking outside with Seth Meyers and future "Parks and Recreation" creator Mike Schur. After Kutcher said a casual goodbye, Poehler screamed, "Love you, Ashton. You're the best!" She described this as a "very uncool" thing to do.
On second thought, maybe Amy Poehler's life is a bit too awesome to ever be truly relatable...
Before You Go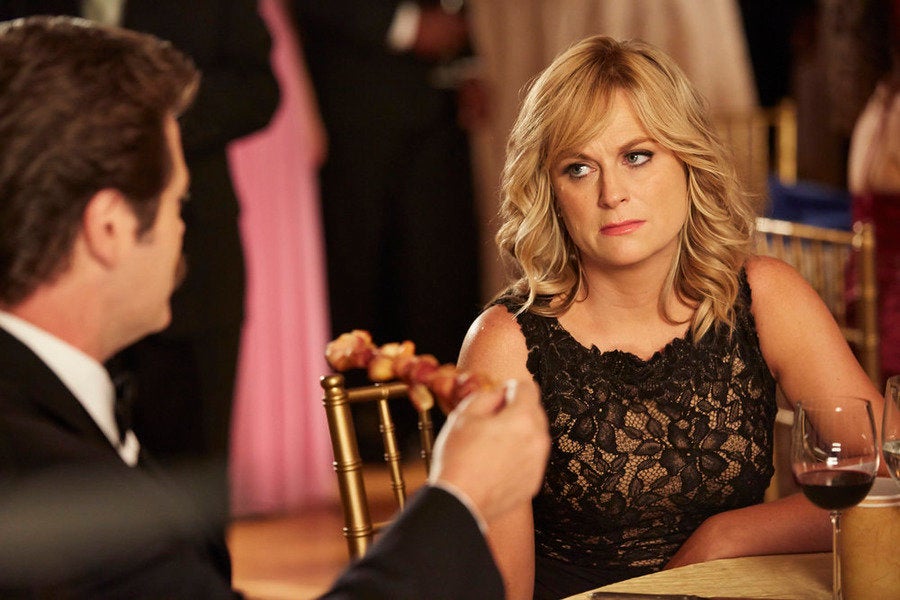 'Parks and Recreation'
Popular in the Community