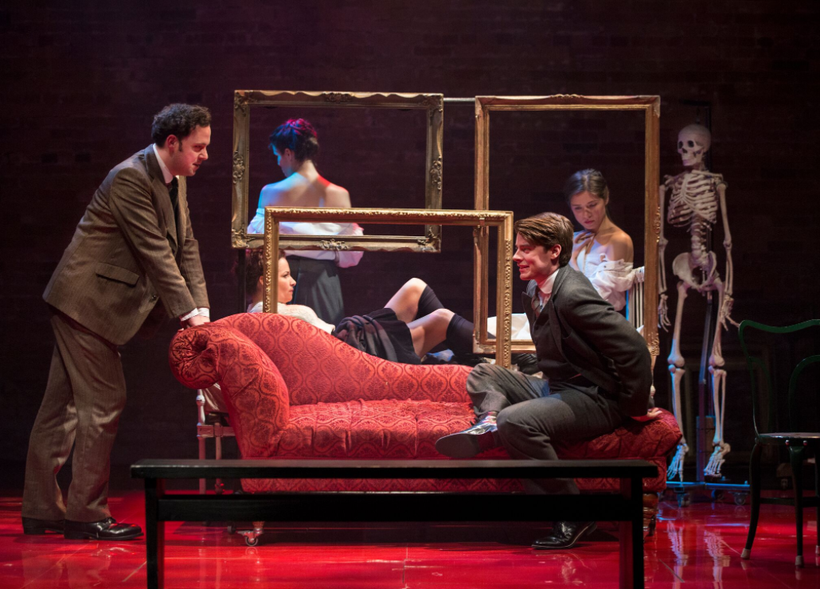 Under the Artistic Direction of Albert Schultz, Canada's multi-award winning theater SOULPEPPER THEATRE COMPANY is in residence through July 29, 2017 at The Pershing Square Signature Center on 42nd Street, ( 1 company, 4 weeks, 5 stages, 12 productions, 65 Canadian theater artists!) Among the festival's many offerings are; the U.S. debut of the runaway hit comedy KIM'S CONVENIENCE (now an award-winning TV series on CBC), along with the U.S. debut of the play OF HUMAN BONDAGE, the first-ever stage adaptation of Somerset Maugham's classic play and film.
KIM'S CONVENIENCE is written by Ins Choi, Directed by Weyni Mengesha, Designed by Ken MacKenzie, Thomas Ryder Payne, and Lorenzo Savoini. The most successful new Canadian play of the last decade, Kim's Convenience - set in a family-run Korean variety store - is a hilarious and heartwarming ode to generations of immigrants who have made Canada the country that it is
OF HUMAN BONDAGE is written by Vern Thiessen, Directed by Albert Schultz and Designed by Erika Connor, Mike Ross, and Lorenzo Savoini. This highly theatrical production is the most awarded show in Toronto history, winning Dora Awards (Toronto's Tony) for Best Production, Best Play, Best Direction, Best Set Design, Best Sound Design, Best Lighting Design and Best Ensemble performance. For tickets, visit www.soulpepper.org or call 888-898-1188
Tell me about the name Soulpepper? What does it represent and where did it come from?
ALBERT SCHULTZ : The name Soulpepper came about when the founders of the company were searching for a name and having some trouble. I was talking on the phone with a fellow founder and talking about the qualities that we needed the name to represent.  I made a suggestion and my then three-year-old daughter Julia, who had been listening to my half of the conversation said, "No Daddy, Soul Pepper"!
It was by far the best name any of us had come up with and it stuck.  It of course means whatever it needs to mean.  
Bringing so many artists to New York from Canada is no small feat. Can you talk about the process and any challenges?
ALBERT SCHULTZ: The first challenge was the programming. Since our goal was not to bring "a show" but to bring "a company" we needed to bring repertoire that collectively demonstrated the strengths and breadth of the company.
The program that we have brought is a very complex weave of artists flowing from show to show and space to space...some artists are involved in as many as eight shows in this single month!
Another major logistic was immigration.Fortunately one of our board members is a senior partner at KPMG and was able to offer us pro-bona immigration assistance.
Accommodations were also extremely challenging and could have been much more prohibitive had we not been able to use the residence towers at New York City College in Harlem.
Obviously the greatest obstacle to such a venture is the unfriendly ratio between cost and any possible recoupment. This is where a visionary board of directors, open minded governments, and an extremely generous family of philanthropists came in and made this all possible.
What are differences in the theater scene in Canada vs America? 
ALBERT SCHULTZ: I would say that the main difference is that in English Canada at least, our theatre established itself on a repertory model, (the Stratford and Shaw Festivals being the obvious examples).  In New York the theatre has traditionally been a one-off star driven model, with either the actor or the playwright as the star (Welles' Mercury Theatre being a great exception to the rule).
In the last forty years, our theatre scene has been much more driven by new plays and collective creation.
Soulpepper is therefore a company that blends these two streams.  We are an old-world, actor-manager led repertory company with a strong resident ensemble...but unlike the Stratford and Shaw festivals we are very strongly focused on the creation of new work AS WELL as the classics.  And so ALL of the Soulpepper offerings in New York are original creations developed through a repertory company.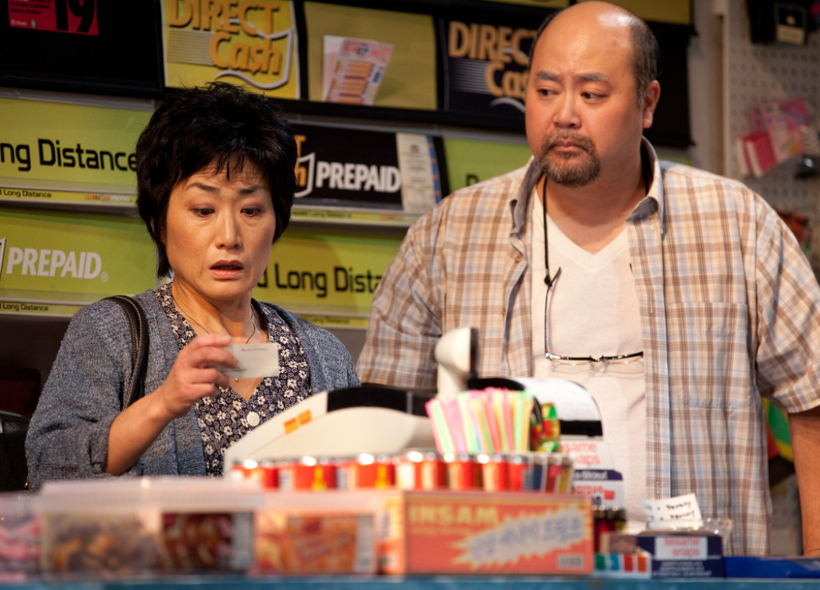 Ins, your play KIM'S  KIM'S CONVENIENCE is one of the Mainstage offerings, can you tell us a bit about where the show's story came from, the creation process? 
INS CHOI: When I graduated from the acting program at York University in 1998, there were few Asian actors to look up to. In fact, there was a lack of roles for Asian males in plays, TV shows, and movies. The only roles out there were two-bit parts in three-bit movies-of-the-week, involving silent-on-camera Asian gang members. There were the plays of Rick Shiomi, Jean Yoon, Marty Chan, and M. J. Kang, which inspired me, but that was about it. Something needed to change.
Then, in 2002, fu-GEN Asian Canadian theatre Company was launched under the leadership of Nina Lee Aquino, Richard Lee, David Yee, and Leon Aureus. In 2005, Nina invited me to be part of their third playwriting unit. That was the beginning of Kim's Convenience. In my research of independent theatre festivals in Toronto, I came across the New Play Contest held by the Toronto Fringe Festival. I entered. It won.
I took on the Herculean task of producing and directing the play I wrote, which I was also performing in. I had no money, so I began raising funds. We knew that we could count on the Toronto theatre-going crowd because of the quality of the cast and because the play won the New Play Contest. What would prove to be a challenge was reaching the Korean audience, which was vital to me.
We went to every Korean store in K-town south (Christie and Bloor) and K-town north (Yonge and Finch), putting up posters and talking up the show. We sent posters with a cover letter to every Korean church in Toronto. We were interviewed by all the Korean media outlets, we even ran a "Win Free Tickets: Korean Trivia Contest" through our Facebook page. One Korean family came all the way from Parry Sound at the request of their friends, who told them to "close the store and come see this play; it's about us."
Vern, your play OF HUMAN BONDAGE is one of the Mainstage offerings, can you tell us a bit about where the show's story came from, the creation process, technical elements? 
VERN THIESSEN: OF HUMAN BONDAGE is based on the classic novel by M. Somerset Maugham. First published in 1915, it is considered to be one of the greatest novels ever written. Adapted for at least 3 movie versions (made Betty Davis a star) it had never been adapted for the stage. I was drawn to the themes of addiction and love-gone-wrong in the novel, and approached Soulpepper with the idea. A large show, there are only a few theatres in Canada that could handle such an epic story and the cast that goes along with it. Albert Schultz agreed to commission it, and it went from there. The script in itself is very spare, and what Albert did in rehearsals was extraordinary. He took the simplicity of the text and brought to a breathtaking theatricality: multiple casting, incredible sound and composition by Mike Ross all done live, and simp,e yet profound lighting and set design by Lorenzo Savoini. The production really highlights the main theme of the play (and the novel) that all our lives are works of art, and we weave our own tapestry.
REAL LIFE. REAL NEWS. REAL VOICES.
Help us tell more of the stories that matter from voices that too often remain unheard.
This post was published on the now-closed HuffPost Contributor platform. Contributors control their own work and posted freely to our site. If you need to flag this entry as abusive,
send us an email
.