By their very nature, Biennials present a lot of moving pieces. Usually, they're of the logistical sort. This year's Qalandiya International (QI), also known as the Palestinian Biennial, doesn't just have a lot of moving pieces, it's also fraught by social and political turmoil. Rarely does a biennial's past literally erupt into the present in such an immediate way. Given the region's recent politically inclement climate, the QI's continued existence is no mean feat. Perhaps its tenacity and sense of purpose, not to mention its geography, are what make it so necessary, if not heroic. Consider the geopolitical implications: The QI's been described as "a kind of confederal democracy of institutions from Ramallah, Jerusalem, Haifa, Gaza and other locations."
In conjunction with this year's QI, Vivian Ziherl, an Australian critic, curator, and researcher based in the Netherlands, will curate The Jerusalem Show, which runs from October 6 - 22, 2016. Titled Before and After Origins, it will feature over a dozen artists from Palestine, the Golan Heights, South Africa, and the Netherlands. Two of them, painter and sculptor Jawad al Malhi and hip hop artist and producer Muhammad Mughrabi, live at the Shuafat Refugee Camp. Others include Australian artist Tom Nicholson, Dutch video artist Wendelien van Oldenborgh, Rwandan-born Dutch artist Christian Nyampeta and the South African collective NGO, or, Nothing Gets Organised.
Ziherl's exhibition will be staged at two venues. One, the former tile factory of Al Ma'mal, is in the Old City of Jerusalem. The other, the newly built Youth Center of the Shuafat Refugee Camp, 4 km north of the old city of Jerusalem, which houses a population of over 50 thousand Palestinian Jerusalemites. Recent Israeli/Arab skirmishes have already disrupted the show's proposed educational tour through the Old City.
Ziherl's QI contribution emerges as the second part of the Frontier Imaginaries project led with production manager Imara Limon. The first part will be staged in May 2016 at three sites in Brisbane, Australia: the Institute of Modern Art, QUT Art Museum and Australian Cinémathèque. Several artists in its QI iteration will take part in its launch edition.
The 2016 QI's theme of Return is based on Mahmoud Darwish's poem, Jidariyya ("Mural"). Regarded as Palestine's national poet, Darwish's poem presents an evocative, memory-laden remapping of once-familiar territory: "And what was mine is mine: my yesterday/and what will be in the distant tomorrow in the return of the fugitive soul..." Ziherl frames this nostalgic cartography of memory through a reconsideration of the idea of what it means now, politically and economically, to return home, even if one has never left home in the first place. By extension, this idea of return references the condition of settler colonies, of which number Israel, Canada, bits of South Africa, and Australia. Diagnostic and prescriptive, this exhibition's dialogue will refract the Palestinian condition through the prism of a settler colony.

Below is an email interview conducted just after her return from a work week in which she gathered several of the exhibition's artists and met with Syrian artists from the "Fateh Mudarris" group, named after a prominent Kurdish-Syrian modernist artist.
JS: How does The Jerusalem Show differ from, continue, or otherwise expand upon the first installation of your Frontier Imaginaries?
VZ: The project takes its form in the first instance through long-term artist dialogues and commissions. New works will unfold over years and through an itinerary of projects that link places that are geographically far apart and yet that share resonance over certain themes such as the politics of inhabitation, the management of 'firstness', and a particular presence of territory itself in historical processes.
My intention is that many of the artists whose work will have its first presentation in Brisbane will join for the exhibition in Jerusalem, where they will again be joined by artists from the local context, projects in cultural partnership with hosts such as the Shuafat Youth Centre, and further contextualized with particular historical or archival anchor-points.
In terms of the ideas and conceptual development, this is something that the artists, hosts, audiences and I will figure out together as a part of what it takes to stage the project.
JS: How would you interpret the title of your show, Before and After Origins within the context of that of the QI, Return?
VZ: I have come to understand Return as a particularly profound and challenging concept from the stand-point of Jerusalem. Under the current conditions a demographic egress is occurring with many people re-locating to the West Bank and risking to loose their access to Jerusalem altogether. As such the stakes for many Palestinian Jerusalemites are much more to maintain their right of residence, in the first instance. Return, then, indicates the recovery of something closer to a general state of sovereignty; the capacity to express political will, offer protection and exert some control over one's destiny.
Before and After Origins is, of course, something of a play on words. 'Origins' appears to express something fixed and unchanging while 'before' and 'after' would seem to indicate a contingency to time and historical process. In part, the Israeli occupation exerts control over the future by managing narratives of origin and demanding an idea of 'firstness'. This can be seen literally in an area of Jerusalem like Silwan where Palestinean residents are being forcibly moved to prioritize biblical Hebraic remains. This amounts to something of an 'archeological project' of the Israeli state, which is of course another paradox as the nation-state form is hardly ancient.
In practical terms the exhibition will take two sites as cases 'before' and 'after' the events of 1948--the 'nakba' or catastrophe of Palestinean expulsion--as this date might be considered the origin of Return. The first will be the Al Ma'mal building of a former tile-factory in the Old City and the second will be the Youth Centre of the Shuafat Refugee Camp--a camp which was not established in 1948 but in 1967 under the Jordanian authority.
JS: Palestine is the setting for your envisioned dialogue about coloniality, but you write that it's not about Palestine, per se. What, then, is the significance of staging the show there? In other words, what inspired you to consider Palestine's status as under an Israeli settler colony for the premise for an art exhibition?
VZ: I will speak candidly. Coming to Palestine, as an Australian, the conditions are utterly different and yet eerily recognizable. There is a dynamic of struggle amid isolation and against erasure.
For example, within the last Jerusalem Show in 2014 the artist Tom Nicholson looked at a series of 69 Eucalyptus trees that stand in the Mamilla Cemetery, just beyond the Jaffa Gate of the Old City. The Cemetery is a very significant and ancient one for Jerusalem. It bears the remains of many of the warriors of Sala ah-Din, the Kurdish sultan whose army ousted the Crusaders in 1187, and who presided over an agreement with Frankish and Jewish quarters established in Jerusalem. The cemetery also holds King Herod's pool, a reservoir dating to the 1st century BCE.
As Tom recounts in his project, many of the officers who oversaw the British Mandate of Palestine--until 1948--were housed in hotels with a view over the Mamilla road adjacent to the cemetery. In 1955 half of the cemetery was bulldozed to establish the 'Independence Park'. Today the site now bears the excavations of a controversial new 'Tolerance Museum' which has involved disinterring some of these ancient human remains.
The 69 Eucalyptus trees that are throughout the intact half of the cemetery relate to the period of the 1930s when the Jewish National Fund planted this type of tree as a way of draining swamps and of claiming newly purchased lands. To an Australian the presence of these Eucalyptus trees is unsettling. As 'native' plants they usually appear as markers of the continent's pre-colonial condition. Particularly in the area where Tom is from--south-eastern Victoria--Eucalyptus Camaludlensis trees can bear traces of the removal of bark by people of the Kulin nations as a material for shelter, containers etc. These are called 'scar trees'.
In his work, Tom proposes a walk among the 69 Eucalyptus trees of the Mamilla Cemetery--and the viewpoints they offer--as a means of contemplating these echoing histories of territorial unmarking. As it happened, this project was my first introduction to Jerusalem.
JS: What's your show's ideal audience? The art world? The general public?
VZ: Ideally the exhibitions will permit an interaction and the possibility to learn among multiple audiences, such as those you list. Providing the conditions in which this can take place is much of the work of the project.
JS: What were, are, and will be your biggest challenges in both the organization and the mounting of the show?
VZ: Logistically conditions in Jerusalem are very strained at present. In Shaufat this reaches another order of magnitude altogether. It is an area that is to an extent sealed within the Separation Wall and with a major check-point guarding its entry. This means that it can take an unpredictably long time to exit in a vehicle, for example. Taxi-drivers also do not like to enter Shaufat as their car-insurance is not valid within its area. Our partners at the Youth Centre and the Children's Centre of the Shuafat Camp are incredibly significant and indeed, without their involvement and support this component of the project would not be imaginable.

JS: A lot can happen between now and October. Do you have contingency plans?
VZ: The situation within Jerusalem and throughout the territories is very serious. One can only hope for a real attempt to resolve some of the base conditions that underwrite the current climate of violence as soon as possible. Of course this may well not take place before October, and as you say matters are very volatile. To undertake a project in Jerusalem is to accept this as the condition of work. The project is based upon a long-duration conversation among artists that may open to a conversation among hosts and audiences. Whatever transpires it is planned that at least some of this will take place in some form, and will be a worthy undertaking. Indeed, the work-week in February has already been a start to this.
JS: How did you chose these particular artists? Though they work in different media, what does their art have in common?
VZ: First and foremost, the artists that I have extended an invitation to have a disposition towards learning from their environment, even if they don't produce work 'about' a particular place that they might visit or be in. They share an interest in related key themes such as those mentioned above, as well as the capacity to be sensitive and flexible to their context.
JS: How do you plan to disseminate the show? A catalogue, a white paper, a conference or symposium, videos, a documentary? In other words, how do you plan to continue the discussion that you're broaching here?
VZ: Firstly, a one-day assembly is planned to take-place during the Jerusalem Show, and as a part of the Qalandiya International. This will bring into focus many of the ideas that have been developed in the staging of the project, as well as the many hands involved in its making. Frontier Imaginaries will also continue onto further editions with exhibitions and assemblies, as well as with its online platform. Some of the commissions will continue, some may end while others may join in the process.
JS: By what parameter(s) would you gauge the show's success?
VZ: That is a great question. As we've touched upon, there is so much contingency within the situation that even quite bare material criteria such as staging a number of art projects within a given space cannot be considered as given. In a deeper way, the context is such that a questioning of 'success' in its usual form is also necessary.
My experience is that my colleagues in Palestinian cultural institutions have exceptionally thorough analyses of the pitfalls and potential structural violence of institutional forms. I've been amazed and inspired by the unconventional and profoundly intelligent forms of practice that take place within very limited conditions. Inass Yassin, the director of the Birzeit University Museum, speaks in compelling ways about what it means to be the custodian of the Tawfic Canaan amulets collection which is of enormous ethnographic significance; and yet which--by the lived and practiced nature of its content--requires a re-thinking of terms such as 'conservation' or 'protection'.
I hope that a part of the show's success would be its capacity to be relevant to the current situation of Jerusalem, which is acutely locally experienced and yet beholden to international processes.
Another answer is in its legacy through those involved in the project; as contributors, hosts, collaborators or audiences. Things are often learned in doing. One may have an idea of something but may not realize what it means until it is attempted to be realized in some material way. Certainly I am sure to learn a great deal in the process of working on the Jerusalem Show, and I hope that what I bring will offer that possibility to our hosts, guest artists, local collaborators and so on.
JS: What's the next stage of Frontier Imaginaries?
VZ: There are projects planned through until 2018, but I cannot as yet disclose them. Continuing to contemplate and to come to understand the work that will have taken place in Brisbane and in Jerusalem will surely be a large part of the following projects and phases of Frontier Imaginaries.
For more information, email Rana Anani at anani.rana@gmail.com or visit http://www.almamalfoundation.org/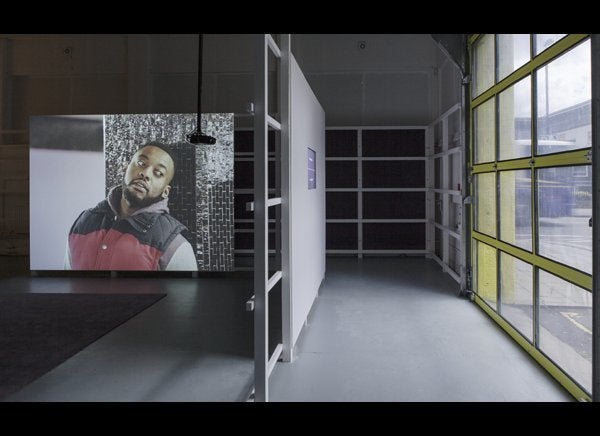 The Jerusalem Show
Related
Popular in the Community